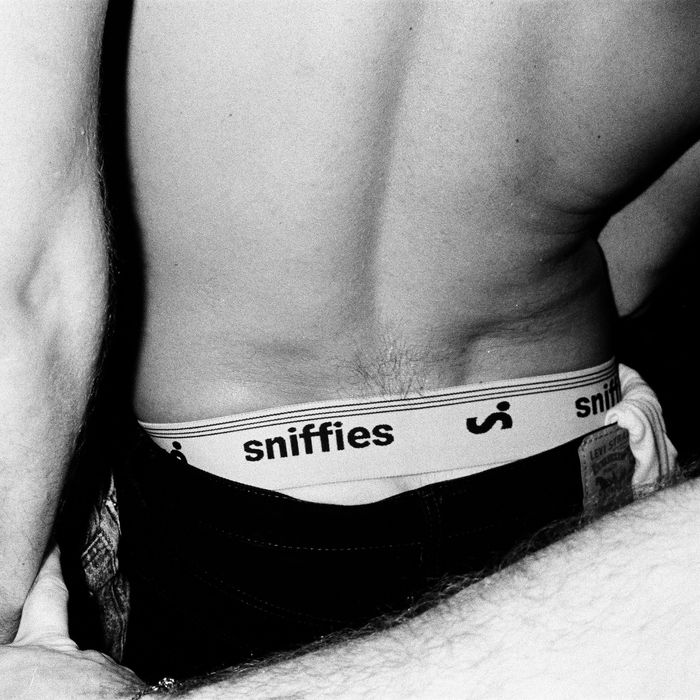 The Sniffies boys in their branded jockstraps.
Photo: Sniffies
"When you're out in a city, everyone around you is cruising, right?" says the zaddy-handsome horndog tech entrepreneur Blake Gallagher, sipping a Cosmopolitan at the West Village gay bar Julius. "No matter where you are, who you are, what your situation is. We're all cruising each other all the time." He was right — I was checking out the room, which was friendly and all-ages as usual for that spot, if not exactly sex-charged. But neither was Blake, a former architect who was visiting from Seattle, where I find out he lives with his husband; there, I imagine, they do all sorts of wholesome, outdoorsy gay-couple things to stay in good shape, which Blake definitely is. That wasn't quite what I'd expected from the founder of Sniffies, the gay cruising site preferred by all my sluttiest friends.
Sniffies, in case you aren't aware, fills the, uh, gap left by Grindr going mainstream. By now, even your mother probably knows what Grindr is (my own once gave me a pair of socks that read, "Grindr Made Me Do It"), especially considering the fact that earlier this month the company, now run by a conservative gay, went public, celebrating the early-morning ringing of the bell at the New York Stock Exchange with drag, booze, and a lax dress code for the queens on the floor. It's less a hook-up app these days than a Facebook for everygays to meet everygay best friends, swap nudes, and occasionally get to business. Your mother probably doesn't know about Sniffies, however, nor does she likely want to. It's not even an app per se, given that it's not family-friendly enough for the App Store. Rather than creating a cute profile and shopping on a grid, you can log on anonymously and explore a map of guys looking for sex with other guys, often in public or group settings (Did you see this photo circulating online a couple weeks ago? It's from a Sniffies bukkake meetup in Hell's Kitchen). Slate once compared the site to Pokémon Go, except it's obviously not for kids and it's even been duly intellectualized by queer-studies types in the Boston Review and Document Journal.
So when I found out Blake would be in town for an annual "Sniffies conference" with his employees, I'd asked to meet up with them to see how wild they would get. I admit wholesome wasn't what I expected from the founder of Sniffies, but the boys who planned their boss's big night out … well, they seem like they might be power-users.
9:15 p.m. | When I get to Julius' before everyone else, "Bizarre Love Triangle" is playing, which makes me giggle at the "get down on my knees and pray" line. I open up Sniffies to check out who's nearby or maybe a few stools down. Candidate 1 is a "dom top twink who loves to suck cock," with a 7.5'' dick. Candidate 2 is "only looking to give expert oral service #throatpussy," plus he swallows. I order a drink.
9:31 p.m. | The boys arrive, gather around a table at the back of the bar, and order a round of vodka sodas. This is only Blake's second-ever trip to New York and he seems maybe just a tad nervous about getting weird in front of his employees (and a journalist) tonight, not to mention leaving his coat on a hook near the bar. "I am a married homebody. It's already past my bedtime. Did no one listen to Ariana Huffington? That's her whole thing right? Get your sleep. Nobody here gets their sleep?" he asks, and his three charges, all of them more of what I was expecting — millennial, toned, fluent in slay-speak, and Brooklyn-based — giggle. Blake tells me he spent Halloween this year watching Hocus Pocus 2 and giving out candy to neighborhood kids. It's hard to tell if he's being sarcastic or not.
10:00 p.m. | We all keep drinking and Blake tells me about creating Sniffies. Though it's previously been reported that Sniffies started as a hub for trading used underwear he insists that's just a "rumor" "someone" started and the reason it's called "Sniffies" is that it was "just an evocative and available domain name." (The Sniffies site has a store where you can buy presumably fresh and unsoiled Sniffies branded briefs for $26, however.) "You're on this map and you see yourself as an individual amongst other individuals, expressing yourself in a way you're not able to on other platforms," he preaches. "Cruising is just being in the same place at the same time with people who are looking for the same thing you are at that moment … It's very different from looking at a static grid. You see yourself amongst this movement." Which is a rather romantic, tech bro-y way to describe #throatpussy.
10:15 p.m. | The boys have invited some friends along for the ride tonight, including a sex columnist named Zachary Zane, who kind of looks like the self-declared bisexual polyamorous version of Bradley Cooper, with a bullet vibrator hanging around his neck. "A lot of lesbians wear these," he explains unsuccesfully. He's a proud Sniffies user — he's also writing a book called Boyslut, which is about, among other things, the time he lived with his boyfriend, his boyfriend's wife, and his boyfriend's wife's girlfriend — and decides to share some of the knowledge he's gleaned out in the field. For example, did you know there's a doctor right here in New York, Dr. Evan Goldstein, who specializes in anal problems for porn stars, like "fissures from big dicks"? "He's seen everyone's assholes," he tells me, reassuringly, and the Sniffies boys, all apparently in the know, nod along. The actor Charlie Carver, currently one of the stars of American Horror Story: NYC, about cruising, kink and murder in early 1980s Manhattan, also stops by our table to say hello, and the team tells me a naughty story about him and his straight identical brother. And no, it's not about twin sex.
11:39 p.m. | Our next stop is Chelsea's leather bar the Eagle, which the Sniffies chief marketing officer, Eli, definitely the hunkiest in the group, by Fire Island standards — I almost passed out earlier when Zachary joked that he once recognized Eli's Sniffies profile based on his dick pic — says feels like "home" to him. But upon arrival we're promptly herded into a coat-check queue that makes me feel more like a cow heading to slaughter. (There is in fact a trough, full of condoms.) Above the entrance, next to an "OVERSIZED LOADS" sign, hangs a Food Department health inspection score which reads "A," though I find that hard to believe considering the fact that most of the silver-haired men in line (I'm told it's DILF Night) are checking much more than their coats. "My employees kept their clothes on for once," Blake teases. At the bar, we get to talking about monkeypox, which is probably not appropriate given the setting, but Blake, definitely a nerd, has some data to share, and shows off a graph on his phone of successfully declining infection rates. Thank God those hunger games are over.
Midnight | The whole crew takes a quick tour around the recently expanded club (which features a gift shop, with lube!) and eventually melt into the beef stew on the dance floor, where, within five minutes, a willowy twink stuffs his vape in my mouth and a muscle daddy starts mouthing my elbow before apologizing: "Sorry. I thought it was a dick." (Your guess is as good as mine, though my elbows are really pointy.) Surprisingly, the music is pleasant ("It's more dancey these days, for better or worse, but I have a day job now so I can't be here every Jock Strap Wednesday," a wolf tells me in passing), but Blake and I struggle to dance, maybe a little less inhibited and a little more noodley than the frequent ravers on his team. "I know what my dancing problem is … I need it to be anonymous," he tells me, and then jets off to get another vodka-soda, hoping that will help.
12:27 a.m. | In the restroom, I listen to some heavy grunting in the next stall. Back on the dance floor, I ask Zachary, who's scanning the crowd, what he looks for in a place like this: "You can't expect you'll be staring in someone's eyes making out. Here I'm just looking for whoever has the fattest ass." Eli exclaims cheerfully, "Isn't it surreal? Like a movie!" But probably not the kind of movie they're playing on the television above the bar (low-budget hot-tub porn).
1:29 a.m. | I join the few men smoking in the cold on the roof deck, which is a nice reprieve from the smell of cologne and sex, until some fully clothed gay starts drunkenly berating everyone: "Are you having a good time or not? How are you doing? Does anybody care? As gay men, what are y'all thinking about up here? Anything? All the gays are down in the fucking rapturous sexual orgiastic downstairs and you guys decided to come up here and have a secret smoking quiet thing. What are y'all thinking? Like what is everyone up here on the deck doing right now? Who's fucking curious, who's smoking, and who's horny? Can someone raise their hand? We're at a fucking gay bar." Accidentally hooking up with an asshole like this, I think to myself, is maybe my biggest concern with these anonymous apps.
1:47 a.m. | Oh my God. I return to the dance floor and all of my Sniffies have taken their shirts off. Not that you need to know this, but they all have incredible abs (and Sniffies-branded jockstraps). I decide to ask the previously timid Blake if he's comfortable dancing shirtless. "No comment." While I'm asking, is he really married and monogamous? "I can't hear you."
3:04 a.m. | Before we depart the Eagle, the group takes one more sightseeing tour through the dark room, which isn't all that dark and so we spot a number of what I'm assuming are rather uncomfortable sexual positions. In an Uber, Blake gives me his review: "It was like the Seattle Eagle but on some sort of steroid. It smelled the same." Still, he seems revitalized. "I'm so wide awake at this point. I'm ready for the sunrise. I'm in it til the end." Eli speaks on the possible pleasures and present difficulties of building a bathhouse in New York.
3:06 a.m. | Still in the car, Blake tells me that back in Seattle, when you're drunk, you can smash on a "cream-cheese hot dog." No, really. 
3:18 a.m. | Our next stop is another cruising bar, the illustrious the Cock, a very dank, very dark longtime basement in the East Village (it's moved locations a few times since it opened in the late '90s) with gogo boys and plenty of, well, cock. "We're on the list," Eli says, but there isn't a list. I notice the door person is the same plump, possibly Irish woman who's been working at the Cock since my first visit, which I hate to admit was on the night of my 21st birthday. "There's a rumor she died during the pandemic," a new gay who's tagged along tells me. I'm glad she didn't because she's the most hospitable thing about this place, calling after everyone on their way in, "Enjoy, babes."
3:52 a.m. | Inside, the Cock is pretty dead and as soon as we check our coats and head to the basement the lights come on, signaling it's time for the scattered group of naked boys there to get dressed and go home. "I think this warrants a refund on the cost of the coat check," Blake says, but the coat-check guy essentially tells him to fuck off. On the street, we start gameplanning a way to keep the party going. "I was promised a sunrise," Blake tells his boys.
5:28 a.m. | We decide to end the night at the club Good Room in Greenpoint for the tenth anniversary of the Carry Nation party. For the first time tonight, Blake seems to really let loose, as the remaining members of his team spread out on the dance floor. "I'm going to get closer," he keeps telling me, dancing toward the DJ. Finally, when all of those vodka-sodas start to hit my brain, I excuse myself to head home, and he tells me, "Well, I'm always the last one left in the Zoom meetings."