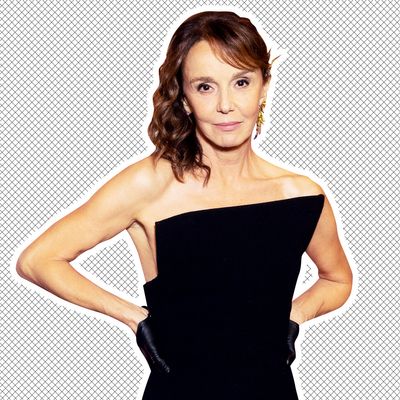 Photo-Illustration: by The Cut; Photo: Getty Images
Emily is finally back in Paris, and this time around the Francophile fantasy gives audiences exactly what we've been asking for: more Sylvie Grateau. The chicest character in the series, played by Philippine Leroy-Beaulieu, spends season three building up her own boutique marketing firm after a grand exit from Savoir at the conclusion of season two. While she launches her new company without an office, a single client, or even a name, there's never a doubt that Sylvie will succeed: Savoir quickly plummets without her, and an extremely pregnant Madeline from corporate headquarters (Kate Walsh) realizes that the value of the Gilbert Group's investment was the woman behind the agency, not the agency itself.
Sylvie may be an entrepreneurial force to be reckoned with, but this season we also see a vulnerable side that serves to enhance her strength. That balance of vulnerability and tenacity is what Leroy-Beaulieu says she shares with her character, and what landed her the role in the first place when she auditioned for creator Darren Starr. "Darren's writing is always very inspired by his actors," she says. And how could one not be inspired by this woman? Even through the hindrances that come with a Zoom interview, she dazzles.
Already in possession of a firm legacy in the French film world (she's the daughter of actor Philippe Leroy-Beaulieu), her role as Catherine Barneville, the powerfully elegant wife of an agency partner in Netflix's Call My Agent! — a cult success in the U.S. — helped expand her English-speaking audience, even securing her a spot in season five of The Crown as an unbearably glamorous Monique Ritz. But Leroy-Beaulieu is, rightfully, most acclaimed for playing Sylvie. She's funny, she's fabulous, and she turns every look she wears into a work of art.
Most people would probably agree that Sylvie is the chicest character on Emily in Paris. Could you tell me about your personal style and relationship to fashion?
In real life, I'm a blue jeans, sweater, boots person, totally. Nice stuff, because I was raised in Italy, so I like quality. I never wear not quality, even if it's just a coat or a sweater.
When I was a kid, my mother worked for Dior for 20 years, doing knitwear and jewelry and bags. She was a real creator, and a very elegant and creative, eccentric person. She never had that bourgeois kind of look. She would have this beautiful attire, but then she would wear something really crazy on top of it. That's the edge she taught me. I mean, I wasn't really interested when I was a kid. I hated it. But then, obviously, she taught me stuff without me even noticing it.
Now, when I have to dress up for photos or for the character, I like to put my own signature to the things that I wear. I love clothes. I love beauty. But I'm not really interested in fashion in the sense of changing seasons — I prefer to have something beautiful that can last a lifetime. It's more about beauty. Actually, it's about feeling good in something that has quality … and/or a touch of craziness. When you're twisting things, that's my favorite.
I love Sylvie's journey this season — watching her start her own agency, we see her get a little more vulnerable and show a deeper appreciation for her team. 
She always did appreciate them, but now she's showing it a little more. I think she did appreciate Emily's quality right away, but she was also seeing the danger that she could represent to the company or to her. It's because she saw that Emily was strong that she was also very scared of her. She was reacting in a very aggressive way because she felt threatened. You don't need to be aggressive if the person doesn't have any strength, you know. But if the person is a menace to your living or to your identity or to your job — anything like that, of course you're going to have your claws out.
Has acting in Emily in Paris affected the way you work as an actor? 
It has — I'm much lighter. It gave me some confidence that I didn't have before. When you're thrown in the pool and you have to swim, you just do it. Darren likes to surprise us. And I like that he does that. In the beginning, I was like, What is this? I'm so used to having the whole arc of the character and knowing where I'm going and blah, blah, blah. He takes you out of that comfort zone and throws you in the pool and you just swim through it.
He doesn't talk about what he has in store for us at all. I remember somebody leaked the fact that I was going to be in a swimsuit in season two, and rightfully so — at my age, you kind of need to tell the actor. He was so, so pissed off. And it was kind of cute, because I was telling him, like, "Darren, I mean, look at me. I mean, I'm not 20." He was like, "Oh, please, you look great. You don't need to know." It's kind of fun, now that I think about it. I understand why he really surprised us.
Are you all having fun while filming?
We are! It's the writing — it's really fun. It's very different from the way the French write. There's layers that we're not used to having. In France, people say what they think; whereas the Anglo-Saxons kind of say one thing and think the opposite. They're always hiding, which I love.
Otherwise, fun is when you work with Bruno Gouery, who plays Luc, and you just can't stop laughing on set.  He's hilarious. He's an incredible actor. I really admire him.
Sylvie isn't totally single this season, and she does find herself in a bit of a love triangle, but there's not really a central romantic relationship she's focused on. Would you say her dominant relationship is with the agency?
I'm not sure about that. I find the story with Eric so interesting — a lot of women, when they get out of a sort of abusive relationship, they need somebody super-kind to soothe the pain or heal the wound or something. Eric has that function. It's kind of cruel to say it like that, but it's reality. I've noticed that many times, you know, somebody goes for the bad boy, and then she needs the super-kind, but a bit too in love. That doesn't work either. But she needs that in order to restore her sense of confidence. The relationship with Antoine was super-abusive, on both sides, basically. So she does need some medicine.
Emily is a social-media influencer on the show, and Sylvie isn't really into Instagram. But I think your personal Instagram is so fun, and it made me wonder about your relationship to it and how you like to use it.
It's a love and hate relationship, I guess. Because when I get sucked into it, I really hate it. At the same time, I really like the fact that I can control my communication.
My posts about David Bowie were about who he was as an artist. I saw that Moonage Daydream documentary. It was the time before Instagram, before all social media, and so it was a totally different way to relate to art and to creation. I love that artist, but I also love that documentary. I thought it was beautiful. I think people should watch it. That's why I wanted to share it.
You have such a thoughtful perspective to share! What draws you to a piece of art?
I have to be moved in a very deep way — it has to touch my heart and my guts. So it's about pursuing the truth. Artists try to give birth to something that is universal, that can be received by everyone — not everyone in a cheap way, everyone because it touches something really, really deep. I'm not drawn to one sort of art; I like what sounds true in the sense that it touches my heart and opens some kind of portal inside of me, of understanding of the greater meaning of life.
Going back to the show, when it came out, Emily in Paris was widely considered fun and fluffy. It still has that cotton-candy quality, but every season has deepened the show's emotional complexity. Is season three a turning point?
In the first two seasons, it was very clear that they were seen through Emily's eyes. Now, the depth and the nuances and the possibilities of situations opened up because they made that switch and said, "Okay, let's forget about being only through Emily's eyes and be more into everybody else's perspective." I hope season four is going to be even better, because I feel that season three is much better than one and two, even though I love them.
And as we know, Darren, if people have watched his shows, he always kind of starts supersoft. It's always like chocolate and sugar, it's sugar coated and everything and then … I was watching Melrose Place; in the first four seasons it's funny — they start their kids on Melrose, living in this apartment building and having fun. Barbecue, pool, little love stories. In the end, they're all psychopaths. It's so incredibly well done because he drags you there very slowly. And so I totally trust Darren to have something in store for us.
In season three, Agence Grateau is tasked with helping Antoine sell one of his fragrance brand's signature lavender scents. I've been wondering what Sylvie smells like — I assume she smells amazing. Do you have a scent in mind for her?
I choose a different perfume every season. This season, she was very sweet. There's a flower called tuberose — it's a very, very, very strong white flower. It's sweet and yet has a little twist. I think last season, I was more into orange blossom.
And do you have a signature scent? 
Jasmine is my favorite.