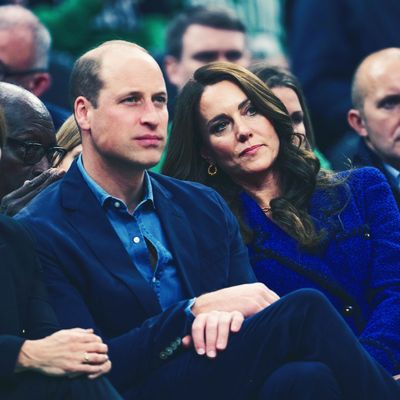 Photo: Samir Hussein - Pool/WireImage
The new Prince and Princess of Wales arrived in Boston this week to a questionable amount of fanfare. Ostensibly, they are there for Prince William's "Super Bowl moment," i.e., the presentation of the Earthshot Prize, a $1.2 million grant he distributes to environmental innovators. But it seems they are also there to ingratiate themselves with Bostonians and, by extension, the rest of the United States. While this could easily be accomplished with a royal trip to whatever Dunkin' location is closest to their hotel (perhaps accompanied by the new First Lady of Boston, J.Lo?), the future king and queen chose a different vehicle for paying their respects to Beantown: a Celtics game.
So how did this crowd take to the presence of two royals courtside at their basketball game? With cheers, yes, but also boos and several "USA!" chants during Will and Kate's shining moment on the TD Garden JumboTron.
While the hecklers did not clarify their objections, Will and Kate's Celtics appearance came the same day as news that a Buckingham Palace staffer (who is reportedly Will's godmother) resigned after being accused of making racist comments. As if the palace's PR team weren't already on the verge of collapse, Meghan and Harry's docuseries is set to arrive on Netflix next week.