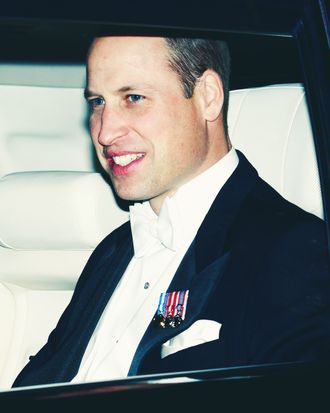 Photo: Max Mumby/Indigo/Getty Images
Just like you, Prince William and Princess Catherine are spending the holidays feeling busy, stressed, and dealing with in-laws they don't get along with. Last week, the second half of Prince Harry and Meghan Markle's Netflix series, Harry & Meghan, arrived, which, don't worry, Will and Kate definitely won't be watching (they're too busy filming their own counterprogramming). Meanwhile, William's godmother, Lady Susan Hussey, was busy apologizing for making racist comments to a guest at a palace event. So you can understand why William did what any self-respecting royal would do when given a brief chance to relax: go to an ex's wedding without his wife.
According to the Daily Mail, William spent the weekend in Gloucestershire at the wedding of Rose Farquhar, a singer-songwriter he dated in 2000, three years before he met Kate. On Saturday, Farquhar married an aspiring vet (and the stepson of a Barbadian construction tycoon) named George Gemmell. By the looks of it, their wedding was a great opportunity for a bunch of British aristocrats who used to flirt and party in their 20s to get together. Another ex of William's, Olivia Hunt, was there with her husband, as was Kate's college boyfriend, Rupert Finch. Also in attendance: Harry's former "wingman," Tom Inskip, and Prince Louis's godfather, Guy Pelly, a nightclub entrepreneur and Daily Mail–described "party animal."
Not many details are known about Farquhar and William's relatively short relationship besides an incredible rumor that they were once caught hooking up in a field by a farmer. Since their (alleged) sexy romp, they've stayed friendly and appeared at the weddings of mutual friends throughout the years, which I can only assume were also chock full of exes and former wingmen. Farquhar and Hunt were both at William and Kate's 2012 wedding along with two of Kate's exes.  
As for this particular event, Kate appears not to have made it, possibly because (and this is pure conjecture) she did not feel like hanging out with two of her husband's exes and one of her own. Can't blame her. And while it's hard to imagine the alleged Prince of Pegging letting loose very much, maybe he did a royal shot or two?