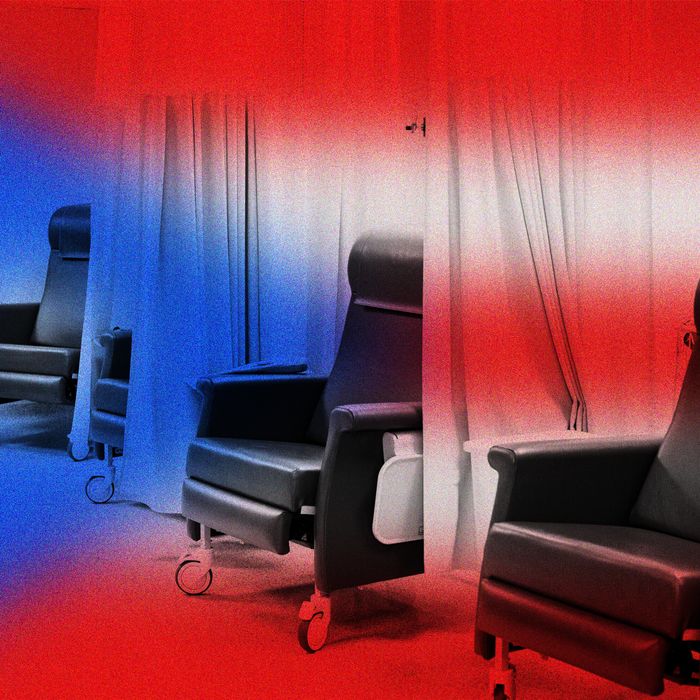 Photo-Illustration: the Cut; Photo ERIKA P. RODRIGUEZ/The New York Times/Redux
It was raining despite the sun — the type of weather Boricuas make superstitious jokes about — on a recent Tuesday at Women's Medical Pavilion, an abortion clinic in Puerto Rico. The eight patients seated around me in the waiting room looked at their phones in silence as a midday entertainment program played on a small TV. Nurses called them to the front desk one by one, referring to them as "mi amor" and "corazón" as they gave an overview of the 15-minute procedure. An abortion seeker seated to my right took a call and told the person on the other end of the line that she was hungry — it was nearly 1 p.m. — because the clinic had instructed her to not eat anything two hours before her visit. Plus, she said, she couldn't afford to spend money on a meal — not even from the fast-food joint across the street from the clinic's pink entrance.
The cost of a medication abortion in Puerto Rico is $350, while a surgical abortion starts at around $250 and increases with gestational stage. That price tag is hefty for the 40 percent of the population living below the poverty line, especially given that insurance plans currently on offer in the archipelago don't cover abortion. "We see patients who have pawned jewelry in order to cover the cost," Dr. Yari Vale Moreno, an OB/GYN and abortion provider at Darlington Medical Associates, another of Puerto Rico's clinics, tells me. "I have no doubt some people have stopped buying groceries for one or two weeks in order to afford the procedure."
Cost is just one of the barriers preventing Puerto Ricans from accessing abortion care, even though it's legal there throughout pregnancy. The U.S. territory doesn't have restrictive laws like those that proliferated in the South and Midwest even before Roe v. Wade was overturned in June. There are no gestational limits, mandatory waiting periods, parental-consent requirements for minors, or misleading scripts that the government forces providers to read to their patients. Several clinic workers and advocates I spoke to said that they've seen a slight uptick in the past year in patients seeking care from states like Texas and Florida. And before Roe was decided in 1973, Puerto Rico long played a role as an abortion haven for those who could afford to travel from nearby Caribbean nations or the mainland.
Since 2019, anti-abortion lawmakers have seized on this reputation to try to curtail access in the archipelago. In anticipation of the Supreme Court's Dobbs decision earlier this year, they introduced four pieces of legislation: a bill banning abortion once fetal cardiac activity is detected (which happens around six weeks of pregnancy — before most people know they're pregnant), a 22-week ban, a ballot measure that would grant fetuses and embryos a right to life, and an amendment to the penal code that would classify the murder of a pregnant person as a double homicide. While those measures were defeated last month at the end of the legislative session, it remains a struggle for many Boricuas in need of an abortion to get one.
There are four abortion clinics serving 630,000 women of reproductive age in Puerto Rico. In 2021, they performed 4,225 abortions — 96 percent of which took place in the first trimester, according to the Puerto Rico Department of Health. There used to be more clinics, according to Vale Moreno, who has been offering abortion care for more than 15 years, but as physicians have aged and retired, no one has stepped in to replace them. The archipelago is experiencing an exodus of health-care providers across all fields, but doctors trying to open an abortion clinic face prohibitive challenges. In Vale Moreno's case, she says seven banks denied her a loan. "In the public eye, abortion care is not seen as a regular gynecological service," she says. The health department requires that clinics meet the same building requirements as ambulatory surgery centers, and due to the unreliability of Puerto Rico's power grid and water systems, providers have to maintain access to a power generator and water tank. Vale Moreno added that while physicians with private obstetric practices can offer abortion care, not everyone is trained to do so or advertises it to their patients.
All of Puerto Rico's clinics are located within a ten-mile radius in the San Juan metro area, so patients who live elsewhere in the archipelago have to travel what are considered long distances for Boricuas. When I visited Women's Medical Pavilion, it took me 45 minutes to drive there from my family's house in the northern town of Vega Alta and nearly an hour to return due to traffic. For some patients in rural areas, it could take more than three hours to reach the clinics, and it'd be a multiday affair for those who come from the island towns of Vieques and Culebra. The absence of reliable public transportation complicates the picture for patients who don't have access to a car — and that's without taking into account those who've never left their regions to travel to San Juan. How does anyone who has never been to la metro justify needing a ride there without disclosing the purpose of the visit?
"On paper, Puerto Rico is an abortion haven," says Dorian, an abortion-clinic nurse. "The most ironic part is, living on such a small island, accessibility is the biggest barrier."
Dorian, who asked that I only use her first name to protect her privacy, is a volunteer with the abortion doula collective Las Mingas del Aborto. Las Mingas is made up of about two dozen volunteers who help abortion seekers navigate the care available to them — for free. The group provides patients with information about abortion clinics and the differences between a medication and surgical abortion; referrals to OB/GYNs, doulas, and prenatal care if someone decides not to proceed with an abortion; and emotional support before, during, and after the procedure. They offer practical support including arranging funding, lodging, child care, transportation, and meals. While Las Mingas offers patients information about self-managed abortions, it does not help facilitate them.
Dorian says abortion seekers Las Mingas works with usually have a story that goes something like this: "I'm from Mayagüez" — a city about two-and-a-half hours' drive from San Juan — "I'm a single mother. I have three kids. I'm unemployed. I don't have transportation. I'm pregnant, and I want to have a termination. I have no money. What can we do?" The collective has worked with domestic-violence survivors, young professionals, and patients who need a multiday procedure later in pregnancy. The common thread between these clients, she says, is that the stigma associated with abortion care makes them feel they have to go through the process alone. "Sometimes what people need is just someone to listen to them without judgment," Dorian says. "Abortion can be un proceso de sanación — a healing process."
Misinformation around abortion is an invisible barrier to accessing care in Puerto Rico owing to the grip Christianity still holds on most social issues and the lack of comprehensive sex education in the archipelago. Growing up there, I didn't even learn abortion was legal until I went to college. Awareness hasn't drastically improved since then, as Kaira Michelle Saéz Pizarro, a member of feminist organization Taller Salud, noticed recently while canvassing in Loíza, a small northeastern town where the organization is based. "It filled me with sadness," she says of her conversations with residents who didn't know abortion was legal and available to them. "How many women may have needed this type of help and never knew? Never found resources to help them and may have pursued unsafe methods?"
Despite Loíza's conservative leaning, Saéz Pizarro says, a lot of people she has met identify as personally anti-abortion while recognizing that abortion is health care. "You'd give them a flyer, and they would come up to you to ask questions," she says. "People would be like, 'Can you give me more information I can share with my church's youth? Some of them are [sexually] active and may need this one day.'"
Education is a key part of destigmatizing the procedure, Cynthia, another volunteer with Las Mingas, tells me. Many who come to the organization seeking care are concerned that abortion is inherently life-threatening — even though the procedure is considerably safer than giving birth. "There's this misinformation about clinics — that they are strange and dark places where horrible things take place. People reach out to us later in pregnancy, because they are afraid," Cynthia says. "They believe, 'I'm going to come out of the clinic, and I'm going to bleed out. I'm going to die.'" These myths persist, because the feminist movement hasn't aggressively championed abortion rights over the years in ways similar to the fight against gender-based violence, says Nirvana González Rosa, a member of the coalition Aborto Libre Puerto Rico. "Los anti-derechos have been very effective with their continued campaigns," she says. "They go to schools with fetal remains inside of a container telling students that abortion is murder."
Aborto Libre and other feminist organizations have played catch-up for three years since P.S. 950, the first major anti-abortion legislation in decades, passed and was later vetoed by then-Governor Ricardo Rosselló. The consistent education campaigns are starting to pay off: In May, hundreds of people marched to the Puerto Rico Capitol decked in green — a color that has become an international symbol of abortion rights. But even though the House committee debating the four anti-abortion measures voted no on bringing them to the floor for consideration in mid-November, the anti-abortion attacks were a bitter reminder that lawmakers would rather focus on curtailing rights than expanding them, says Lourdes Inoa Monegro, a member of Taller Salud. "The message from the state was, 'You can't decide. I'll decide for you,'" she says. "How much are women's lives really worth in this country? We were not even guaranteeing to make access better — we were just moving backward. Pa'trás."
She added that abortion-rights organizations are now looking to advance P.S. 929, a bill that would codify the right to abortion in the Puerto Rico Constitution. It'll be an uphill battle to obtain the necessary votes when the next legislative session begins in January, though, as the committee that rejected the four anti-abortion measures voted no on a bill that would protect and expand reproductive rights. While lawmakers strategize, abortion seekers across the archipelago will continue to struggle to access care.
The day I visited Women's Medical Pavilion, the doctor still wasn't in by 1:30 p.m. At that point, the patients had been sitting at the clinic for nearly two hours. Some of them may have missed out on a day's wages or an important class. As I headed out the door, the hungry patient to my right was still cuddled up on the couch and staring at her phone, waiting.