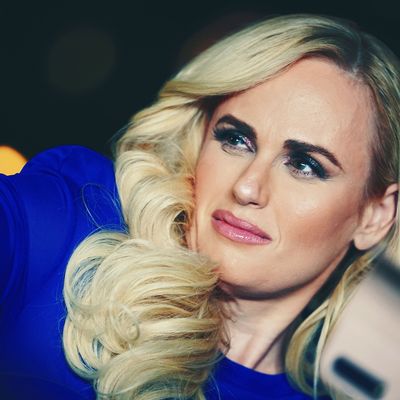 Photo: Thomas Niedermueller/Getty Images for ZFF
Actress Rebel Wilson is trying her hand at something new this holiday season — loungewear. Earlier this month, in collaboration with her partner and designer Ramona Agruma, she launched R&R Club, a loungewear capsule featuring French terry sweatpants and hoodies designed to make people feel "comfortable and confident" … but only if you fit into clothes size XL or smaller.
Wilson, who lost 80 pounds over her "year of health" in 2020 and worked with lots of diet brands like Jenny Craig, received backlash for excluding bigger bodies. Wilson's fans were disappointed by the lack of inclusivity, given that over the course of her career, she's often spoken about existing in a larger body. Body positivity TikToker Destiny Ann said in a video, "I don't understand how someone who was plus size for a majority of her career and a majority of her life, someone who knows how hard it is to be fat, to shop for clothing and actually find it in your size — I don't understand how someone with that background, that knowledge can release a brand that only goes up to an XL."
On top of that, there's the fact that in 2017, Wilson created a plus-size clothing line called Rebel Wilson X Angels, which has items you can still buy. As for her new venture, many fans are wondering how Wilson could exclude a community that she was a part of for so long.
On Thursday, Wilson responded to the backlash on Instagram stories, telling her followers that the brand is still "experimenting" with limited sizes. "In success we are planning on doing more colours and sizes for R&R Club," she added alongside a picture of her smiling in the $300 sweatsuit. Wilson proceeded to ask her followers what colours and sizes they'd be interested in, but it's pretty clear that sizes that exceed an XL are the sizes that her fans are looking for.
This post has been updated.