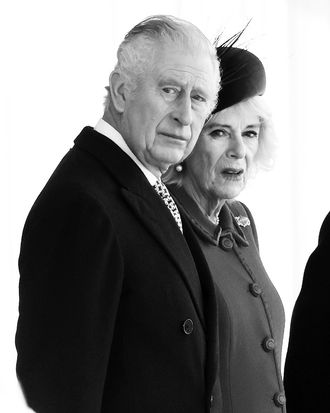 Photo: Max Mumby/Indigo/Getty Images
Earlier this month, a senior staff member of Buckingham Palace resigned after being accused of making racist comments to a guest. The incident brought renewed attention to accusations of the royal family being racist or having racist staff members. Last year, in response to Meghan Markle's claim that a member of the royal family had speculated about the skin tone of her and Prince Harry's unborn child, Prince William famously reassured the public that the royals are "very much not a racist family." Still, he and his wife, Kate Middleton, were met with protests and demands for reparations for slavery on their colonial-nostalgia trip to the Caribbean, and the palace's history of racist hiring practices has continued to be subject to scrutiny.
Although the palace did not identify the individual, it was widely reported that it was Lady Susan Hussey, the late queen's lady-in-waiting, a senior member of the royal family, and Prince William's godmother. Ngozi Fulani, who was born in Britain and works for Sistah Space, an organization that provides support for African and Caribbean women affected by abuse, wrote on Twitter that during her visit to Buckingham Palace for an event hosted by Queen Camilla, a royal staff member, whom she identified as "Lady SH," asked her a series of uncomfortable questions about her identity.
"Mixed feelings about yesterday's visit to Buckingham Palace," she wrote in a now-deleted tweet. "10 mins after arriving, a member of staff, Lady SH, approached me, moved my hair to see my name badge."
Fulani wrote that the questions Hussey asked her included "What part of Africa are you from?" and "When did you first come here?" When Fulani said she was born in England and was British, she says Hussey responded, "No, but where do you really come from? Where do your people come from?"
According to the BBC, Buckingham Palace officials said in a statement that they were taking the incident seriously and had investigated "immediately to establish the full details." "In this instance, unacceptable and deeply regrettable comments have been made," the statement said. "The individual concerned would like to express her profound apologies for the hurt caused and has stepped aside from her honorary role with immediate effect." The statement added that they had reached out to Fulani and "are inviting her to discuss all elements of her experience in person if she wishes."
Fulani told The Independent that she was "stunned" by the interaction.
"I had to consider so many things," she said. "As a Black person, I found myself in this place where I wanted to say something, but what happened would automatically be seen as my fault, it would bring Sistah Space down."
A spokesperson for Prince William said, "Racism has no place in our society," per the BBC. At the time, William and Kate were on a trip to Boston, where they were booed by the crowd at a Celtics game.
Now, Sistah Space says that it has suspended some its operations over safety concerns, the Washington Post reports. "Unfortunately, recent events meant that we were forced to temporarily cease many of our operations to ensure the safety of our service users and our teams," the organization wrote in a series of Instagram Stories posted Friday night, without elaborating on the specific events.

Days earlier, Fulani said that she had been attacked online for speaking about her experience at Buckingham Palace, per the BBC. "My team, family, and I have been put under immense pressure and received some horrific abuse via social media," she said in a statement widely quoted by British media. According to The Voice, a U.K. newspaper for British African Caribbean readers, Fulani was subjected to a "social-media hate campaign" after her experience at the palace. Some critics called for Sistah Space to be shut down because it only caters to women of African Caribbean heritage.
Two weeks after the incident, Buckingham Palace announced that Hussey apologized to Fulani during a meeting "filled with warmth and understanding" and that Fulani has "accepted this apology and appreciates that no malice was intended." Acknowledging the public attacks on Fulani, the palace also claimed that Hussey has plans to "deepen her awareness of the sensitivities involved" and that the royal family is continuing "their focus on inclusion and diversity."
This post has been updated.