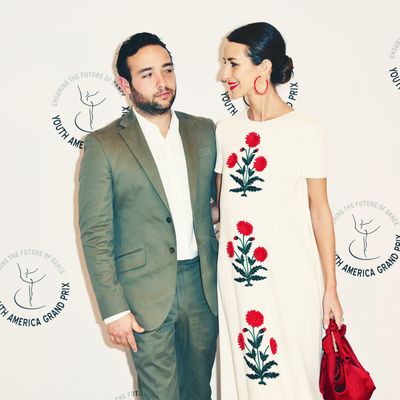 Photo: Jared Siskin/Patrick McMullan via Getty Images
What do the words "Something Navy" evoke to you? A bean-based soup? A J.Crew-themed wedding? Personally, I was surprised to learn that it's a clothing company that, along with its founder, influencer Arielle Charnas, is now the subject of rabid internet chatter thanks to completely unsubstantiated rumors that Arielle's husband, Brandon, embezzled from her company and they are getting divorced. While reps for the couple and their respective businesses have denied all of this, the claims being made on Twitter, TikTok, and Reddit are getting increasingly outlandish.
On Friday, a widely anticipated Business Insider article revealed that Something Navy may be in some hot water financially but is not, to the publication's knowledge, involved in any embezzling schemes or influencer divorces. Let's get to the bottom of this elevated-basic drama, shall we?
First of all, who?
Arielle Charnas is an influencer known for her fashion blog turned clothing line Something Navy. In 2017, she restyled Something Navy, which had started as a blog eight years earlier, into a clothing line with Nordstrom, which she officially relaunched as a stand-alone brand in July 2020. Something Navy markets a collection of unremarkable but cozy-looking closet staples, which Charnas says fall under the descriptor of "elevated basic." Most recently, she released a candle collaboration called Something Scented. You get the idea. As of 2019, when Charnas was gathering investors ahead of her relaunch, the company was valued at $45 million.
Arielle is married to a real-estate guy named Brandon Charnas, who makes the occasional appearance on her Instagram alongside their three children, Ruby Lou, Esme Rae, and Navy Bea. Yes, her baby is named after her lifestyle brand. Anyway, Brandon is the co-founder of Current Real Estate, which claims to be a "best-in-class real estate advisory firm."
You may not be surprised to learn that not everyone is a fan of Charnas. In March 2020, she ensnared herself in controversy after testing positive for COVID-19 amid a citywide test shortage and then relocated to the Hamptons. She chronicled the entire ordeal on her Instagram Stories before issuing several apologies "to those we have offended for not appearing to [take] this grave crisis seriously."
So why are people talking about her now?
On Tuesday, the (famously unreliable) Instagram gossip account Deuxmoi posted several claims that Arielle and Brandon were getting divorced because Brandon embezzled money from Something Navy. Other users took to Arielle's Instagram to note that in her most recent posts, she is noticeably sans wedding ring.
On Wednesday, Matthew Scanlan, the chief executive officer of Something Navy, told WWD that the rumors that Brandon embezzled from the company were "categorically false." He added, "Brandon Charnas does not have access to company bank accounts. He is not an employee of the company, and he has no access points." A spokesperson for Brandon's real-estate company also denied there was any embezzlement at the company.
Meanwhile, in response to rumors that the couple was getting divorced, a spokesperson for Arielle said, "This is patently false. They are happily married and in love."
A spokesperson for Arielle and Brandon told the Cut: "All of these rumors are fake. Arielle and Brandon are happily married, there was absolutely no embezzlement. This is all part of a disgusting, coordinated smear campaign attempting to damage Arielle and Brandon's reputations and lives."
What does Arielle's Instagram have to say about all this?
On Thursday morning, the couple took to Instagram to offer photographic evidence of their continuing union, posting a cuddly selfie where Brandon is drinking iced coffee from Ralph Lauren's coffee bar with the caption "Morning coffee date" alongside a heart emoji. Arielle turned her Instagram comments back on, perhaps so that Brandon could chime in with his own take on this coupley scene: "I need a manicure." Make of that what you will!
So … is any of it true?
All week, redditors and TikTokers have been foaming at the mouth anticipating a Business Insider report that would allegedly reveal all of the Charnas' dirty secrets. It arrived on Friday, though without any mention of embezzlement or divorce beyond reiterating the couple's denials.
According to Business Insider, Something Navy is in pretty bad shape business-wise and has repeatedly failed to pay its staffers, freelancers, and suppliers on time or at all. One former employee deemed the situation "a clusterfuck." Apparently nearly half of its employees have left this year, including a handful of high-ranking long-time members of the team. There's also the issue of Charnas herself, who reportedly didn't know about any of these issues until the spring but has reportedly been largely disinterested in promoting the brand at all for the past two years. A representative for Something Navy denied or downplayed most of the report's claims, saying that everyone who was owed money had been paid and chalked up the other issues to things like "industry-wide shifts" and the "ups and downs" of a start-up.
While I do not feel personally invested in Something Navy's success, I do hope it continues to exist, if only so that Charnas can continue to name her children after it. Denim Teddy Trucker Jacket is a pretty great baby name, no?
This post has been updated.