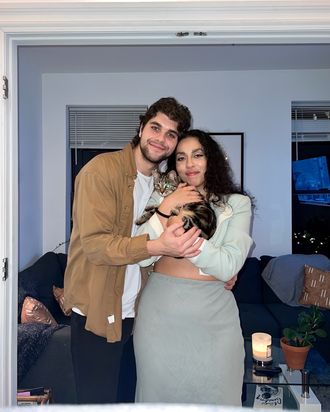 Some years ago, at some bar with sticky floors somewhere in downtown Manhattan, I counted down the seconds until the clock struck midnight. The room was dark and filled with stumbling people. I'd watched two men shove each other until one had been dragged out, someone had spilled a drink on my billowy black pants, and we'd paid decent money just to be in a room that smelled like a concoction of indescribable bodily fluids and intoxicants. Midnight came, kisses were exchanged, and a new year was thrust upon us. I reminded myself I was supposed to be having fun. I left at 12:17 a.m.
Other years were similar in mishap: unnecessary amounts of money spent, chaos ensuing, very poor choices made, trying to hail a cab to no avail in nearly subzero weather. Could I have, in theory, shelled out $275 to enjoy a four-course meal at some restaurant in Chelsea, the melodies of a live band, and the company of a far less rowdy crowd? Hypothetically, yes. Realistically (making eye contact with the real-life bank account of someone in their early 20s), no. Sticky floors it was. The one component that was frankly never amiss, though, was what I wore.
Before you label me the Ebenezer Scrooge of New Year's Eve, it's not that I dislike the actual holiday. In fact, what a delightful bookend and way to say "good riddance" to the previous year, especially after the last few we've had. Prior to being of age to enter certain establishments and after the pandemic hit, the night was usually celebrated in the comfort of someone's home, whether that be in the form of a house party or, like last year, a massive charcuterie board and a very tiny group of people (and pets) I love. Ringing in 2022 made me realize that home (a home of any kind) is the superior place to be on New Year's Eve.
Now, for two years in a row, I've spent the last few hours of one year and the beginning moments of the next at a home with people I love and floors a little less sticky. And even in a far less public setting, I still turned a look I felt festive and chic in, and nobody spilled their drink on it. I might even go as far as to say that wearing a fabulous outfit in your own home is more important than doing so in public. For me, at least, it's a signifier that whatever I put on was for my own personal enjoyment.
Each year, regardless of location, I've made sure my New Year's Eve outfit had at least one of two components: an unexpected dose of drama or a piece of self-determined luxury (bonus points for both). The rest of the look can be relaxed and comfy if that's what you want. Think a bedazzled top and sweatpants or a gown paired with platform Uggs. Your life, your rules!
In 2020, I wore a sparkly dress I'd had for years and forgotten about and paired it with some chunky jewelry I'd gotten secondhand and a black leather jacket. But the true drama came from the glittery double eyeliner I mixed myself and painstakingly applied in a swoosh over my eyelid. No one would have anticipated such theatrics from someone who was simply planning to sit on their couch all evening, and yet, the melodrama was provided. Makeup is a critically important and oft-neglected piece of a truly iconic NYE outfit.
Celebrated at home drinking sparkling grape juice out of vintage martini glasses, 2021 was my luxe year. The most crucial part of wearing or participating in something luxurious is that you have decided it's luxurious. No one on TikTok needs to tell you about "quiet" luxury, and no targeted Instagram ad should sell it to you. It should be self-determined. So as I rang in 2022, I wore an entirely vintage, mint outfit consisting of two pieces I'd bought independently of one another but color-matched so well that they seemed separated at birth. The real luxury was that I'd decided to wear nothing but a bralette under my open blazer. Sure, this could be something I could wear out and about but certainly not in the dead of winter.
I recommend shopping your own closet before purchasing anything just for the occasion, but if you've had your sights set on something festive-adjacent to wear in the winter months, look no further.
Pieces you can pair with sweats or Uggs
Photo: Retailer
This says, "Oh, this old thing? Just threw it on," etc.
Photo: Retailer
I adore an off-the-shoulder moment. If it were up to me, all of my clothing would give a little cold shoulder.
Photo: Retailer
I've long been a fan of black and white for the occasion in lieu of sparkles and sequins (I've tried it both ways, and the former just works for me). But picture this skirt paired with a sweater in the
same color. That's nice.
Photo: Retailer
Hear me out: This frock is pricey, but the color and shape are ethereal and perfect.
Photo: Retailer
If money were no object, I would never take this off. Crushed velvet on New Year's Eve feels like a necessity.
If you want to add just one fancy accessory
Photo: Retailer
Sometimes, the difference between an outfit and a good outfit is a pair of earrings.
Photo: Retailer
Listen, it's none of my business how you celebrate. Whatever you do, just make it chic.
Let's picture this together with a pair of white sweatpants. Opulence meets coziness.
Photo: Retailer
Senior fashion writer Emilia Petrarca, a fellow curly girly, promises this fabulous hat won't ruin your hairdo.
Photo: Retailer
Nearly everything Simone Rocha makes is perfect in my eyes. These earrings are no exception.
Photo: Retailer
Give 'em the old razzle-dazzle while staying warm.
If you want to be comfy but chic
Photo: Retailer
I'm a sucker for silk jammies, and these are the perfect set to go to bed in at 12:01 a.m.
Photo: Retailer
The perfect hosting pants.
Photo: Retailer
Another winner from J.Crew — slip skirts make ideal ambiguous-occasion outfits.
Photo: Retailer
This headband is very après ski minus the strenuous activity.
If you really don't care and just want to be comfy
Photo: Retailer
Cashmere? For winter? Groundbreaking.
Photo: Retailer
Remember the top we're pairing with white sweatpants? Here you go.
Photo: Retailer
Like I said, I know this doesn't seem dramatic, but that neckline is so thick that I have no choice but to deem it the drama.
Photo: Retailer
I can't decide if these are authentically cute or camp. What I am sure of, though, is that they're comfortable.
Photo: Retailer
This is the most versatile tunic I've ever worn. It works for at home or on the go. But be warned, if you're anywhere near carpet, be prepared to generate some static and (literally) shock those around you.
For more from the Cut Shop team, follow us on Instagram and Twitter, where we share our best new finds, favorite styling tricks, and more.