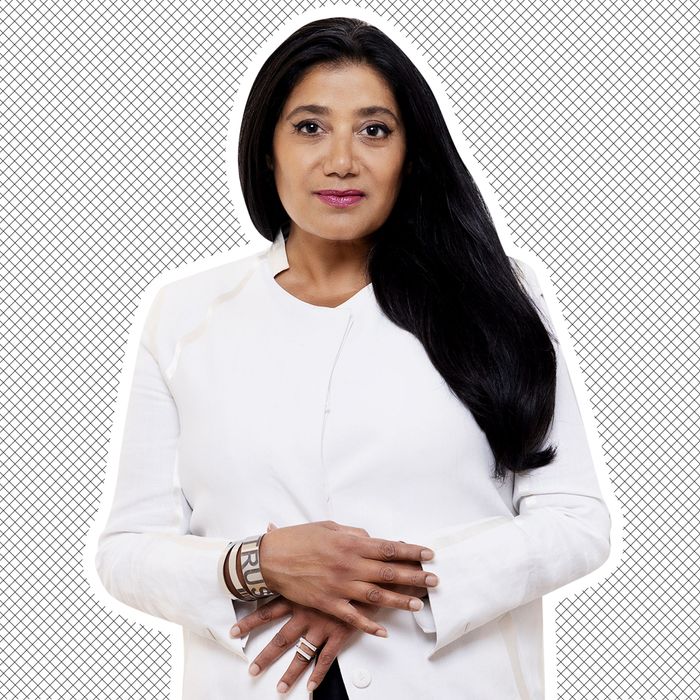 Photo-Illustration: by The Cut; Photo: Steve Benisty
After attending Miami Art and Design Week for over a decade, New York–based artist and architect Suchi Reddy has unveiled her first installation at the event, a collaboration with Lexus called Shaped by Air.
Inspired by the Lexus electrified sports car, the sculpture reimagines its form using post-consumer materials and mirrors. "I'm always thinking about how our environments are never passive," Reddy says, gesturing to the clouds of mist that surround her sculpture, forming a kind of constant reflective puddle on the pavement around the piece. In this way, the installation interacts with the environment: As day moves into night, the change in light gives an otherwise stationary sculpture movement with the shadows it casts in a way that reminds me of Alexander Calder's mobiles.
The work is characteristic of Reddy. Her firm, Reddymade Architecture, which she founded in 2002, emphasizes her philosophy of "form follows feeling," both by how the work is shaped but also how the public can engage with it. "That's why I'm interested in neuroscience and art and architecture," she says. "I really think we feel a certain way right now, you and me sitting here, the breeze flying, the light's coming in. It changes you. I want to create that."
We sat down in the café of the Esmé Hotel in the Art Deco District of Miami, where Reddy chatted with me about the buzzing energy of Miami this time of year, David Bowie's writing process, and her favorite sculpture from Art Basel 2022.
What drew you to this particular collaboration?
When they first approached me, I looked up their support of the arts. I was really encouraged by the fact that they've had serious collaborations with different artists, and not just through Design Miami. When they told me it was in the garden of the ICA, that made me really interested because years ago I had seen a Larry Bell show there, and he's one of my favorite artists. Being an architect by training, when they said that was where it would be, I'm inspired by that. There was no going back.
How did you initially imagine the installation?
I'm a bit of a perverse designer. If they say, "Here's a car and you have to represent this kind of really solid object," I start thinking about how I can dematerialize this as much as possible. What can I do that's the exact opposite of what you would make a car out of? So that there's this kind of engagement or there's a discovery of a different way of looking at something. When you see those two stone sculptures and the way they've set up the sculptures of art so that there's space for them to breathe, you couldn't put something solid there. It would crowd everything.
I always love to arrive at a design that in the end feels like it had to be what it is. Really thinking about how you take this man-made object, put it in nature, allow it to reflect light, air. The installation changes so much during the day, depending on how the light's moving, how the shadows are. And that's why at night I wanted to give it a different presence, too.
What was your process for taking an abstract idea and then distilling it into a technical drawing?
It's almost like automatic thinking. Writers will just start putting words down and then see how they make sense or don't. One of the things that I used to be so fascinated by is David Bowie. In the old days, when he used to write lyrics, he had this machine where it would have nonsense words and then they'd be cut up and sort jumbled up together and make lyrics. Sometimes when I have a concrete problem, I like to disengage from it. The car was beautiful, and the lines of it were just amazing. I put this drawing on my desk, and I had a little layer of trace over it, almost automatically the hand just started following the lines.
As I was looking at them, I was like, "My God, these are Matisse shapes. Let me cut that out." I started playing with them. To some degree, for me, the creative process has always been like that, where I don't like to overintellectualize how I begin. I like that beginning to be something that forms of its own accord and is synthesizing something in the air.
What are your guiding principles when it comes to design?
I really want to either amplify emotion, evoke emotion, or help you gain a different perspective on your own humanity. It's always about connection in some way. In this case, I was really thinking about this commitment of electrification and carbon neutrality. It would be nice to really abstract this whole thing so that every single shape in the sculpture comes from the car. And then I can separate them into landscape, into form, and then weave the two together so that when somebody looks at it, they can see this kind of weaving. And maybe that'll spark something about how we weave together with the environment. For me, it's always about reorienting the compass toward feeling.
One of my favorite architectural philosophers always says, "It's like when you think of a spider, you never think about it without its web." It's the same thing for humans. We're always in our environment. We can't be separated from it. And yet we think we're somehow autonomous machines running around — it's silly.
Having come down to Miami for Art and Design Week, can you tell me some of your favorite moments over the years? 
Even though it's such a frenetic energy, I always find artwork or an installation that's incredibly inspiring. This time I went to see the Marian Goodman booth in the convention center, and there's a ridiculously amazing sculpture by Richard Deacon, a British sculptor. His work is also about feeling. He attacks it from a different perspective. And it's just beautiful. You can't even describe this shape. It's these curves that come together, and it's wood and there's leather on one part of it — and giant. And when you see it from all these different angles, it changes. It tells you a new thing about connection. It's called Double Talk.
Another thing I love about Miami is the clouds. I think because of the ocean, somehow, they're like 90- to 100-foot-tall buildings. I don't see them like that anywhere else. I love watching the clouds here. It's one of my favorite things, regardless of the buzz of this week.
This interview has been edited and condensed for clarity.