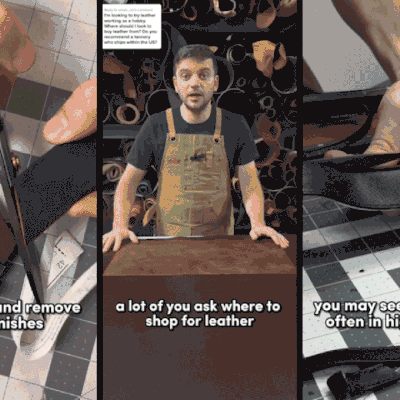 Video: @tanner.leatherstein
Handbags that cost the same as a month of rent usually look good. The logo tells everyone, "I'm rich enough to afford this!" But what is anyone actually paying for? Well, the only way to find out may just be … to cut them up and burn them? With 4.5 million likes and over 575,000 followers on TikTok, Volkan Yilmaz, a.k.a. @TannerLeatherstein, has garnered a loyal following through short videos of him doing just that to Chanels, Pradas, Bottega Venetas, and other luxury-designer leather purses and wallets. Yilmaz, who comes from two generations of leather artisans in Turkey, measures the leather, scrapes it to expose the natural feel, and burns scraps to examine the quality and estimate the true cost.
Most of his items are new, purchased specifically for dissecting. His TikTok about a $1,200 Chanel wallet (which, by his estimates, actually costs $130) has over 2 million views. But he's not trash talking the brands or those who shell out for them. He comes across as genuine — the kind of guy you'd set up a friend with — in his black T-shirt and canvas work apron. "Even those brands know they are in the business of status," he says. "I just want to give you a perspective from a leather and craftsmanship standpoint." Smart watchers can also find deals. He recently called a classic Uniqlo belt "severely underpriced."
When the 36-year-old moved to the U.S. in 2009 from Turkey, he drove a cab in Chicago to pay rent. In 2015, he completed an MBA at the University of Illinois Urbana-Champaign, where he met his wife. They now live in Dallas with their two young children. After a yearlong stint in the corporate world, he quit to get back to his roots. His main gig is the family's leather-goods manufacturing business, Pegai. With his brother running the leather workshops in Turkey, Yilmaz focuses on sales out of the U.S. via Etsy, Amazon, and his site. But letting consumers go behind the curtain of luxury leather feels more like a calling, he says. "It's helped me find clarity in my life's purpose."
Let's start with the most important question: What's the brand that you feel is worth it right now? 
Bottega — they really go for those minimally processed and naturally clean leathers, not hiding behind that standardization that can be virtually limitlessly reproduced. They are really playing the top game in leather. I've looked at different products, and in every item the leather selection is consistent.
Do you pay for the items yourself, and where do you buy them? 
Yes, I buy new bags either online or go to the store. Recently, I went to the Hermès store in Dallas because I wanted to experience the interaction there. I got a little $500 wallet — of course, they said they don't have anything else in stock. It's part of the price because you feel different when you actually walk in to buy those bags. At Shinola, one person recognized me. He said, "Aren't you that TikToker cutting up bags?"
Were there items you bought and didn't have the heart to destroy? 
There are two bags: One was a little purse from Bottega Veneta. It's too beautiful, and I really didn't want to cut it, so I gave it to my wife. Another one was a backpack from Johnston & Murphy; it was an incredible value. I'm still using it and personally attached to the bag. Sometimes I just enjoy the cutting process, and sometimes it hurts.
You mention Prada, Louis Vuitton, and Chanel as having plasticky finishes that actually obscure the true quality of the leather — what does that mean? 
Prada's Saffiano leather is an example of leather that's perceived as high quality. It's very durable, but it's coated with that thick, plasticky layer for scratch resistance. At some point, it's going to start breaking and crackling. Louis Vuitton's Epi leather and Chanel's Caviar leather are also similar. The Caviar leather has to have a heavy finish, almost like what's required in a basketball. People want more natural stuff, similar to natural wood, and those man-made standard processes are declining in popularity.
How can a regular person determine if a bag is worth it? 
Leather is a feeling thing; you don't need any knowledge. Look to see if there are any form of variations on the leather grain showing you signs of minimal finishes that are naturally beautiful. Touch it — natural leather has a live, pleasant touch versus heavily finished or fake counterparts that feel dead and plasticky.
Smell it for the earthy pleasant tones; the lower-grade stuff usually gives off a chemical smell. Read the description: Brands and craftsmen who are particular about their leather can't talk enough about it, look for words like aniline, semi-aniline, full grain, top grain, vegetable tanned, Napa, lambskin, and so on.
Leather is not cheap but never astronomically expensive either. If you see a very high price, then know that it is for the status, not the leather.
What do you hope to accomplish by revealing the true estimated costs of each bag? 
As a consumer, you get to know how much leather or craftsmanship typically costs and deduct how much premium you're paying. For a person not interested in the status, it might change their mind. But if you are looking to buy because of the status, it's better to understand that you're doing this for a label — and you can still think it's worth it. It's a better transaction for both the buyer and the brand if people know what they are buying.