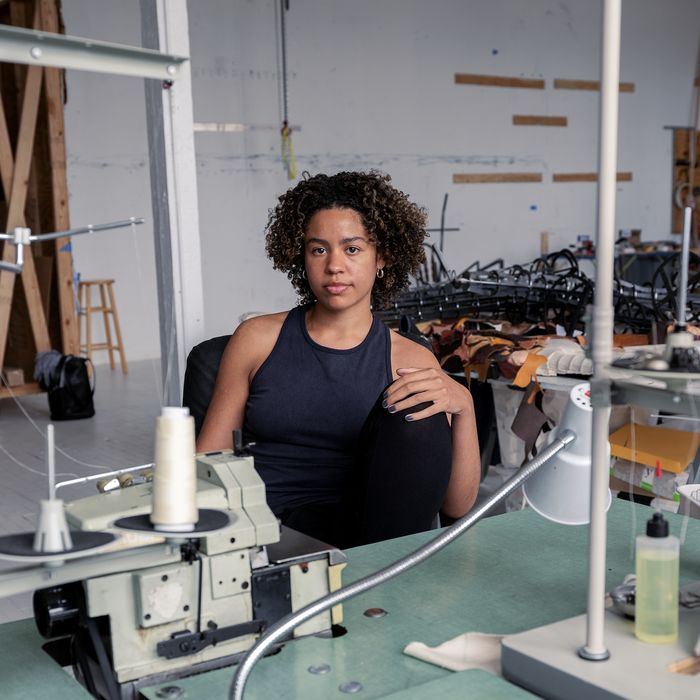 Photo: Hannah Price/Courtesy the artist and 52 Walker, New York
At 52 Walker, artist Tau Lewis transmutes the lifeblood of scrap objects into something sanctified. Within the high walls of the gallery, the 29-year-old sculptor's latest exhibition, "Vox Populi, Vox Dei," which runs through January 7, presents six larger-than-life Yoruba-style masks that pull inspiration from Greek epics, eschatology, theater, and science fiction and are assembled from found materials such as abandoned furs, fabrics bound for landfills, acrylics, and shells. As a handful of visitors who come in one cold and windy Sunday smooth down their hair and hush, I'm reminded that an art gallery can also be a temple.
"The voice of the people is the voice of God in all our belief systems. It has no other way to reach us — it has to reach through us. It reaches through us in theater, in church," Lewis says of the exhibition's title. On a Zoom call from the stairwell of her Brooklyn studio, she speaks quietly, wary of disturbing the other artists working behind the closed doors. Her vision for the gallery is a place for people to commune with spirits and for spirits to commune with each other: "Within Christianity, it's like without God, there are no people. It's the opposite in the Yoruba religion: If people were not there, God would not be. But who generates the idea of God? Who does God speak through?" Lewis is as measured when considering these questions as she is when I ask her to explain the ink visible above her blue fingernails: a reggae-inspired "strictly rockers" tattoo on the inside of her finger ("Don't come here and fuck up the function, no narcs," she explains) and a "stupid friend tattoo" of a missing tooth.
Lewis tells me she was drawn to masks because they "activate the wearer," turning them "supernatural and superior" in the brief moments when they're put on. Her large masks begin as detailed sketches with sew-by-numbers fabric swatches; the metal armatures are outsourced to vendors and draped and sewn in studio. Each anthropomorphic mask is a character with a narrative, many of whom recur throughout Lewis's oeuvre, and while the myths that inspire their stories aren't new, her iterations feel like reinventions. Ivory Gate, sewn with suede, shearling, conch shells, and more, reimagines the gate of horn and ivory in the Odyssey, through which false dreams pass and through which a wishful Penelope imagines Odysseus returning home. Trident, almost exclusively black and feathery with leather, contains snakeskin and shearling and draws inspiration from Poseidon and the Yoruba deity Obatala. The Moses-like Saint Mozelle is draped in strings of leather flowers. Homonoia and her vibrant colors resemble a pulsing heart.
Sometimes Lewis kisses her masks good night in her studio. They are portals into a spirit world, and spirits commune with her often, occasionally toppling over her boxes and seeking acknowledgment. "Everything I do has been dedicated to the ubiquitous, I guess, angel, ancestor, ghost, all of whom are synonymous in my world," she says. She's never encountered a hostile spirit and finds notions that spirits are dangerous and sinister to be anti-Black and anti-Indigenous, a dismantlement of communities and their methods of worship. "Spirits just want to be seen, to know you appreciate them."
Her art is a way of doing just that. "It felt like nothing I'd ever seen before. It didn't remind me of anything," says gallery director and curator Ebony L. Haynes as she tours me around 52 Walker. "Sure, there are references, but it actually feels like Tau Lewis."
Up close, the sculptures smell of leather and the lives they once carried, notably Mater Dei, which pays homage to matrilineal deities and is sewn from animal skins Lewis found at a Long Island furrier. "There must have been a thousand coats in that basement," she remembers. Many were left behind by their deceased wearers. Alone in the furrier's basement, "it was visceral being amongst all these different people — or their essence, at least." Whenever she found an owner's name embroidered into the coat, she kept it in the piece.
Born in Canada in 1993, Lewis is a self-taught artist who pursued journalism twice and dropped out of college. As a child, she had difficulties verbalizing and was told she had a learning disability. But she could always express herself with materials. "I was always making things," she recalls. "That's where I'm comfortable and where I live." Her parents were also self-taught in their respective professions. Her mother was a landscaper who created her own library of native Canadian plants and used it to launch a business. When I visited 52 Walker, Lewis was not present; she was grieving her mother, who recently died in a medically assisted suicide in Canada.
Lewis's father immigrated from Jamaica to Canada in the '80s and took a job at an auto-body shop, and while he had no prior experience with cars, he told his daughter stories about how he used to "buff things out" with his hands. "It's impactful, coming from a lineage of folks who have approached things in a nontraditional way, which is what I do," she says. But the self-taught label, which appears in nearly all of her artist bios, is also one Lewis has grown ambivalent about. "I'm skeptical why people want to put that at the forefront of what I am and what I do because it's often used to delegitimize artists, especially Black artists, especially women. Every artist is self-taught to a degree, you know?"
It's difficult for Lewis to pinpoint when she got into the tradition of upcycled materials and "outsider art." Like spirituality, it's always been part of her path. Her parents scrimped and saved and shopped at Value Village and Goodwill, attracting Lewis to the "mystery and wonder" of used clothes over new ones. As she grew up and learned more about contemporary art, she felt galvanized by the use of upcycled materials among Black artists in the Deep South and also by her mother, who collected — and sometimes made — her own art out of "junky stuff" like used tile and scrap metal. "She built a structure of value that was completely determined by her," Lewis says. She still keeps her mother's art in her archives and never throws anything out.
In sourcing materials for "Vox Populi, Vox Dei," Lewis determined her own value system, too, seeking out objects with tangible histories. She speaks reverently about what she finds in jacket pockets and the residual fragrances of tobacco and perfume. She finds joy in discovering "the perfect eyeball" and sees being part of a material's life as a privilege. She especially loves shells and bone fragments; her favorites come from a beach in Negril, Jamaica, that smell faintly of salt and fish. The artist embeds her work with personal effects to give them a "material DNA," something she tells me is a more "secretive" part of her practice. There's a leather jacket her mother owned as a teen, the first coat her father wore in Canada, and the beads her granny used to braid her hair, which Lewis uses sparingly: "It's very precious and such a finite amount."
Some "Vox Populi, Vox Dei" masks have teeth sewn into them. The animal furs of Mater Dei retain their small claws. These tiny, brutal details reflect the more caustic parts of creating the work. In her research for the exhibit, Lewis was struck by a passage about cicadas and mortality — "They come into adulthood in the dirt, and they emerge and they are very vivacious, but they live for a very short period of time after having spent so much time in this dark place," she explains — and, one day later, a green cicada flew into her while she was speaking to her mother on the phone. She also kept seeing angel numbers, which usually come to her as reassurance and validation but, in hindsight, feel like they were preparation. "I think they were actually trying to hold me and secure me and prepare me for what was happening with my mother," she reflects. "I'm in disbelief about how things happen, how things unfolded." But the numbers continue to come, and Lewis, a believer in signs and spirits, finds herself wondering what they mean. "Maybe it doesn't mean anything. Maybe things are random. I know nothing's fair."