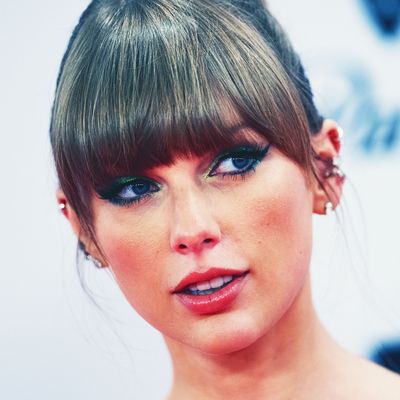 Photo-Illustration: Rolf Vennenbernd/picture alliance via Getty Images
For Swifties, everything about locking in tickets for the singer's 2023 Eras Tour has been an absolute nightmare. When tickets went on presale in November, millions swarmed Live Nation's Ticketmaster hoping to snag tickets to Swift's first tour in more than five years, only to be met by all sorts of issues — from hours-long waits and site outages to technical glitches and outrageously high ticket prices. To make matters worse, a few days later, Ticketmaster announced that it would be canceling the general sale entirely. Fans were not impressed, and their anger made it all the way to the U.S. Senate antitrust panel, which will hold a hearing on Ticketmaster and the music-touring industry.
Now, a group of Swifties is suing Live Nation for the ticket debacle, alleging breach of contract, intentional misrepresentation, fraud, fraudulent inducement, and other antitrust violations, according to Deadline.
Calling the Eras Tour ticket rollout a mess would be an understatement. Early tickets were going on Ticketmaster for $49 to $500, but resellers were quickly listing them for thousands. The Guardian reported that some tickets were $22,000. Now, Swifties want it known that these resellers are not real fans but "monsters." And the biggest monster of all? Ticketmaster, which announced on Twitter on November 17 that "due to extraordinarily high demands on ticketing systems and insufficient remaining ticket inventory to meet that demand, tomorrow's public on-sale for Taylor Swift | The Eras Tour has been cancelled," breaking the hearts of Swifties everywhere.
Ticketmaster's Swift meltdown has led to criticism of the ticketing giant from many people, including Representative Alexandria Ocasio-Cortez, who suggested that this could be the thing that radicalizes Swifties against monopolies. "Daily reminder that Ticketmaster is a monopoly, its merger with LiveNation should never have been approved, and they need to be reigned in. Break them up," AOC tweeted. (She later published an op-ed about it in Rolling Stone.) Meanwhile, Tennessee's attorney general announced that his office was launching an investigation into Ticketmaster's handling of the presale. The legal backlash reached new heights on November 18, when the New York Times reported that the Justice Department is also investigating Live Nation for abusing its power over the music industry.
While I would like to believe that Swiftie Nation is powerful enough to tweet a federal investigation into existence, the Times notes that it started well before this particular fiasco as part of the Biden administration's antitrust efforts. Senator Amy Klobuchar (the chair of the Senate Judiciary Subcommittee on Competition Policy, Antitrust, and Consumer Rights) reportedly announced that the committee would be convening a hearing "on how consolidation in the live entertainment and ticketing industry harms customers and artists alike."
Swift addressed the mess in an Instagram Story in November, writing, "It's really difficult for me to trust an outside entity" when it comes to mediating her fans' experience and "excruciating for me to just watch mistakes happen with no recourse." Suggesting that her team had discussed the imminent frenzy of ticket buyers with Ticketmaster ahead of time, she added that "we asked them, multiple times, if they could handle this kind of demand and we were assured they could."
Although Swift has never been shy about going toe to toe with industry stalwarts, she didn't indicate any plans to take on Ticketmaster and its monopoly on concert-ticket sales. "There are a multitude of reasons why people had such a hard time trying to get tickets," she wrote, "and I'm trying to figure out how this situation can be improved moving forward." She addressed fans who weren't able to get tickets, concluding with "my hope is to provide more opportunities for us to all get together and sing these songs."
The singer did, however, give a few select fans another chance to buy tickets to her Eras Tour. As reported by Billboard, on Monday, Dec. 12, a select group of fans received messages from Ticketmaster, offering them another shot at purchasing two tickets to a Swift concert. "You have been selected for this opportunity because you have been identified as a fan who received a boost during the Verified Fan presale but did not purchase tickets," the message read in part, as shared by fans online. "We apologize for the difficulties you may have experienced, and have been asked by Taylor's team to create this additional opportunity for you to purchase tickets." Those contacted are expected to receive access to ticket purchasing windows before Dec. 23, and will have to request access for specific, currently unannounced tour dates.
Meanwhile, NBC reported that the fans who are suing Ticketmaster allege that the company "intentionally and purposefully misled ticket purchasers" by permitting "scalpers and bots" to access the presale and gave more codes than it had tickets. They also alleged that Ticketmaster scheduled the general ticket sale "knowing they would not have the quantity necessary" to fulfill the demand.
The fans' attorney, Jennifer Kinder, told the Washington Post, "Ticketmaster messed with the wrong fan base."
This post has been updated.