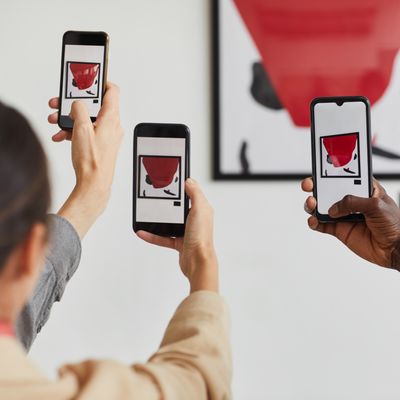 Photo: SeventyFour/Getty Images/iStockphoto
While there is good art to be seen during Art Basel, it's always the cheap stunts (or as Vulture put it, "pranks") that give the annual event its notoriety. And though there was no $120,000 banana or golden bagel this year, oddly, there were several gold statues of women kneeling, most notably one by Vanessa Beecroft. Everyone had their phones out to document and scan QR codes or to find a good background for their #OOTD. A popular setting was a statue by Lynda Benglis called Yellow Tail — another gold sculpture.
I noticed that there was very little crossover with the pieces that got the most attention and those that sold for the highest price. Overall, the selection was diverse, with a good mix of early- to mid-career artists and blue-chip names (Hockney, Picasso, Haring). There was also some effort on the part of organizers to highlight artists of marginalized identities, particularly in "Positions," a section of the fair dedicated to emerging artists (though it was clear, and somewhat jarring, that the same attention to diversity was not being paid to the mostly white dealers and gallerists who actually sell the art).
There was plenty of newer, buzzy work that felt like it catered to a viral moment (read on for more about the ATM), but there was also a variety of pieces predating social media that still got people to take their phones out. The re-creation of Guillaume Bijl's 1984 Casino and Leandro Erlich's retrospective at PAMM are both installations that, in their creation, invited a one-on-one interaction between art and viewer, as opposed to you plus your follower count. While these older works are still effective, it can't be ignored that their initial power has been diluted by the screens we put in between ourselves and the art. It also raises the question as to whether the art that solely wants a reaction in the form of a TikTok or snappy tweet has anything more to it.
ATM Leaderboard, by MSCHF
Perrotin installed an ATM situated near the entrance to the restroom at the fair, which is a  place where you'd usually find such an item. As you've probably seen, this piece by the Brooklyn art collective MSCHF works like a regular cash machine, but the kicker is that it takes a photo of the ATM user and posts their bank balance for all to see, ranking everyone's balance. It feels a little on the nose, but of course, this is one of the pieces to go the most viral this weekend. It's nice to see which rich people are technically "cash poor."
MSCHF has previously made headlines for its "Nike" shoe apparently made with its employees' blood embedded in the soles. Though definitely an Instagrammable (TikTokable?) piece, ATM Leaderboard reportedly sold for a relatively low number for Art Basel standards at $75,000.
Attitude Jade #3, by Daniel Firman
One of the more quietly unsettling pieces was located in the booth at Ceysson & Bénétière. Onlookers approached with trepidation as they passed, making sure it really was just a sculpture and not some Marina Abramović–type performance piece. Attitude Jade #3 is characteristic of the work by Daniel Firman, which often features lifelike sculptures with their faces obscured.
Untitled (Fear and Hate), by Barbara Kruger
Instantly recognizable, this piece by Kruger was one of at least two I'd seen at the fair. By the time Art Basel opened to the public, passing hypebeasts would remark, "It's like Supreme," and snap a photo.
Solo exhibition by Patrick Martinez
A corner of Basel was dedicated to emerging artists. Los Angeles' Charlie James Gallery showed a series of neon signs by Patrick Martinez. The "ABORT SCOTUS" sign rang more like an IG infographic, and the "I don't see any American dream, I see an American nightmare" piece reads like an inexplicably viral (yet trite) tweet.
Leandro Erlich: Liminal, a retrospective at PAMM
The first retrospective for Argentinian artist Leandro Erlich opened just before Art Basel. Sixteen works spanning two decades take up the special exhibition galleries at the Pérez Art Museum of Miami. The exhibit features large-scale pieces by the artist that require the viewer to fully interact with the environment to experience the art's uncanny, jump-scare qualities.
The Trash Bag Sofa, by Harry Nuriev
Part of Design Miami, The Trash Bag Sofa features several leather bags stitched together and lacquered to look like a true pile of garbage like one might see on a street corner in New York …
Untitled (America/Me), by Glenn Ligon
This Glenn Ligon piece glowed in full view of the Art Basel café, where the only food they were serving was shrimp cocktail and oysters. Part of the Hauser & Wirth booth, this piece felt more like a caricature of the art at Art Basel.
Casino, by Guillaume Bijl
The Meredith Rosen booth was taken up entirely by a restaging of the 1984 installation by Bijl. The lore of this piece is that in its original showing, police came to raid the museum thinking it really was an unlicensed casino.