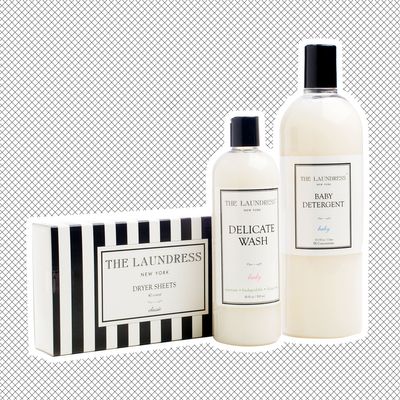 Photo-Illustration: by The Cut; Photo: Getty Images
On November 17, the Laundress New York, the all-natural detergent and home-goods brand with a cult-like following, posted an infographic to its Instagram with its logo and the phrase "Safety Notice." In the caption, the company warned its customers to stop using all the Laundress products "immediately," as the brand had "identified the potential presence of elevated levels of bacteria in some of our products that present a safety concern." The post went on to say the team was so far unaware of any adverse health impacts and would let consumers know which products were impacted and how to get reimbursed "as soon as possible." The company also sent an email blast.
The U.S. Consumer Product Safety Commission has since issued a recall spanning over 8 million units of Laundress products made between January 2021 and September 2022 that may contain bacteria typically found in soil and water. The commission warns that those with "weakened immune systems, external medical devices, and underlying lung condition" who might become exposed "face a risk of serious infection that may require medical treatment."
At least one class-action lawsuit has been filed against the detergent company, according to Insider. The named plaintiff in the case, Margaret Murphy, claimed her family became sick after using the Laundress's products.
The brand, which sells a $50 Le Labo Santal detergent and touts an entire line of products for babies, has since marked all merchandise as out of stock on its site and created a section for its safety notice. Some customers, like Rachel Handler, a writer at Vulture, reached out to the company via email after being unable to reach someone at the Laundress's flagship store in Soho (which is flagged as "temporarily closed" on Google) for clarification, only to be met with an email as vague as the brand's statement.
Handler, who noted she'd essentially been rationing one bottle of the brand's detergent for years, emailed the Laundress's team asking if anyone could provide more specifics about the bacteria and which products were affected. In response, she received an email stating that the company is "experiencing a high volume of inquiries" that may lead to a delayed response time and mentioning that customers with questions about their health are recommended to "please contact your doctor."
According to the Business of Home, prior to public notice, the company sent a note to retailers that carry the Laundress cleaning products in which interim CFO Tohfe Beidas asked them to "immediately cease all sales and distribution" of the brand's products as a result of "concerns that have arisen." Beidas also asked vendors to "quarantine" products in stock.
In a statement to the Cut via email, the company directed me to its website and social-media posts for more information. A representative also wrote that the Laundress is "working with the CPSC," the United States Consumer Product Safety Commission, "on this issue, and in the meantime decided it would be best to issue a stop-sale notice to our retailers and wholesalers and a safety notice to our consumers. At this time we do not have more information to provide, but will share more information as soon as we are able to do so."
Confused customers flooded the Laundress's Instagram comments with questions and concerns after the initial safety notice.
"Y'all. How far back? I have about 6 gallon sized bottles purchased last year," one comment read. "Please provide more detail, this is beyond vague. I use this product on my whole family including babies."
Some customers began mobilizing in the comments section.
Shelbey Wilson, a digital creator who said she has been using the Laundress products for years, said she had been "struggling with serious skin reactions for the past six months" in comments under the Laundress's post. "While I know I cannot say for certain if my detergents and home sprays are the root cause, I recently stopped using them because they were the last link in my dermatitis. Each time I would wash my clothes and put a fresh pair of sweats/sweater on, I would start breaking out in horrible red blotches and intense itching. This has lasted for well over six months," she wrote. Wilson, a mom who uses the No. 10 detergent and the Isle Signature detergent to wash her own clothes, said she also buys the No. 10 detergent and softener to wash her 20-month-old son's clothes. "Unfortunately, this all makes sense now. If anyone else can attest to a similar experience please let me know so I don't feel crazy."
Dozens of fellow customers came forward with similar complaints of sudden and inexplicable rashes, and while it's unclear whether these were caused by the Laundress's products, some consumers seemed to find, at the very least, a sense of validation.
One commenter complained of rashes they began getting in the spring, which they originally thought to be eczema though they found no relief in the creams doctors prescribed. They claim they only improved once they stopped using the Laundress's detergent. "I am so glad you posted this. Now I am confirmed it was the detergent," they wrote. "I thought it was all in my head but I am glad I trusted my gut."
"I have had a severe face rash for months now," another wrote. "Of course I can't be 100 percent positive, but it's starting to make sense."
A fellow Isle scent lover wrote they'd been using the detergent for about six months, saying both they and their husband had been complaining of "severe itchy skin — especially in the more sensitive areas of our bodies." They went on to express how disappointed they were in their experience and had "bought a ton when they were on sale too."
The team has since responded in the comments of their own post as well, where they wrote, "Thank you for your understanding, we hear and appreciate your concerns and questions. We are working hard on an update for our community soon, in the meantime please visit our Safety Notice for the latest information. This link can be found in our bio."