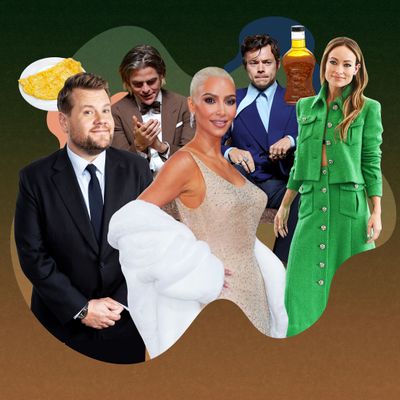 Photo-Illustration: by The Cut; Photos: Getty Images
It's that special time of year when we engage in thoughtful reflection, taking stock of the past 12 months and asking ourselves the important questions: What have we learned? How have we grown? Which celebrities were embroiled in the silliest scandals? Remember spitgate? Seems like only yesterday …
Here, in semi-chronological order, are some of the wildest, weirdest, and most wonderfully terrible celebrity antics from this year.
Cryptocurrency and NFT Drama
2022 was the year celebrities desperately wanted us to learn about this monkey. Despite our best attempts, conversations about crypto and NFTs were unavoidable. Matt Damon implied that cryptocurrency is brave. Madonna hawked her own NFT, which featured fully nude artwork of the singer and a 3-D model of her vagina. Then, things got messier — yes, messier than a digital rendering of Madonna giving birth to some butterflies. Kim Kardashian was made to pay $1.26 million after illegally promoting cryptocurrency on Instagram. Celebrities including Larry David, Gisele Bündchen, Tom Brady, and Shaquille O'Neal were named in a lawsuit regarding the FTX crash. If anything, this is validation for those of us who still cannot be bothered to learn what a blockchain even is.
Kim Kardashian Says It Seems Like No One Wants to Work
In March, a clip of Kim offering "advice" for women in business went viral. "Get your fucking ass up and work," she said. "It seems like nobody wants to work these days." The advice was poorly received, to say the least, and Kim later apologized. However, I think Kim had a valid point; I absolutely do not want to work.
The Slap Discourse
Did you know that Will Smith slapped Chris Rock at the 2022 Oscars? Just kidding, of course you know. The moment was inescapable. Then, the discourse began. Everyone from Zoë Kravitz to Nicki Minaj to Sophia Bush to Amy Schumer to Jaden Smith added their two cents and several tweets to the conversation. Then, salvation came in the form of Daniel Radcliffe. When asked his thoughts on the incident during a Good Morning Britain interview, Radcliffe said, "I'm just so already dramatically bored of hearing people's opinions about it that I just don't want to be another opinion added to it." Fortunately, we will only have to hear about the incident at every Academy Awards show for the foreseeable future.
Kim Kardashian Allegedly Ripping Marilyn Monroe's Dress
Arguably the most notable moment at the 2022 Met Gala came in the form of Kim Kardashian wearing Marilyn Monroe's dress. It was a perfect convergence of high and low brow. In preparation for one of the most exclusive events in Hollywood and the fashion world, Kim Kardashian went to Ripley's Believe It or Not! Later, there were rumors that Kim ripped the dress, which Ripley's and Kim both refuted. I anxiously await the inevitable future when Bella Hadid unveils her Madame Tussauds wax figure at Paris Fashion Week.
Kim Kardashian Saying She'd Eat Poop to Look Young
Kim heard the taunts from anyone who's wished the Kardashians would eat shit and said, "Sure, why not?" In an interview with the New York Times, Kim joked that she'd eat poop if it made her look younger. So, it's official: Kim Kardashian is beyond satirization.
Celebrities Defend Their Private Jets
In August, a report about celeb's private-jet usage came out revealing what we all suspected to be true: Private jets are terrible for the environment. In the report's wake, celebrities named tried their best to avoid criticism. Taylor Swift hid behind an umbrella while deplaning her private jets. Kylie Jenner tried her best to be relatable, documenting a Target run soon after her extremely unrelatable Instagram post featuring her private jet alongside Travis Scott's. Drake tried to justify his private jet usage, saying that many of the 30-minute or less flights listed in the report were planes being moved to a different airport. Unfortunately, that is simply not how carbon emissions work.
Lea Michele's Literacy
This was the year Lea Michele set the record straight: Yes, she can read. What started as an innocuous internet conspiracy led to the Funny Girl herself responding in a TikTok. Congrats on your literacy, Lea! We are all H-A-P-P-Y for Y-O-U!
Spitgate
The press cycle for Don't Worry Darling was a spectacle in itself. The rumors about Olivia Wilde and Harry Styles's budding romance impeding production. The Miss Flo of it all. However, spitgate was the saliva-soaked cherry on top. Did Harry Styles really hock a loogie onto Chris Pine's crotch? If so, why? Despite arguably incriminating video footage, both parties deny there was any spittle spat on anyone's lap. One can dream, though.
Adam Levine's Sexts
In September, model Sumner Stroh claimed to have had an affair with singer Adam Levine. She shared his criminally bad sexts in a TikTok after learning that he wanted to name his baby boy after her. Somehow this was not the most alarming detail. Levine's messages included such poetic verses as "that body of yours is absurd" and "I may need to see the booty." Though, I'm not sure why anyone was surprised by his apparent lack of text game. This is also the man responsible for "Moves Like Jagger."
Try Guy and Wife Guys
Hot on the heels of Adam Levine's terrible sexts, the world was made to learn about the Try Guys after one of its members, Ned Fulmer, was allegedly caught cheating on his wife. The biggest takeaway was that wife guys (i.e., men whose online persona is entwined with loving their wives) doth profess their love of their wives too much.
Olivia Wilde's Salad Dressing
Each detail of Wilde's split from Jason Sudekis was more confounding than the last. First, she was served custody papers on stage at CinemaCon. Then we learned that Sudekis reportedly laid in front of Wilde's car over … a special salad dressing? While we are still left with more questions than answers, we know one thing for sure: It was a vinaigrette.
James Corden's Cursed Omelet
The late-night host's reputation for being petty boiled to the surface when he was banned from Balthazar after throwing a little tantrum over an all-egg-yolk omelet. Though Corden apologized and was later unbanned, he has yet to say he's sorry for bringing all-egg-yolk omelets into the current culture.
Here's to 2023 and all the stupid celebrity shenanigans it will inevitably bring.