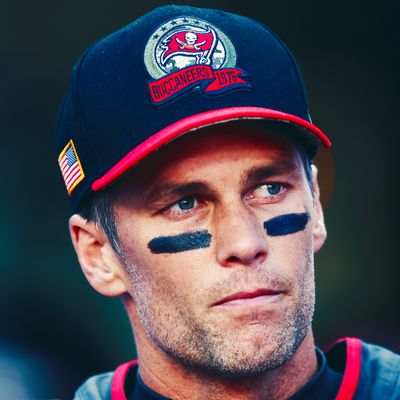 Photo: Douglas P. DeFelice/Getty Images
Between retiring, unretiring, getting divorced, and getting caught up in a cryptocurrency scandal, Tom Brady is not having a great year. Now, to top it all off, the Buccaneers quarterback has to spend Christmas Eve in a hotel room in Phoenix and Christmas Day playing the Cardinals, without his children.
Although Brady will see his kids the day after Christmas, this holiday season — his first since getting divorced from Gisele Bündchen — will  be a "new experience," he said on his podcast. Don't feel too bad for him, though. He also said he's going to learn to "deal with it." This is, after all, a man who has said that compartmentalizing is just part of being a professional.
"I think that's what life's about," he said. "I'm going to learn how to deal with Christmas Eve in a hotel, and I'm gonna have to learn how to deal with Christmas and Christmas night and still go out there and be a professional."
Brady and Bündchen's divorce was finalized in October. A month earlier, Bündchen told Elle, "I've done my part, which is to be there for [Tom]. I moved to Boston, and I focused on creating a cocoon and a loving environment for my children to grow up in and to be there supporting him and his dreams." The comment pretty much confirmed rumors that had been swirling for months that she was not happy about Brady's decision to unretire.
Following the divorce, Brady said that he was focusing on two things: taking care of his kids and "doing the best job I can to win football games. That's what professionals do." Spending Christmas alone might be professional, but it sure seems bleak.