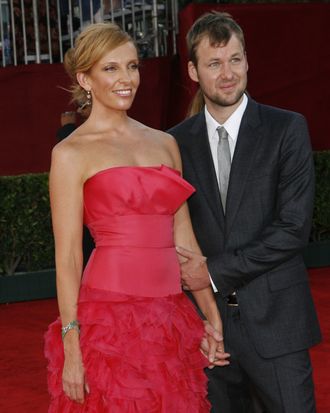 Photo: Donato Sardella/WWD/Penske Media via Getty Images
Toni Collette announced on Thursday that she and her husband of almost 20 years were getting a divorce. The actor and her estranged husband, David Galafassi, released a joint statement, shared on her newly reactivated Instagram (she announced her return to social media a week ago), confirming that they were divorcing after "a substantial period of separation." The statement came just hours after The Daily Mail published photos of Galafassi, a drummer, out and about with another woman.
"After a substantial period of separation, it is with grace and gratitude that we announce we are divorcing. We're united in our decision and part with continuing respect and care for each other," the statement, posted as a caption to a photo of a "PEACE & LOVE" sign, read. "Our kids are of paramount importance to us and we will continue to thrive as a family, albeit a different shape." Collette and Galafassi ended their announcement with a request for privacy, writing, "We're thankful for the space and love you grant us as we evolve and move through this transition peacefully."
Collette and Galafassi reportedly met in the early 2000s when she saw him perform with his band at the time, Gelbison. They hit it off at a house party a few days later. "He was the first person I saw when I walked in the door. He kissed me on the cheek and I just kind of melted," she said in a 2018 interview with The Sydney Morning Herald. "I planned to stay for 10 minutes … I was there for 12 hours." They were married in 2003 and share two children, Sage Florence, 14, and Arlo Robert, 11.
Though Collette didn't often speak about her personal life with the press, she opened up a bit more in a separate interview with The Sydney Morning Herald in 2019, revealing that she, Galafassi, and their two children had permanently relocated from the U.S. to her native Sydney. "That feeling of home is a feeling you can't fabricate, and when I get home to Sydney that feeling is very strong," she said, adding that she was "into organizing school uniforms, packing lunches, taking the kids to school, playing music and having chats in the car on the way there."