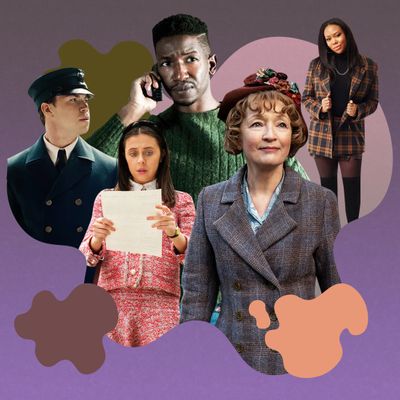 Photo-Illustration: by The Cut; Photos: Britbox, Peacock/Universal International Studios Limited, Netflix, Universal Pictures, Bravo
This year was not a good one for the movie-theater business. Box-office numbers were low, and several cinemas are expected to shut down. Television experienced its fair share of setbacks too; there were show cancellations and renewals of beloved series that turned into surprise cancellations. Still, there was still plenty of good stuff out there — films and shows that surprised and delighted us only for our group chats to hit us back with crickets after we asked, "Have you seen this yet?"
If you were among the silent members of your group chat, we've got you covered with a mix of our favorites from 2022. You might have heard of them, but if our conversations with friends are to be believed, you probably haven't seen them. Below, the Cut recommends eight underrated, unsung, and overlooked shows and movies you might have missed this year.
Archive 81
This Netflix thriller series is incredibly engaging and creepy (but not too creepy for non–horror fans). The mystery is well paced, and the cast, led by Mamoudou Athie and Dina Shihabi, is perfect. Unfortunately, it was canceled, but the single eight-episode season stands pretty well on its own. — Olivia Truffaut-Wong, blogger
Mrs. Harris Goes to Paris
This movie received generally positive reviews over the summer, but I could count on one hand the number of people I know who actually saw it. Is it groundbreaking? No. Is the plot predictable? Mostly. Does it have Lesley Manville going toe to toe with Isabelle Huppert (who plays an ice-cold bitch in Dior)? Sure does — and that's all I needed to be convinced to watch this delightful, charming film about an English cleaning lady who travels to Paris in search of the perfect couture dress. I can't think of anything more delightful to watch during the holidays. — Brooke Marine, deputy Culture editor
Why Didn't They Ask Evans?
No one saw this show or cared about it, but I'm a sucker for a nice little Agatha Christie adaptation, and this one checked all the boxes for a classic, cozy British mystery. Will Poulter and his eyebrows play a well-muscled blue-collar mechanic at the center of a murder mystery in the English countryside; he solves it with the assistance of Lucy Boynton, as a wealthy heiress, who is better in a British period piece than she is in anything else. And Hugh Laurie plays an evil doctor. It's a perfect winter watch! — Sangeeta Singh-Kurtz, senior writer
Westworld Season 4
I'm one out of the probably 100 people on planet Earth who watched what we now know to be the final season of Westworld. Many fans quit the show after seasons two and three, which were difficult to follow and joyless to experience. But all my favorite characters are thrown together in explosive and satisfying ways in season four. Aaron Paul's Jesse faces off against Tessa Thompson's Charlotte Hale; Thandiwe Newton's Maeve battles Ed Harris's Man in Black; and even James Marsden's Teddy returns! The real sell here, though, is Thompson's performance. In bangin' outfit after bangin' outfit, Charlotte lords over a dystopian New York City where robot hosts control a human population that enacts narrative loops unwittingly written by Dolores. It's a shame Westworld finally got fun again only for HBO to pull the plug. — Catherine Thompson, senior Power editor
The Cleaning Lady
The Cleaning Lady on Fox is about an undocumented immigrant from the Philippines employed as a cleaning lady who — surprise! — ends up working for a crime boss while trying to save her sick child and being pursued by an FBI agent. This show has everything: constant life-or-death situations, an FBI agent played by Paris from Gilmore Girls, crimes, and, my favorite part, superhot chemistry between the two leads, Elodie Yung and Adan Canto. It's the perfect show to distract you from the hell we live in. — OTW
Real Girlfriends in Paris
I fear this offering from the holy kingdom of Andy Cohen will go down in Bravo history like Gallery Girls: a cult favorite doomed to be rewatched years later by fans who'll complain that it never got a second season (probably, also respectfully). But this show deserves better! It's actually realistic fantasy escapism about a group of young women who, as early 20-somethings, each moved to Paris and scraped together a life en français. They're working beaucoup hard (well, some harder than others) to make that life last longer than a study-abroad semester while doing all the things 20-somethings do: drinking espresso martinis, having too-dramatic conversations with one another, and shopping off the clearance rack. Why the hell didn't I move to Paris at 23?! Viva la RGIP! — Jen Ortiz, deputy editor
The Fallout
If you watch one movie about high-school shootings, watch The Fallout. Written and directed by Megan Park, this film is difficult to watch at times, yes, but it isn't focused on death or violence; it's a delicate look at trauma and the friendship between two teenage girls who survived — Veda (Jenna Ortega) and Mia (Maddie Ziegler). It's thoughtful, funny, and sad, and it makes a point without being preachy or exploitative.
Everything I Know About Love
When the Cut interviewed Dolly Alderton about BBC's TV adaptation of her early-20s memoir, I was sad to find that no one I talked to this fall caught wind of it. The show, which aired stateside on Peacock in September, follows two best friends and their roommates through the growing pains of their first postcollege year. Maggie (Emma Appleton), a messy, sensitive party girl with an affinity for red flags wearing douchey fedoras, is loosely based on Alderton herself, while Birdy (Bel Powley) is a refreshing twist on the "prude friend" trope as the shyest member of a friend group she feels she's outgrowing after she begins her first serious relationship. Their roommates, Nell (Marli Siu) and Amara (Aliyah Odoffin), have equally compelling B plots. I didn't spend my early 20s partying my way through Camden (this show sure made me wish I had), but I felt deep pangs of familiarity throughout its depiction of friendship, love, and the weird second adolescence that is early adulthood. Can a TV show feel like a seven-episode-long party and a tearjerker at the same time? Apparently, yes.