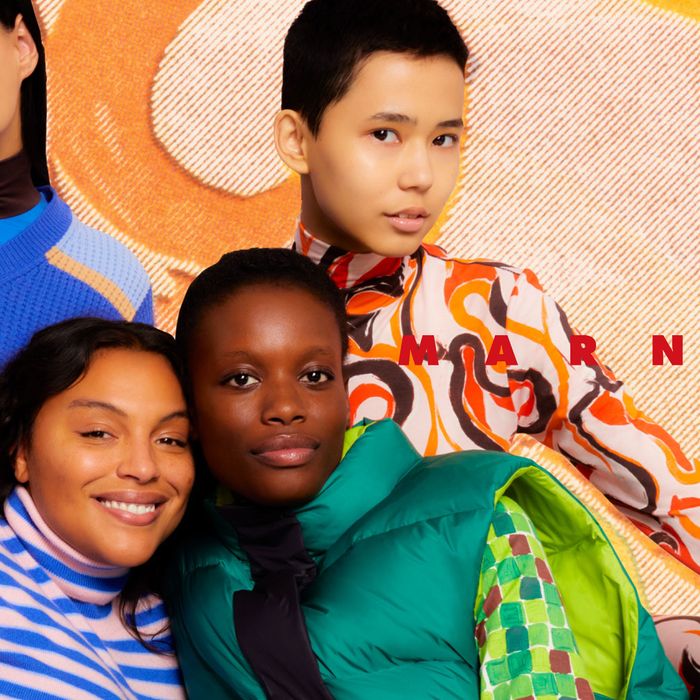 What is it?
Uniqlo expands its growing list of collaborations with a second collection featuring the Italian brand Marni. The first collection showcased vibrant colors and patterns on spring- and summer-ready parkas, pants, and shirts. This time around? Both brands are hoping to add a lot of color to your winter wardrobes with brightly colored knits, cold-weather accessories, Heattech, and outerwear with prices that range from $30 to $250.
Do I need this?
The Cut Shop team tried out almost everything to advise you, our dear reader, on what you actually need.
The down-low? We all agreed: You need the Heattech. Everything else? We recommend you double-check the sizing guide.
Read our thoughts below:
Emilia Petrarca, senior fashion news writer
What I love most about this collaboration are the prints. If I wore this Heattech getup in a ski lodge, I'm pretty sure I'd get a lot of compliments, or at least turn some heads. More likely, I'll wear it at home and it will cheer me up through the winter months. The fabric is pretty thin, so I wouldn't necessarily recommend wearing it out in the cold unless you're really layering, and the bottoms run small. They're also sort of see-through, which is why I tied my sweater around my waist.
Chinea Rodriguez, shopping writer
I loved how many pieces in this collection were perfect for mixing and matching. I tend to wear all black, so these are fun to pair with my otherwise monochrome outfits. I picked out a few striped pieces to wear together and a Heattech turtleneck. Layering pieces and thermals tends to be pretty boring, so I like that the Heattech top is something I would actually want to show off under a sweater or a button-down. I was expecting the cashmere turtleneck to be one of my favorites, and while it's soft and I love the pattern, I would've preferred a slightly more oversize fit. It's pretty true to size, so if you'd also like a more oversize fit, I'd suggest sizing up. My favorite piece was the skirt; it's thinner than I expected but still seems like it would be warm when paired with some Heattech leggings or tights. I got a medium, and it was formfitting without feeling uncomfortable or tight.
Danya Issawi, fashion news writer
I really love everything I've tried so far. I got a pair of corduroy pants in green, a blue puffer, and a Heattech turtleneck. The pants are incredible, with a very '90s cut. They feel sturdy and durable and roomy, and they're warm and insulated without being too warm and insulated. The Heattech turtleneck is soft and pretty true to size, and the colors are fun! The puffer is a masterpiece — I love the dual zipper-and-button situation going on, but I would consider sizing up. I'm a true medium and was expecting this to be a bit oversize, but it fits with little room for layering thick sweaters or pants underneath. Overall, this collab is a fun way to reintegrate some color back into our winter wardrobes when everyone often opts for wearing black and the sky is an ever-changing hue of gray.
Bianca Nieves, senior shopping editor
If Uniqlo has a designer collab, you bet I'm going to try it. This time around, I went with the baggy jeans in mustard, the mixed-color-yarn oversize full-zip hoodie in blue, and the Heattech turtleneck long-sleeved T-shirt in blue. When requesting the pieces, I really coveted the baggy jeans because I love Uniqlo's selection of bottoms. (I still religiously wear a pair of JW Anderson x Uniqlo wool trousers I bought five years ago.) However, upon arrival, the size-four pants were too baggy on me (and not in a cute oversize way). With that in mind, you might want to size down when you're ordering yours. The star of my order was indeed the Heattech. You get all the technology that allows you to stay warm with Marni's iconic prints and colorways, making winter layering chic and fun. So if there's one thing you do need, I recommend any of the Heattech selects from the collab.
Joanna Nikas, deputy style editor
I tried the knitted V-necked sweater, the Heattech turtleneck, and the knitted balaclava. I had never worn a balaclava before, so when I slipped it on, I immediately took a selfie. It made me feel warm and cozy, like I was in a cocoon — 10/10. As a New Yorker, I rely on Heattech turtlenecks to get me through the winter, and this one did not disappoint. I usually wear a medium, and it is quite formfitting but great to layer it under something else, trapping in heat. It is an example of a perfect collab: the fun colors of Consuelo Castiglioni, the designer of Marni, and the technology of Uniqlo. Similarly, I love the color of the knitted V-neck, but it was a bit too cropped and formfitting for my liking. For me, winter is about being roomy and cozy. If you feel similarly, I would suggest sizing up or opting for another fit.
Asia Milia Ware, junior fashion and beauty writer
Surprisingly, I've never owned anything Heattech from Uniqlo, so what better time than a Marni collab to try one? The signature Marni print and colors paired with the comfort and body-hugging fit of the infamous Heattech leggings and top completely had me sold. I will absolutely be living in the set for winter. It's the best of both worlds!
How do I get it?
The collection will be in stores and online starting midday December 8, which means you need to set your alarms now — if online buzz is any indication, it will sell out fast. However, in what seems like an effort to deter resellers or prevent the collection from selling out (that fast), customers will be able to buy only one item per color/pattern. Choose wisely!
What are people saying?
People are excited. This collection is on a lot of peoples wish lists. One thing a few fans have called out, though, is the lack of "men's" styles. Luckily, clothing is just that — clothing — so if you have a body, you can purchase. But since the Marni x Uniqlo collabs are doing so well, maybe we can expect a third drop in 2023? Fingers crossed.
For more from the Cut Shop team, follow us on Instagram and Twitter, where we share our best new finds, favorite styling tricks, and more.