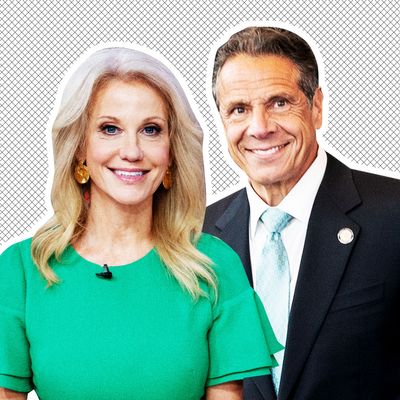 Photo-Illustration: by The Cut; Photos: Getty Images
What could the Republican ex-adviser to former president Trump and the disgraced Democratic ex-governor of New York have had to discuss just hours after the January 6 committee referred Trump to the Justice Department to face criminal charges? That's what we all would love to know.
Kellyanne Conway, who used to spend her days defending Trump, and Andrew Cuomo, who used to spend his days bashing Trump, were spotted having dinner at Il Postino on the Upper East Side on Monday, according to the New York Post. An unlikely pairing, though a source told the Post that even though Conway and Cuomo don't belong to the same political party, they are "both in a war of relevance." Photos showed the two smiling as they left, and the New York Daily News claims that Conway was heard wishing Cuomo a Buon Natale.
Earlier in the day, a committee accused Trump of breaking four federal statutes, including inciting insurrection, conspiracy to defraud the United States, and obstruction of an act of Congress.
Cuomo resigned last year after a 165-page report by the New York State attorney general said that he sexually harassed nearly a dozen women. The report also claimed that he and his aides had unlawfully retaliated against at least one of the women for going public with her complaints, the New York Times reported. In response, Cuomo released an 85-page written statement via his legal team, calling the independent investigation "utterly biased" and claiming it had "willfully ignored evidence inconsistent with the narrative of his accusers."
Meanwhile, Conway, who ran Trump's 2016 campaign and later served as an adviser once Trump was in the White House, left her job in 2020, saying that she wanted to dedicate more time to taking care of her children.
In response to the photos of this dinner date, some speculated that Cuomo could be thinking about a 2024 run for U.S. Senate. When asked about this possibility in October, Cuomo said that it was "too early to say." But if he does decide to run, it looks like he knows someone who knows how to wage a, um, successful campaign.