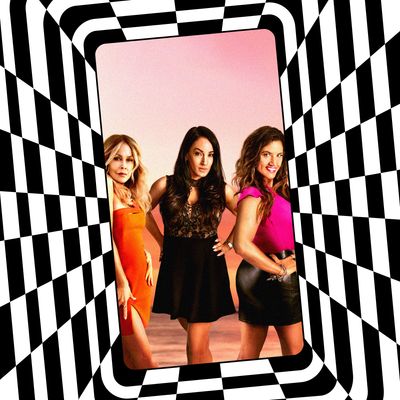 Photo-Illustration: by The Cut; Photo: TLC
Happy holidays! I got you exactly what you asked for: a new TLC dating show called MILF Manor. Hmmm, you didn't ask for that? In fact, no one did? Oops, too bad, no returns or exchanges!
The premise of MILF Manor — an actual television program, not just someone's PornHub search history — is fairly self-explanatory. Eight MILFs date eight younger men while living together in a big, gorgeous house. In case you need a refresher, MILF stands for "Mother I'd Like to Fuck," and TLC stands for "The Learning Channel." So don't think of MILF Manor as a reality dating show. Think of it as an educational journey exploring what is apparently a challenging concept: older women dating.
The women, all between the ages of 40 and 60 years old, include a fitness instructor–slash–singer, a self-proclaimed "disco mommy," and an event planner who "used to be a B-girl back in the day." Some are divorcées looking for "a chance to do me a little." Others say they have "an extremely high libido." They all look like they're cosplaying as Real Housewives, and I hope they just end up dating each other. Besides a few shots of abs, the men have not been revealed. Instead, the trailer teases a "shocking twist," which is obviously that the women will be dating each other's sons. Is there really any other option?
The show isn't exactly a new concept. As many tweets noted, it bears an uncanny resemblance to a fake show from 30 Rock called MILF Island. There are some key differences, namely that the MILF Island dating pool consisted of 20 MILFs and 50 eighth-grade boys. And, as a tweet from the TLC Network clarifies, MILF Manor is "not an island, it's a manor." Hopefully, none of the women get knocked into some quicksand by a monkey like one did on MILF Island. And none of the contestants are minors.
MILF Manor opens up a world of possibility where all our favorite fake shows and movies become a reality. I would absolutely watch A Dog Took My Face and Gave Me a Better Face to Change the World: The Celeste Cunningham Story. If produced, Bitch Hunter would inevitably become CBS's longest-running show. We are long past the satirical singularity where everything is ridiculous but nothing is funny.
The only other information we have about MILF Manor is this Zillow-style look at where the constants will be staying. It's perfect if you want a sneak peek at all the places these women will cry over men in their 20s. Otherwise, we're left with more questions than answers: Will Jerry Seinfeld make a cameo like he did on MILF Island? How is this program not hosted by Yung Gravy, whose whole thing is that he is horny for moms? Will the show try to force-fit MILF into a wholesome acronym, like "Mother I'd Like to Fall-in-love-with"? How many times will they reference "Stacy's Mom"?
We won't have answers until January 15, when the show premieres. In the meantime, say hi to your mom for me.