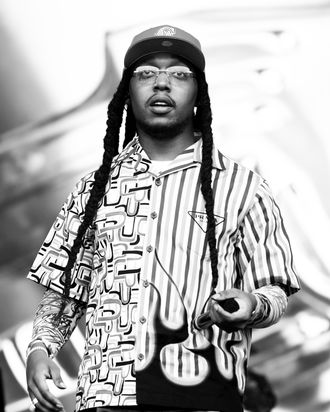 Photo: Shirlaine Forrest/WireImage
On November 1, Takeoff, the youngest member of the Atlanta hip-hop trio Migos, was shot and killed outside a private party in Houston. Immediately following his death, Houston police said that they did not believe the rapper had been intentionally targeted and that he had simply been "at the wrong place at the wrong time," according to NBC.
Migos is credited with ushering in a new era of Atlanta rap that earned the group two Grammy nominations and has influenced other artists. Takeoff's uncle and Migos member, Quavo, shared the speech he gave at Takeoff's funeral on his Instagram. He said that his nephew was always the "quietest" and "funniest" person in the room. Offset, the third Migos member, wrote on Instagram that Takeoff's death "left a hole in my heart that will never be filled."
At a November press conference, Troy Finner, Houston's police chief, told reporters that Takeoff, 28, was found dead when officers arrived at 810 Billiards and Bowling in downtown Houston. A dispute had taken place outside the bowling alley after a party, and "at least two guns were fired" during the incident, CNN reported at the time. Police do not believe that Takeoff was involved in the escalation of the dispute that led to his death. "We have no reason to believe he was involved in anything criminal at the time," said Finner.
On Friday, Houston police announced that they had made an arrest. Here's what we know about the case so far.
Police have arrested a suspect.
On Friday, Houston police announced that they had arrested Patrick Xavier Clark, 33, on a murder charge for Takeoff's death. Another man, Cameron Joshua, 22, who was also at the scene, was arrested in November and charged with unlawful carrying of a weapon.
The case is being prosecuted by the Harris County District Attorney's office, which asked for Clark's bail to be set at $1 million. According to the New York Times, court documents allege that following the shooting Clark began making plans to travel to Mexico and that he should be considered a flight risk.
Police did not say if Clark or Joshua knew Takeoff, per NBC.
There were dozens of witnesses, but they have remained silent.
Houston police said on Friday that the shooting occurred after some at the party played a "lucrative" dice game and an argument broke out. Thirty people had been gathered outside the bowling alley at the time of the dispute, but none of them spoke to the police about what happened at the time. Instead, investigators concluded that Clark fired the fatal shot based on footage from surveillance cameras, cellphones, and other physical evidence, according to the Times.
Police are still asking witnesses to come forward and the shooting is still under investigation. Houston's mayor, Sylvester Turner, said on Friday that everyone who was at the bowling alley has a responsibility to come forward. "I don't give anyone an out," he said. "If you were there and you saw something and you know something, you don't get a pass. Everybody has to take responsibility."
Police believe Takeoff was an innocent bystander.
The police said on Friday that Takeoff was an innocent bystander and that he was not involved in the argument that led to gunfire, per the Times.
"I can tell you that Takeoff was not involved in playing in the dice game, he was not involved in the argument that happened outside, he was not armed," said Sergeant Michael Burrow of the Houston Police. "He was an innocent bystander."