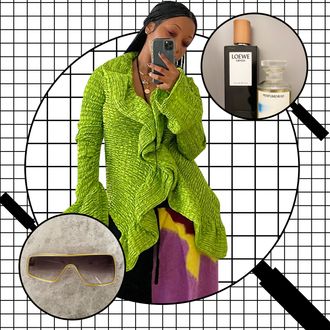 Photo-Illustration: by The Cut; Photos: Amanda Murray
Many of Amanda Murray's purchases have been completely serendipitous. "I'll see something and I won't get it and I'll spend years thinking about it, and it somehow finds its way back to me," she explains over Zoom. The creative consultant considers herself a serial shopper and prefers to shop internationally, browsing Harvey Nichols, Browns, and Matchesfashion, where they will have some of her favorite options from the runway.
One of her favorite style stars is the writer Lynn Yaeger, whose signature look includes Comme des Garçons, black lipstick, and, of course, red hair. Other trailblazers she loves? Grace Jones and Kelis, who have made her feel like she doesn't have to conform. "A good sense of style begins with who you are," she explains. "I like when I can look at someone and tell that they're truly being themselves."
Where did you get the inanimate object that brings you the most joy?
My bar from CB2. Many years ago, I wanted to buy a sofa there and I couldn't fully afford it. I worked there on the weekends until I could get a discount. As soon as I was able to buy a sofa, I bounced. I have this relationship with CB2 where most of my money goes there in terms of furniture. I had been looking for a bar for a very long time, and nothing was quite right. I'm very particular about furniture. From the moment this was delivered, I was obsessed. I didn't know a piece of furniture could ever give me that much joy. I'm not really the biggest drinker, but my family's from the Caribbean. So when my uncles come over, I feel like I'm an accomplished woman now, because I have this bar and they can have a drink.
Where did you get your favorite piece of clothing?
My Dries Van Noten dress from Barneys. It's this rose-printed silk fabric, and I have a couple of dresses with the same print from this collection. I feel really wonderful when I wear it. I don't know if it's the color pink or the print, which is really pretty without trying to be something. When I love something, I want to get it in every color, if possible. I'll wear it with a boot to create a juxtaposition, like my Raf Simons Dr. Martens. Sometimes I'll put it over jeans or trousers.
Where did you get the item that you wear most in the winter?
In the winter, I get all my knits from Uniqlo. Every season, they have lambswool knits. I always get a couple in gray, navy, and black. They're very warm. They're my winter essential; I go every season and get a couple of them. Plus my shearling coat from The Row — I got it from Barneys. It's probably one of the most expensive items I've bought. It is amazing. It's also reversible. I went out one day, maybe the coldest day in New York City — I had a meeting, and no one was leaving their house. I went out that day in this coat and didn't feel a thing. I'll give it to my kids.
Where did you get the item you've had for the longest time?
My Chloé sunglasses. I bought them on eBay. It was probably the first thing I ever bought on eBay. It was many years ago, and I remember I was very scared putting in my card details because I didn't trust it. I got them, and I thought they might be fake. I took it to the Chloé boutique and they told me they were real. One lens is smaller than the other and very asymmetrical. I'm a big sunglasses person, and I always hold on to them.
Where did you get the item you wear the most?
My Margiela shirtdress from Barneys. I didn't think it would become this thing in my wardrobe. I wear it all the time. People on Instagram know me for wearing this shirt; it's become very identifiable. I was out one time and a girl ran up to me and said she recognized me because of the shirt. I tuck it into a skirt and trousers; I wear it over trousers; I wear it on its own. I didn't know an oversize striped shirt would be the MVP piece in my wardrobe.
Where did you get the item you splurged on the most?
A white dress from Rick Owens I got from a boutique in Italy. Even if you don't have an occasion to wear it, just wearing it in itself is the occasion. I'm saving it for when someone proposes to me — or I may have to propose to myself.
I've been wearing Rick Owens for many years, but this felt really special, and it was white with a long trail and very ornate.
Where did you get your signature scent?
I recently tried Alone Together by Perfumehead. I've added it to my Rolodex, and I use it almost every other day.
Where did you get your favorite pair of shoes?
My Y/Project boots are from Ssense. I saw them and I wasn't sure if I wanted to spend this money. My mom was in the U.S. for Christmas, so I had to be very careful of what packages were coming through because she's always complaining that I'm shopping too much. I didn't get them then because I knew they'd be in a big box and she'd ask about it. I waited until the day she left to buy them, but they were gone. I was devastated! Then I went back a day later, and they only had one pair and it was in my size. I just bought them immediately. I thank whoever returned them in my mind constantly every time I wear them.
For more from the Cut Shop team, follow us on Instagram and Twitter, where we share our best new finds, favorite styling tricks, and more.