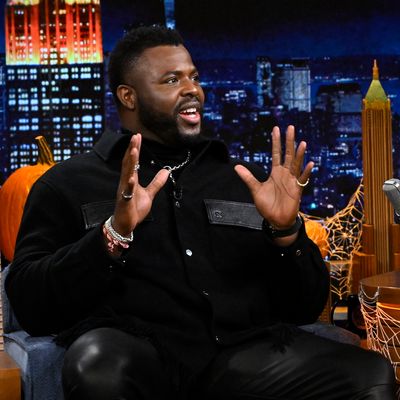 Photo: Todd Owyoung/NBC via Getty Image
Winston Duke's thighs are back and more impressive than ever. The Black Panther: Wakanda Forever star's thick thighs have been a major talking point for years — remember that bed scene in Us, or the time Bossip declared his "massive man yams" were breaking the internet? The actor doesn't seem to be too bothered. He's acknowledged the intense thirst for his thighs before, and now he's taking the obsession to a whole new level on Instagram, where he is currently conducting his own set of scientific experiments seemingly aimed at answering the question: "Just how big and strong are Winston Duke's thighs?"
Earlier this week, Duke posted a poll on Instagram, asking his followers if they thought he could crush a watermelon between his thighs. The accompanying video featured Duke wearing a black workout ensemble, wrapping a watermelon in a towel (gotta keep those thighs clean), and attempting to break it between his thighs. "Folks keep asking, 'what dem thighs do, though?' What do you think?" he captioned the video. The Reel cut before he succeeded or gave up, but I'm thinking he either crushed it, or he will be able to soon — he did say he heard it crack during the attempt. Those thighs were put on this earth for a purpose, and that purpose is clearly to demolish large fruit.
On Sunday, he followed up the watermelon with a video of himself crushing a papaya to pieces between his beloved legs. Again, he wrapped the fruit up in a towel, which he explained was to preserve the fruit as a future snack. "Just in case I can't crush it and I still want to eat it," he explained. The second he put it between his thighs, Duke knew he and his thighs had it covered. "Oh yeah, that's easy," he said before immediately smashing the papaya open with one small squeeze. Half of the unlucky (or lucky, depending on how you look at it) fruit fell to the floor in defeat, while the other half remained in the towel — mashed but still edible. "Bye papaya," he said as he ate the remains.
After the papaya Reel went up, the actor further taunted his thirsty fans, asking them on his Insta Stories what he should "crush next." Perhaps a cantaloupe? Or maybe a small pumpkin? Whatever it is, I'll be watching. For purely scientific purposes, of course.