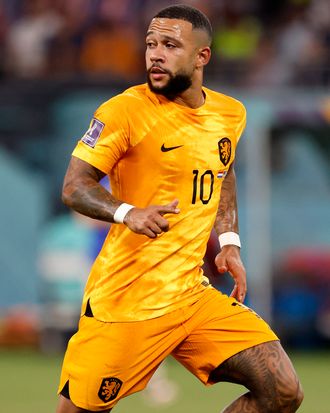 I'm guessing most people are watching the World Cup because they like the sport being played on the field, whether they call it soccer or football. I am not one of those people. While I'd be happy to see an African team win (literally any African team), my loyalty is to one player: Dutch forward Memphis Depay.
If you're a person of taste, you've likely clocked Memphis running up and down the field in his bright-orange uniform with his many, many tattoos exposed. Or perhaps you saw him kicking the ball into the lower-left corner of the goal in the match that took the U.S. out of the Cup this past weekend. Or maybe you caught him dancing after he made that goal.
(And if you haven't seen the name Depay on Qatari soccer fields, that's because he goes by only his first name. Memphis dropped his last name from his jersey because of his "strained relationship with his Ghanaian father, who separated from his Dutch mother when he was four," according to the BBC.)
Memphis might also be a familiar face to those who follow Lori Harvey's dating life with awe (she dated Michael B. Jordan) and confusion (she broke up with Michael B. Jordan). Before dating Jordan, Harvey dated Memphis for more than a year. In 2017, Harvey's stepfather, Steve Harvey, even announced that the couple was engaged, but the two later broke up. Still, it seems Mr. Harvey and Memphis have stayed in touch: After his team's win against the U.S. on Saturday, the player tweeted an effusive WhatsApp message from Harvey congratulating him.
Memphis will be playing against Argentina at 2 p.m. ET on Friday. I'll be tuning in.