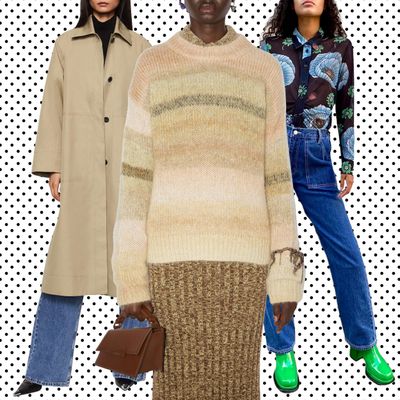 Photo-Illustration: The Cut; Photos: Retailers
The first week of the New Year has come to an end but plenty of brands still have their winter sales going strong. After spending so much on gifts for others or yourself, it doesn't hurt to peruse some markdowns to see if anything was meant to be. However, instead of being tempted to purchase things you definitely do not need, we skimmed through 10 sales and pinpointed a few things that are worth the card swipe. You're welcome? We're sorry? Whichever, Happy New Year!
Nordstrom extended their half-year sale until January 9th which means you still have enough time to buy a stylish winter coat up to 60 percent off (or in this case 40 percent off).
Select items from brands like Maryam Nassir Zadeh, Helena Manzano, Mondo Mondo and more are 25 percent off when you enter the code ENTER25. I'm partial to this tote from Sc103 loved by downtown it-girls as well, because I copped mine during the holidays and I haven't stopped wearing it since and I believe you need one, too.
Not sure how The Real Real can have a sale when their pieces are already marked down since they are secondhand but we will not question it. They have plenty of investment pieces like these Dries Van Noten pants that are worth their markdown.
I swear by Acne Studios sweaters. They are the coziest and prettiest garments you will own for many winters to come.
These paper lamps are everywhere but for a reason. Mount them with a Phillips Hue smart bulb and the vibes in your place will be impeccable.
Tekla towels for under $100? Take my money, SSENSE sale! They are incredibly soft, fast-drying, and make any small NYC bathroom look great.
Take your love for socks to the next level with these cashmere slippers from COS. It's the closest thing you'll own that will resemble The Row's cashmere slippers.
Don't sleep on purchasing the ideal outerwear for spring. I saw somewhere that the sun will start setting at 7pm in less than 40 days, which means warmer weather also awaits us sooner than we think. Is that wishful thinking? Totally. Regardless, a trench should be in your radar.
Besides cute and cozy pajamas, Wray also makes solid jeans. These carpenter jeans are a great addition to your denim repertoire.
For more from the Cut Shop team, follow us on Instagram and Twitter, where we share our best new finds, favorite styling tricks, and more.