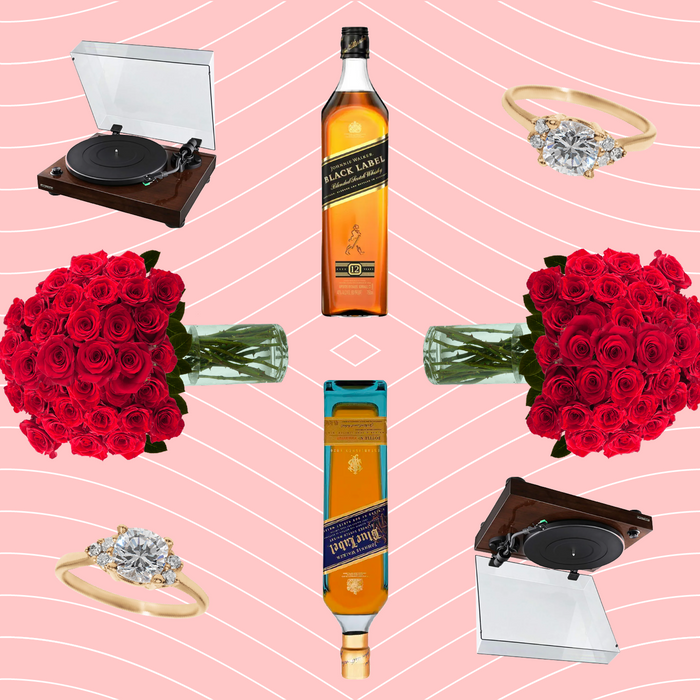 Anyone can buy generic, waxy chocolates and a dead-eyed stuffed animal from the corner store. But that'll cause you to lose points, not gain any. This V-Day, don't make that mistake: Instead, be bold and give a gift that says how you feel. Below are gifts that will help you tell your loves exactly what you want to say — whether they're your crush, partner, best friend, or mother — from an iconic premium whiskey to breakfast in bed in a box.
"Dance with me."
Gift this record player — one of the best ones out there — along with some seriously romantic albums for a partner or new love. As for a family member or best friend, check out the most played playlists on their phone and gift them albums that will keep them dancing all night.
"I'll always be there."
Good friends are hard to find. This V-Day, celebrate platonic love by gifting a forever friendship bracelet. This 14K gold bracelet outfitted with a recycled diamond goes with everything — after all, it's made never to come off. Show that you're in this for the long haul by welding it on with a zap at the Catbird shop in Brooklyn.
"Stay over."
This Stonewall Kitchen basket is the ultimate gift when you want to make mornings with someone even more special, and perhaps entice them to stay over more often. It has everything from blueberry muffins to cinnamon buns, two kinds of waffle mixes, and all the spreads. Just make sure to gift it with the added note that you're the one who will be doing all the cooking.
"You deserve the best."
Only one in 10,000 casks of rare Scotch Whisky makes the cut for Johnnie Walker Blue. It's a classic premium whiskey with velvety smooth flavors of caramel, hazelnuts, and dark chocolate and a luxuriously long and warm finish — made for the person who has high standards and deserves the best.
"Let's give this a shot."
These playing cards by professional dater Serena Kerrigan are made to help the conversation flow, from embarrassing stories to sexy confessions. Now there's nothing stopping you from taking the leap and asking your crush out on a date.
"I see you."
If you want the perfect gift for a person with bold taste, look no further.
Johnnie Walker Black Label is a masterful blend of Scottish whiskey that's aged for at least 12 years — a timeliness classic with notes of creamy toffee, sweet fruit, and spice that the daring tastemaker in your life will appreciate.
"You deserve a romcom romance."
Anyone can buy a dozen roses. Try buying them wholesale by the fifty. Is it over the top? Absolutely. But you're here to make a statement, and the person you're buying them for deserves it. Just don't leave them to clean up all the petals on their own.
"Let's go on an adventure."
Who says gifts can't be sentimental and functional? Take this unisex leather overnight bag: When paired with tickets to a long weekend away, whether it's a spa day for your mom, a weekend in Vegas with your friends, or somewhere romantic with your partner, it's also an invitation to travel the world together.
"I love our history."
While scrolling through the "favorites" album on your phone is…fine, wouldn't it be nice to have all your best memories in one dedicated place? If your mom was always the one to scrapbook when you were younger, or you want to commemorate an incredible year together, take over the reins and collect the best shots in this matte, minimal photobook they'll keep forever.
"I appreciate everything you do."
We all know and love someone who works a little too hard — whether at the office or at home with the kids. This set comes with everything they'll need for an incredibly relaxing night: bath salts, bath soak, and body polish, all from a cult-favorite, botanical-driven brand, Herbivore. Close the door, leave them alone, and let them know you'll take care of anything that comes up. Or better yet, join them.
"Move in."
Make giving them your keys into a moment with this chic key ring. Whether you want your partner to move in or you're trusting your best friend with your emergency spare key, you can personalize it with their initials and choose a color that matches their style — it's so much more thoughtful than a plain key fob.
"I want forever."
Yes, proposing on Valentine's Day can be cliché, but who cares what anyone else thinks when you're ready to spend the rest of your life with someone? We love this Philadelphia-based jeweler because they do things a little differently. Their clustered engagement rings are some of the most unique we've seen and can be customized to your love's tastes. Not to mention, they're all made from reclaimed or fair-mined materials, and their diamonds are all lab-grown or recycled.
This advertising content was produced in collaboration between Vox Creative and our sponsor, without involvement from Vox Media editorial staff.