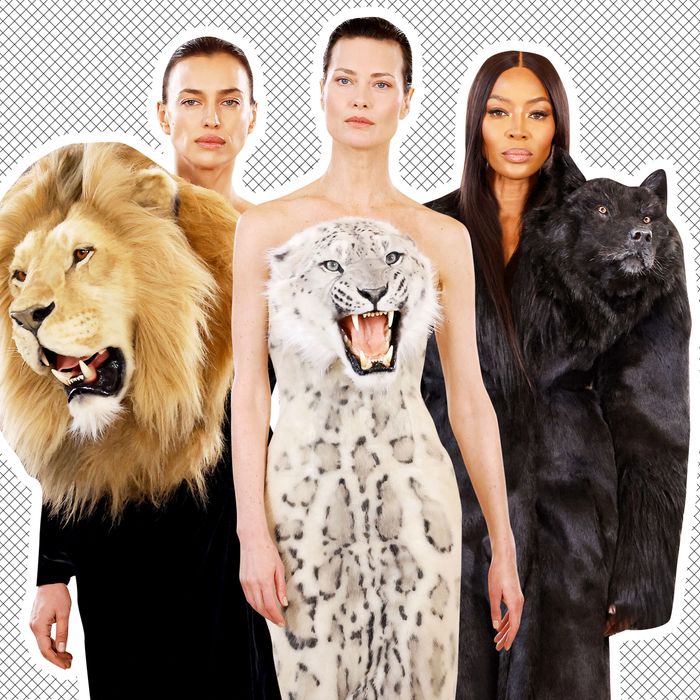 Photo-Illustration: by The Cut; Photos: Getty Images
Paris Couture Fashion Week is off to a contentious start. On Monday morning, Schiaparelli, the fashion house helmed by Daniel Roseberry, kicked things off with a runway of exaggerated silhouettes, gloves and shoes adorned with keyholes, gargantuan bustiers, and … at least one bronze oversize helmet reminiscent of an ancient Egyptian death mask. Doja Cat sat front row in a head-to-toe ruby-studded beauty look, involving 30,000 hand-applied Swarovski crystals over her chest, arms, face, and even eyelids, that took nearly five hours to complete.
But there were three looks, modeled by Naomi Campbell, Irina Shayk, and Shalom Harlow, in particular that created a kerfuffle: dresses embellished with the heads of a faux-taxidermy wolf, snow leopard, and lion, respectively. Actually, technically, there were four: Kylie Jenner was also seated front row wearing the dress featuring the faux-lion head too. The internet was instantly divided.
Some argued that these artificial animals glorify the killing of animals, which is already true of an industry that still uses real fur. Others, though, saw it as an artistic feat and possible step toward a more humane fashion future.
But were those real animal heads actually real? No. Each piece, inspired by Dante Alighieri's The Divine Comedy, was created "entirely by hand" using wool, silk, and "foam, resin, and other manmade materials," according to a press release from the fashion house, which declined to comment further. In the caption of a video compilation of Jenner wearing the dress posted to the brand's Instagram, a disclaimer reads, "Nothing is as it appears to be in Schiaparellis Inferno Couture … NO ANIMALS WERE HARMED IN MAKING THIS LOOK." The house posted another video of supermodels Shalom Harlow and Irina Shayk in the snow-leopard and lion looks, respectively, with the same disclaimer of animal welfare in the caption. But the note didn't stop online onlookers from taking to the comments section and expressing their outrage.
Christie Brinkley called the moment a "huge fashion FAUX 'PAW,'" and model Barbara Fialho wrote that the outfits were "so bad." Dan O'Neill, a wildlife filmmaker and zoologist, commented, "We have to stop showing animals as luxury 'products': They may be made from foam, but these are endangered species that have historically been killed for their pelts to be turned into garments." One commenter went as far to suggest that Roseberry should "burn the entire collection and apologize immediately." Some even seemed to think the animal heads were real, a backhanded nod to the craftsmanship at hand.
Others saw no issue with the collection and instead viewed it as a triumph. A few fans took it upon themselves to defend Roseberry's creative direction, with one person writing that the "same people in these comments complaining … are the same people wearing butterfly clips and snakeskin jackets from Zara, H&M and Shein." Bella Thorne commented that she was "obsessed" with the creations. After all, couture is an industry where craftsmanship and art reign supreme and in itself is known for pushing the boundaries of what fashion can be. Schiaparelli specifically often takes those themes and turns them on their heads with detail-oriented artistry and a signature take on Surrealism.
"Nothing is as it appears to be in these clothes," Roseberry wrote in a press release. "I also took direct inspiration from some of [Dante's] most arresting images," he continued. "The leopard, the lion, and the she-wolf — representing lust, pride, and avarice, respectively — find form here in spectacular faux-taxidermy creations."
Perhaps, for some, Surrealism can be too real.