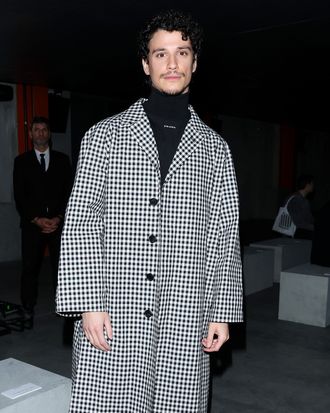 Photo: Jacopo M. Raule/Getty Images for Prada
The last time Adam DiMarco traveled to Italy, the Disney Channel boyfriend turned HBO star was filming The White Lotus, in which the actor played the highly scammable and softly toxic Albie Di Grasso, whom we last saw wiring €50,000 of his (daddy's) money to "rescue" his love interest, Lucia, from sex work. The older Di Grassos are openly skirt-chasers and serial cheaters; by contrast, DiMarco played a quintessential "nice guy" with a smattering of soft-core red flags, e.g., his preference for "pretty wounded birds." You could argue that all the Di Grasso men deserve artichokes to the head, but did the youngest of the triad deserve to get played? Well, yes. Maybe. DiMarco, who is currently in Milan for the Prada men's show, thinks the delicious scam was an opportunity for young Albie to learn, grow, and "develop some healthy trust issues."
Prada is DiMarco's first major fashion show. "I've been a fan of Prada for a while now, so I'm honored that they're my first," says the actor, who caught up with me over the phone the Saturday before the event. "But maybe because I'm Italian, I'm biased." DiMarco is jet-lagged when we talk, having only recently arrived in Milan, but while he's there, he's excited to reunite with other White Lotus stars, see the sights, and up his looks with some shopping. (He's feeling "like a bum" in fashionable Milan.) The Cut spoke to DiMarco about his Italian return, Albie's pure heart, and what it's like to be on the other end of the iconic Debby Ryan meme.
You are currently in Milan for the Prada men's show. How are you feeling?
I have no idea what to expect, but I'm very excited. I've always been into fashion and curious about the fashion world, so I'm looking forward to getting a peek behind the curtain. But my luggage hasn't arrived, so I'm hoping to get my outfit before the show. Always carry on, you know? I'm learning lessons left and right. But I'm tracking my luggage on an Apple AirTag, and I can see it's here in Milan. So I think it'll all work out.
You've talked about recently getting your Italian citizenship. What are some things you enjoy doing in Milan? 
I got my passaporto, is what they call it, a few years ago. My dad had gotten his and encouraged me to get mine. I'm glad I did, because I got to use it last year while filming in Sicily. It's just cool having two passports. You feel like you're Jason Bourne. I'm excited to go to the Duomo di Milano — I think I'll see that today. I had a tour of the Fondazione Prada, which was really cool. There's a lot of the cast from The White Lotus here, so I'm excited to see people, go out for dinners, and reminisce. It's my first time back in Italy since filming last summer, and it's bringing up a lot of memories — mostly about how I just wish I spoke Italian so I could communicate better. And everyone's so well dressed here and carries themselves so well. It's kind of intimidating. I feel like a bum a little bit with my personal-style game. So I'm excited to do some shopping as well.
Just wait until your luggage arrives. Then it's game over for everyone else. 
Exactly.
Let's talk White Lotus and the many toxic prongs of the Di Grasso–family masculinity. Do you believe Albie deserved to get played by Lucia? 
I think Albie goes into situations with as pure of a heart as he can, and when you do that, you're leaving yourself open to being taken advantage of by people. So I think it's a good learning lesson for him going forward in life: learning to take things slow and watch his own back.
You've said that, while filming for the show in Sicily, Jennifer Coolidge got you into wine. What did she teach you, and what does a wine lesson with Jennifer entail?
We went out to this nice restaurant, and she ordered a bottle of Sicilian red wine from Mt. Etna. The year was 2016 or 2014, and it was just the best glass of wine I'd ever had. It opened my eyes. She tried to take a picture of the label to remember it by, but she moved her camera too fast and the flash went off, so you just saw a blurry photo. I'm still new to wine, and to drinking in general, so I'm still in the learning phase. I'd say just try a bunch. See what you like; see what you don't like. There's no wrong answers.
Although going out to dinner with the Italian actors in L.A. for the premiere, it was really hard for them to find a bottle of wine. You know how they give you a sample at a restaurant so you can try it and then you're like, "Okay, go ahead — pour"? They just were kind of, No, to everything. I was like, "Sabrina, I'm sorry. This isn't Italy; this is L.A. You have to manage your expectations a bit."
You've grown a mustache. Tell me about that. 
Is it worthy of talking about?
I think so. 
Usually I just grow my facial hair out in between auditions while working, because if I get an audition and I want the character to look a certain way, I can't grow facial hair overnight — but you can always shave to look like the character overnight. So it's mostly just for that purpose. Kind of a boring answer, I guess.
No, no. I'm glad to know. Long before The White Lotus, you were on the Disney Channel, and clips of you from Radio Rebel are making the rounds online. What was the Disney Channel–to–HBO trajectory like? 
Luckily, I wasn't tied to a show for many years. I did two Disney Channel movies, so I just kind of got in and got out relatively unscathed. But they were both really good, positive work environments and experiences on which I've met some of my best friends to this day. I met my friend Atticus Mitchell on Radio Rebel, and he's actually here with me as my guest in Milan right now. Yeah, I'm really happy to have done those. Don't get me wrong, though — I'm way happier to be part of The White Lotus. 
Are you aware that you're on the other side of the iconic Debby Ryan meme?
That will never die. I remember in 2020, Radio Rebel became a meme on TikTok and it had this whole resurgence. And now it's happening again because people realized I was in it with Debby and on the other side of her famous — I think people called it a "Kubrick stare" or something.
We'll have fun with that meme forever. 
I'll tell Debby.
One last thing: What are you excited to eat in Milan? 
I try to be gluten free normally. In Italy, there's different rules and regulations for how they grow their wheat. I'm not celiac but can tolerate the pasta and the bread here, so I'm just excited to do that. I'm a bit of a pastano, a term for someone who enjoys pasta.
I would qualify myself as one of them too. 
You're a pastano as well?
I'm from Jersey after all. 
Hell yeah.