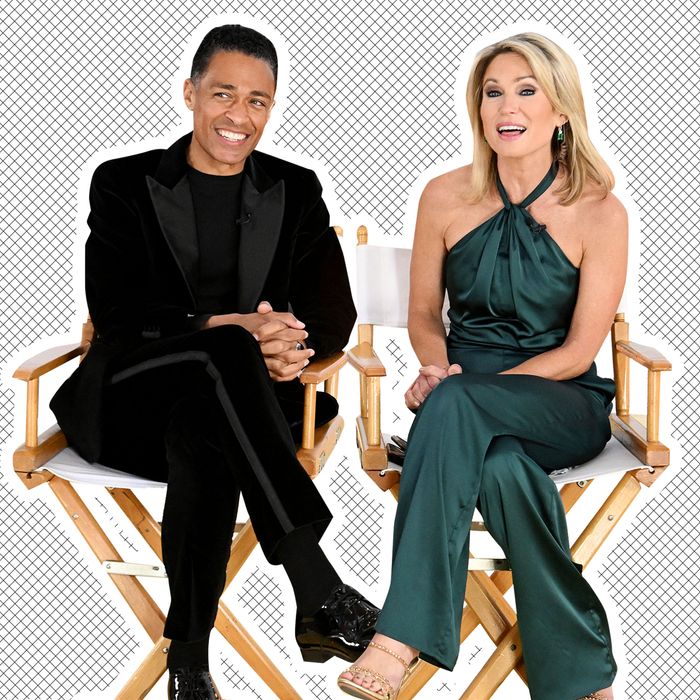 Photo-Illustration: by The Cut; Photos: Getty Images
In November, the U.S. received some exciting daytime-TV news entirely unrelated to Meghan McCain's hair: Two Good Morning America co-hosts, Amy Robach and T.J. Holmes, appear to have had an affair. Complicated for them but intriguing for us, this info emerged thanks to a lot of very talkative "insiders" at ABC and an alarmingly thorough timeline of their reported relationship published by the Daily Mail. Briefly, GMA's lunchtime segment, officially titled GMA3: What You Need to Know, was the most compelling hour of TV on earth. Since then, though, Holmes and Robach stopped hosting the show, and a lengthy investigation has led to their departure from ABC News. So what do you need to know about this romance? Let's dive in.
Sorry, but who are these guys?
Holmes and Robach co-hosted GMA3, ABC's afternoon spinoff of Good Morning America, beginning in 2020 and have apparently developed a very charming, banter-heavy on-air dynamic. They were publicly friends outside of their professional lives and are said to have socialized together with their spouses, which in retrospect sounds tense. (Until recently, Holmes was married to an attorney named Marilee Fiebig, and Robach was married to actor Andrew Shue, though some sources are saying that both marriages were over or ending by the time the co-hosts got together.) It appears at least three members of this love rectangle (?) are super into running — Robach and her then-husband ran the New York City Marathon together in 2019, which I guess she found pretty romantic, since she then did it with Holmes this year. Here they are together talking about marathon training in a way that strongly suggests it's foreplay:
Although rumors about an affair between these two had apparently been swirling at ABC for years (and, frankly, I can see why), there are mixed reports on when exactly it started. One "Page Six" source claims it started in August while both were going through marital troubles. Another alleges the affair started in March, while they were training for the marathon together — which, given the chemistry on display in that video, would not surprise me. Meanwhile, ABC "insiders" who spoke to the Daily Mail claim things turned romantic in June of this year, when the pair went to London to cover the queen's Platinum Jubilee. Someone said the entire on-site staff was "buzzing about the intimacy between them." So am I.
Is there any documentation of this romance?
Glad you asked! Per the Daily Mail, both Robach and Holmes quietly separated from their respective spouses in August, but they seem to have tried to keep their relationship covered up. However, someone has devoted considerable time and energy to tailing them on many of their covert meetups, and the results are both creepy and hard not to love. The Daily Mail published an extensive collection of photos and videos, all reportedly taken in November, that show Holmes and Robach Ubering to each other's buildings. They are almost constantly in UGGs or sweatpants, lending them a sort of disheveled, sexed-up quality. They were photographed holding hands (!!) in the backseat during one of their rides after Thanksgiving.
Robach and Holmes have been spotted looking very flirty in various iconic NYC locales — such as an Irish bar in Times Square and the NYU Langone Medical Center. At the bar, bystanders who spoke to the Daily Mail claimed they were "totally into each other" and that Robach was dancing, then "practically fell into his lap" laughing so hard. In the photos, they do seem blissfully oblivious to the weirdness of their surroundings. Good for them.
The pièce de résistance of this collection are photos from a weekend Robach and Holmes spent upstate in mid-November. At a cottage near Minnewaska State Park, the duo reportedly barely left the house while "a fire roared in the hearth all weekend." Photos taken as they were leaving show Holmes repeatedly tapping Robach's butt while they packed up the car. Incredible.
How has ABC taken this news?
In the wake of the report, both Robach and Holmes deactivated their Instagram accounts. Thanks to some very chatty ABC employees, we had plenty of intel on the general vibe at the office in the days following the news. At first, things seemed pretty peachy. "Page Six" claimed Robach and Holmes arrived at ABC's studios on December 1 "as a couple" to tape their segment without any fuss, and indeed, they appeared onscreen at 1 p.m. with their usual flirty energy and absolutely no mention of the report. The only maybe-reference they made to their presence in the tabloids happened during a December 2 segment, when Holmes joked, "It's been a great week. I just want this to keep going and going," to which Robach responded, "Speak for yourself." Despite what had probably been a very invasive experience for them both, they seemed to be in good spirits:
Meanwhile, TMZ claimed that ABC wasn't planning to discipline them over the relationship, with one "staffer" calling the newfound attention "ratings gold." A splashy New York Post cover declared that they were "not ashamed" of their relationship — with one company source describing them as "two consenting adults who ended up loving each other." But later that week, reports emerged that further complicated things: Yet another "insider" speaking to "Page Six" claimed Holmes had a three-year affair with a Good Morning America producer before his relationship with Robach started. The Cut has reached out to Holmes for comment and will update when we hear back.
On December 5, ABC president Kim Godwin reportedly announced during an editorial call that Robach and Holmes would be taken off the air because of their relationship, which she deemed not "ratings gold" but actually an "internal and external distraction." Godwin apparently reiterated that the relationship between Holmes and Robach was "not a violation of company policy." Actually, it seems a lot of Robach and Holmes's co-workers are ticked off. According to "Page Six," their bosses are "very unhappy" that they made light of the tabloid frenzy on air, and "every anchor" at ABC News is "upset that Amy and T.J. have caused such drama."
About a month after Holmes and Robach were pulled from their segment for a temporary hiatus, TMZ reported that both Robach and Holmes would be leaving ABC following an "extremely contentious" mediation. In a statement obtained by the Cut, a spokesperson for ABC confirmed that the hosts would be parting ways with the network: "After several productive conversations with Amy Robach and T.J. Holmes about different options, we all agreed it's best for everyone that they move on from ABC News. We recognize their talent and commitment over the years and are thankful for their contributions."
Neither Holmes nor Robach has publicly commented on the report. However, shortly after the news was announced, the couple was reportedly spotted by The Daily Mail engaging in a bit of PDA in Los Angeles.
What are Robach and Holmes up to now?
Still dating, though they laid low in the days after ABC took them off air. On December 15, the Daily Mail spotted them having lunch at Manhattan's Capital Grille, and on December 26, the tabloid found them in the Atlanta airport. From there, they headed to Miami, where they were photographed engaging in some Stella Artois–sponsored PDA on the same day that E! reported that Holmes had officially filed for divorce from his wife, attorney Marilee Fiebig.
Speaking of Fiebig: Holmes's soon-to-be ex-wife released an understandably terse statement through her divorce lawyer. "During the holiday season and in light of the challenging times, Marilee's sole focus has remained on the overall best interest of her 9-year-old daughter," her lawyer told the Daily Mail, adding, "We continue to be disappointed by T.J.'s lack of discretion, respect and sensitivity toward Marilee and the party's daughter."
Will they be back on our screens anytime soon?
Not on ABC News, but it seems unlikely that this is the last we've seen of them. ABC might have been less than thrilled to have an affair play out on screen, but another network might feel differently.
Am I the only one who thinks this whole thing seems way too much like a plotline of The Morning Show?
This post has been updated.