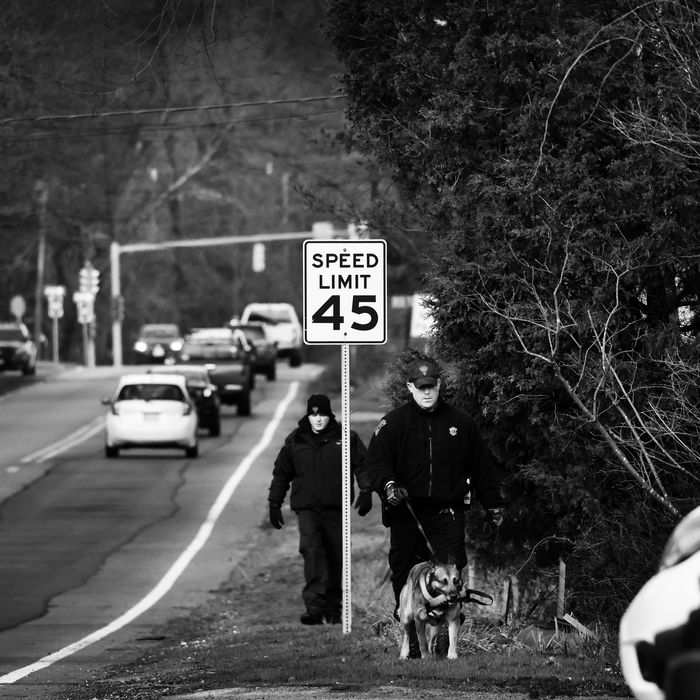 Photo: The Cut; Photo: Getty Images
Authorities have issued an arrest warrant for Brian Walshe on murder charges following the disappearance of his wife, Ana Walshe, a real-estate executive who lived in Cohasset, Massachusetts, and frequently traveled to Washington, D.C., where her family had a second residence.
Ana Walshe's co-workers first reported her missing on January 4, per the Boston Globe, leading authorities to question her husband, Brian, about his movements in the days leading up to her disappearance. Investigators say Brian, who was already on home confinement for an unrelated crime, was not honest in recounting his whereabouts and cost them valuable time as they searched for his wife. On January 10, he was arraigned in Quincy District Court, where he pleaded not guilty to a charge of misleading investigators. One week later, police issued an arrest warrant for Brian on murder charges. NPR reports not-guilty pleas were entered on behalf of Walshe and he was held without bail on Wednesday.
Here's what we know so far.
Brian Walshe was already on home confinement awaiting sentencing for another crime
In April 2021, Brian Walshe was placed under house arrest after he pleaded guilty to a count of wire fraud, interstate transportation for a scheme to defraud, possession of converted goods, and unlawful monetary transaction. He had been arrested in 2018 for selling two fake Andy Warhol paintings on eBay for $240,000. Authorities said at the time that Brian took the paintings from a friend in South Korea, promising to sell them, but that when he returned to the United States, he stopped answering the friend who owned the pieces. According to CBS, he tried to sell the paintings to a gallery but was rejected because he didn't have a bill of sale. He later sold one of the pieces to a gallery owner in California who realized upon receiving it that it was a fake.
William Quigley, Cohasset's police chief, said on Friday that Brian's legal history is "not believed to have any relation" to his wife's disappearance.
Brian allegedly threatened to kill Ana Walshe and a friend in 2014, according to a police report
Before she married Brian, Ana told police that Brian threatened to kill her and a friend in 2014. As reported by CNN, the case, led by the D.C. Metropolitan Police Department, was reportedly closed because Ana wouldn't cooperate with the prosecution.
Brian Walshe was charged with misleading investigators
Six days after his wife was reported missing, Brian, 46, was arraigned for allegedly misleading investigators in the disappearance of his wife, who is 39. An affidavit published by the Boston Globe claims that Brian told police he last saw his wife on the morning of January 1 when she said she had to fly to D.C. for a work emergency. According to the affidavit, Ana Walshe usually took a rideshare service or taxi to the airport, but prosecutors said they found no evidence of her taking a rideshare from the house that morning. They also said that her phone pinged near her home on January 1 and 2.
"The fact that he was asked a specific question and he gave an untruthful answer that led investigators out of the area caused a clear delay in the search for the missing person, Ana Walshe," the affidavit reads. He allegedly claimed to have visited his mother in Swampscott and to have gone to Whole Foods, CVS, and Home Depot on January 1, the first day his wife was missing, but camera footage did not show him at the stores at the times that he claimed to be there. Prosecutors said that Brian did go to a Home Depot where he bought $450 worth of painting and cleaning supplies, but not on the day he claimed to be there.
At the time of his first arraignment, prosecutors told a judge that they found a partially damaged knife with blood on it in the Walshes' Cohasset home and that there was blood in their basement. Per CNN, crime-scene tape was placed outside and around dumpsters located in the apartment complex near Brian's mother's home, where he claimed to have visited his mother on the day that his wife disappeared. Police also searched trash in Peabody, where CNN reported, citing law-enforcement sources, that police had found a hacksaw and apparent bloodstained cloth at a trash-collection site.
Walshe's mother said her daughter asked her to visit a week before she disappeared
Walshe's mother, Milanka Ljubicic, who lives in Serbia, told Fox News on Monday that a week before she disappeared, her daughter insisted that she visit her in Washington, making her believe there might have been some issues in her marriage.
"She just said, 'Please, mama. Come tomorrow,'" Ljubicic said. "Which means that clearly there must have been some problems." Ljubicic said her daughter did not give any reason for needing to see her right away, and that she wasn't able to travel on short notice.
Ljubicic told Fox News that her daughter tried to call her around midnight on December 31 and then shortly after, but she missed the calls. Walshe then reportedly called her older sister, who was asleep, and a friend who didn't hear the phone ringing, per Fox.
Brian and Ana shared three children between the ages of 2 and 6. CNN reported that they are now in the custody of the Massachusetts Department of Children and Families.
Brian was charged with Ana Walshe's murder.
A week after being arraigned on charges of misleading investigators, Brian was hit with a new arrest warrant — this time, for the alleged murder of his wife. District Attorney Michael Morrissey announced the news in a video statement on January 17.
Not-guilty pleas were entered entered on Brian's behalf and he was held without bail on January 18. He did not speak during his appearance in Quincy District Court, except to say "I do" when the judge asked if he understood the charges. NPR reports that he stood expressionless when the prosecutor laid out the state's case.
During the hearing, Lynn Beland, a prosecutor with the Norfolk district attorney's office, said that police believe Brian killed and dismembered Ana, and disposed of her body in dumpsters because he wanted to end their marriage, CNN reported. Brian allegedly assaulted and beat his wife to death, the prosecutor's criminal complaint stated.
"Rather than divorce, it is believed that Brian Walshe dismembered Ana Walshe and discarded her body," Beland said.
Beland said that investigators discovered ten trash bags filled with items including towels, rags, tape, gloves, cleaning agents, Ana Walshe's COVID-19 vaccination card, a hacksaw, and a hatchet. Beland added that Brian allegedly used his son's iPad to search a long list of things, including "How long before a body starts to smell?," "How to stop a body from decomposing," and "Can you be charged with murder without a body?"
Brian's attorney, Tracy Miner, suggested in a statement published by CNN that the state's evidence is not strong.
"In my experience, where, as here, the prosecution leaks so-called evidence to the press before they provide it to me, their case isn't that strong," she said.
This post has been updated.