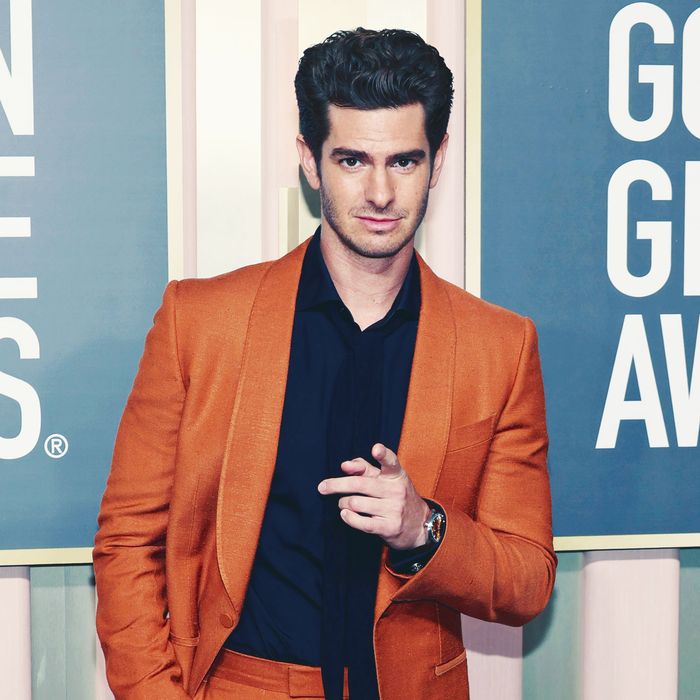 Photo: Monica Schipper/The Hollywood Reporter via Getty
Andrew Garfield is a catch. He's a two-time Oscar nominee, an on-screen Spider-Man, and one of the few Hollywood stars your entire family can agree is attractive. And, as a recent red carpet interview shows, he's also a total flirt.
Garfield was nominated for Best Performance by an Actor in a Limited Series for Under the Banner of Heaven at the Golden Globes this year, and while he didn't take home the award, he did get one viral interview, and a new official best friend (or potential soul mate, depending on who you ask) thanks to Amelia Dimoldenberg. The "Chicken Shop Date" host was on hand to interview celebs on behalf of the Globes themselves, and to say she threw Garfield off of his game would be an understatement.
From the very moment they locked eyes, he could not stop giggling. And it only got more adorable from there. Let's go through all the flirty things Garfield said to Dimoldenberg during this 2-minute interview, shall we? He called her a "capybara in the wild," told her, "I only ever want to see you" — cue more giggling, before he added, "I only want to see you in these kinds of situations." When she casually mentioned her upcoming birthday party, he asked her what her sign was (Aquarius), and then proceeded to tell her that, astrologically, they would be a great match. "If you have the sun sign that's the same as the moon sign of someone else… that's good," he said, before saying he didn't think they should "explore this" and "I'm not ready for that kind of thing." Um… okay. Dimoldenberg ended the interview by asking him to sign a "Best Friend certificate," which he did, before then extending their goodbye for just a few seconds too long.
Funny? Yes. But also weirdly intimate. It honestly felt like he was going to ask for her number at any moment. The awkward, flirty energy was so intense in part because they'd done this befre. The two first met a few months ago at a GQ event. That interview was not as awkward, but it also did feature Garfield saying that he'd love to go on a "Chicken Shop Date" with her "whenever, really, whenever. Well, not whenever, but, like, when we can both do it" because what she does is "weird" — but "weird as in good." Smooth.
Together, these short interviews feel like Act 1 of a rom-com, and we need to find out what happens next. Someone please book Dimoldenberg for the Oscars. This cannot be where their story ends.