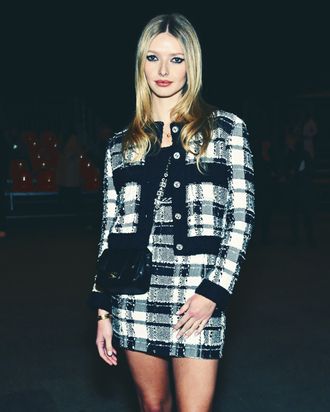 Photo: Stephane Cardinale - Corbis/Corbis via Getty Images
It feels like just yesterday we were all remarking on Gwyneth Paltrow and Chris Martin's choice to name their child after a fruit — forever changing the course of celebrity baby naming. But that was 18 years ago. If that makes you feel old, I'm sorry.
Apple Martin, now a college student, made her Paris Fashion Week debut at the Chanel spring-summer 2023 haute couture show at the Grand Palais Éphémère on Tuesday. Sitting next to Lucy Boynton and Sadie Sink, she wore a tweed black-and-white Chanel minidress with black platform loafers with a quilted cross-body bag.
"Karl Lagerfeld met Apple Martin when she was 4 years old and declared that one day she'd be a Chanel girl," Derek Blasberg captioned photos of Apple backstage. "It happened today!"
With her blonde hair down, Apple's resemblance to her mother was hard to miss. Paltrow regularly fawns over her daughter on social media and in interviews, but she and Chris Martin have kept their daughter's life relatively private. Paltrow regularly mentions that Apple is in college but has never revealed where. Apple's Instagram is private, and she has stayed out of entertainment and fashion thus far. But if this appearance marks her entry into the family business, Paltrow might need to order a few more of those "nepo baby" tees she liked so much.