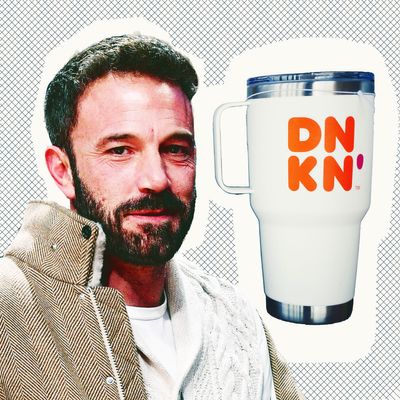 Photo-Illustration: The Cut; Photos: Getty Images
Ben Affleck is a man of many talents: acting, yes, but also walking, kissing, office decorating, and seducing his ex via email. However, there is nothing he excels at more than promoting Dunkin' Donuts. No matter what season, relationship, or level of despair he is in, Boston's favorite boy has stayed running on Dunkin'. So it was only a matter of time until the company sealed in stone his lifelong devotion to its drinks. Affleck was spotted on Tuesday working a Dunkin' drive-thru in Medford, a Massachusetts city just north of Boston, which several sources say was for a commercial.
Why did it take so long for Affleck to graduate from unofficial guerrilla marketer to commercial star? Something tells me his wife, the PR maven formerly known as Jennifer Lopez, was involved in the decision to monetize his greatest passion. (J.Lo is, after all, a master of brand synergy, having spliced her own song into the national anthem at President Biden's inauguration.) In fact, she appeared at the drive-thru window in an SUV and placed an order with Ben in full makeup, leading outlets to suspect she will also be in the commercial.
While I would have preferred Affleck's Dunkin' promo to remain organic, I don't blame him for cashing in. He looks like he's having fun, and at least he's not plugging crypto.