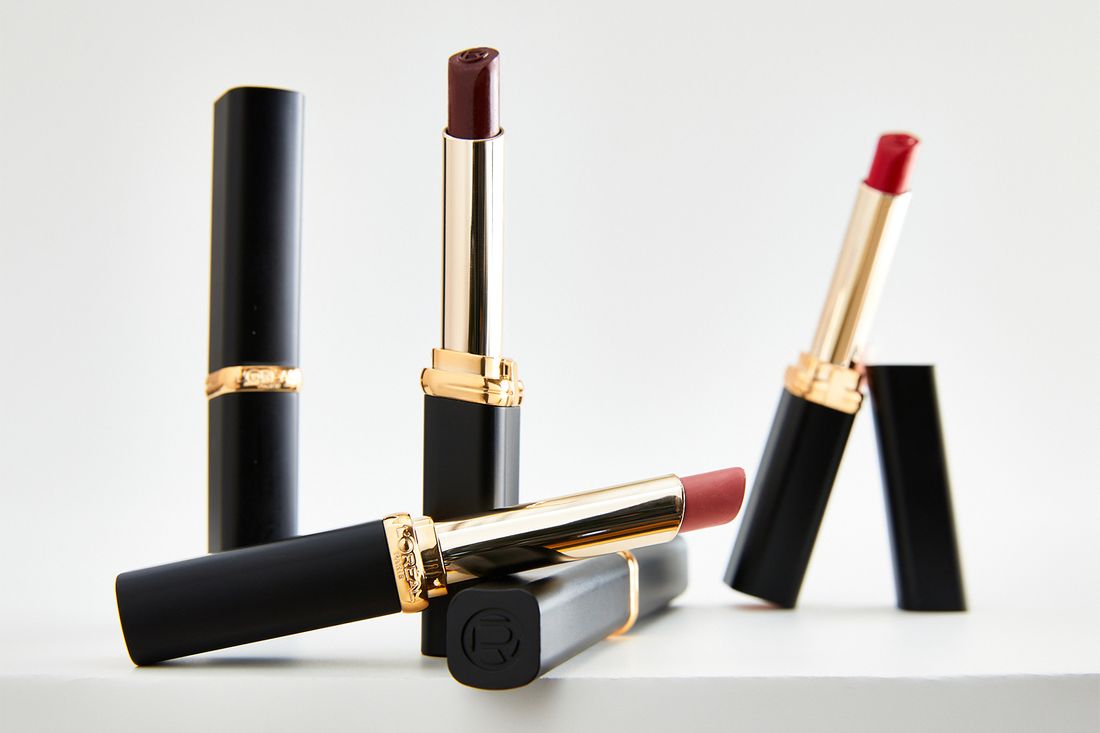 TikTok may have brought a rise in dewy skin and glossy lips during the beginning of the pandemic, but with the return of award show makeup and improved lipstick formulas that don't flake or crack, it feels like the matte lip is finally getting the resurgence it deserves.
"We're starting to see a trend of more matte finishes being worn in complexion and lipstick options," says Jonet Williamson, NYC-based makeup artist, "I believe we can attribute this to the fact that people are out and about more and looking again for more long-wearing makeup options that require less touch ups."
Maybe the return of the matte lip is a post-pandemic beauty phenomenon, or perhaps it's a millennial response to the Gen-Z no-makeup makeup look (take that, claw-clip-wearing minimalists!) — either way, we're totally into it. Here, we're sharing seven of the best lipstick picks from L'Oréal Paris to help you give the matte lip a warm welcome back — or even pretend it never left.
The Best Matte Lipstick for a Flake-Free Application
If you fear flaking, opt for this color-forward pick that's formulated with hyaluronic acid to ensure a moisturized, smooth finish. It wears comfortably for hours, and has a slim bullet for a super precise application. It also will make your lips look soft and plump, which is exactly what you want out of a good matte formula.
The Best Matte Lipstick for a Long Day
For a matte lipstick that has more lasting power than a union on The Bachelor, we love this matte lip crayon. It has a full-coverage finish that's long-wearing and comes in more than a dozen shades, including a trendy mauve pink and a vampy burgundy.
The Best Matte Lip Stain for Applying on the Go
This matte lip stain is incredibly long-lasting, and also a great pick if you prefer a doe-foot lipstick applicator rather than a bullet. From chocolate browns to fiery reds to poppy pinks, there's plenty of shades to choose from for every skin tone.
The Best Matte Lipstick for a Non-Drying Finish
Williamson recommends prepping the lips before application to ensure that they won't dry out over the course of your wear. "Start by exfoliating with a lip scrub, and then apply a lip mask before wearing a matte lipstick," she says. Blot off the prep ingredients, and apply a thin layer or two of a matte lipstick that's also non-drying, like this pick. It has a creamy matte consistency that will keep your lips moisturized, soft, and chap-free.
The Best Matte Liquid Lipstick
There's a good reason why this liquid lipstick is a drugstore crowd favorite — it has a creamy, non-sticky consistency that dries down to a matte finish and offers all-day comfort. The pro-sculpt applicator also hugs your lips to help enhance the natural curves of your mouth, making them look juicy and plump.
The Best Matte Lipstick for Every Makeup Style
This pick is formulated with jojoba oil and has intense pigment. In 16 shades, including a bold glam red, a pink for the Barbiecore lover in you, and several neutral hues, the color offering runs the spectrum of makeup styles. Not to mention, the velvety matte finish will have you going back to the formula over and over again.
The Best Matte Lip Liner for Filling in Color to Pair Underneath
While this pick is not a lipstick, it's an important product to pair with one, according to Williamson. "Filling in your lip fully with a matching lip liner before [applying] lipstick is a great way to lock the color in place so it lasts all day," she says. This saturated lip liner will do just the trick and can be paired underneath your matte lipstick for a more intense finish.
This advertising content was produced in collaboration between Vox Creative and our sponsor, without involvement from Vox Media editorial staff.