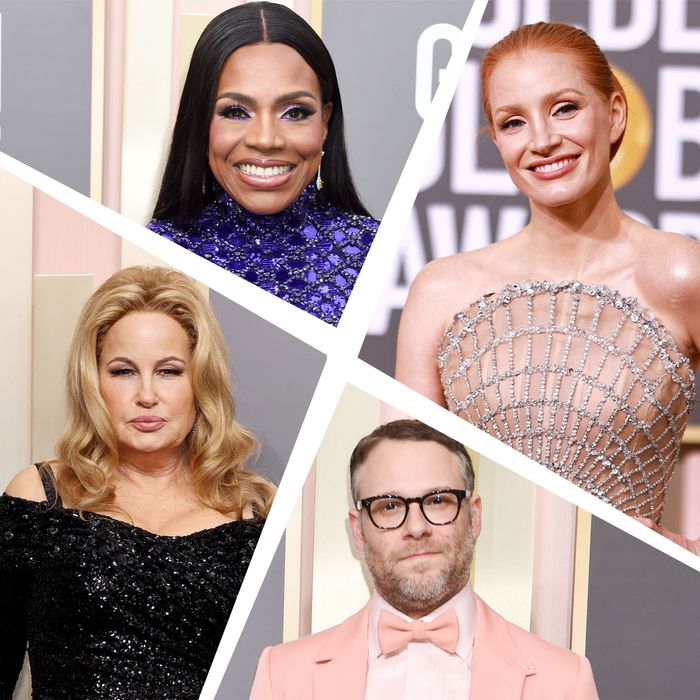 Photo-Illustration: by The Cut; Photos: Getty Images
What makes the Golden Globes stand out from other awards shows? Alcohol. And lots of it. It's the only show where people get drunk on the way in, and for that, we are grateful. This year, our favorite celebs, including Sheryl Lee Ralph, Quinta Brunson, Jennifer Coolidge, Daisy Edgar-Jones, Jenna Ortega, and Emma D'arcy, showed up on the red carpet and delivered. Tonight, there were an unfathomable amount of opera gloves (perhaps they've run their course, hmmm?); more than one mesh shirt; prom attire in the form of ruffles, corsages, and rosettes; and finally, an overall gothic renaissance, which we were really into. Let's dive into the most eye-catching, for better or worse, looks from the night.
Best Dressed Overall : Jessica Chastain
Chastain's Oscar de la Renta gown makes her look like an elegant arachnid. Visibly absent? Tons of jewelry. We appreciate the understated and, some may say, simple look; it certainly works for her.
The Cut Fan Favorite: Sheryl Lee Ralph
It will always be Sheryl for us. I am dazzled by this woman on a consistent basis. For her first Golden Globe nomination, she looks like the most beautiful disco ball in custom Aliétte. Shoutout to her stylist and daughter, Ivy Coco.
Most Surprisingly Monochromatic and Unexpectedly Not Goth: Jenna Ortega
Ortega has been draped exclusively in black as of late after her stint as Wednesday Addams in Wednesday, but she looked both sun-kissed and retro in this drapey, cutout Gucci dress, paired with Tiffany & Co. jewelry. I love the color on her, especially in tandem with her hair.
Most On-Trend/Germaphobic: Megan Stalter, Ayo Edebiri, and Britt Lower
All three actresses wore different iterations of the opera glove. And while I love a long glove, I wonder if we'll tire of this? Stalter went with an understated, sheer moment, while Edebiri's Rosie Assoulin set teetered toward a deconstructed Cinderella moment. And while I personally loved Lower's Bach Mai look, the outfit, gloves and all, divided the Cut team. Sometimes, a look hinges completely in its styling and in the details. In this case, a different hairdo and a different choice of earrings would've solidified this as a best-dressed contender in my book.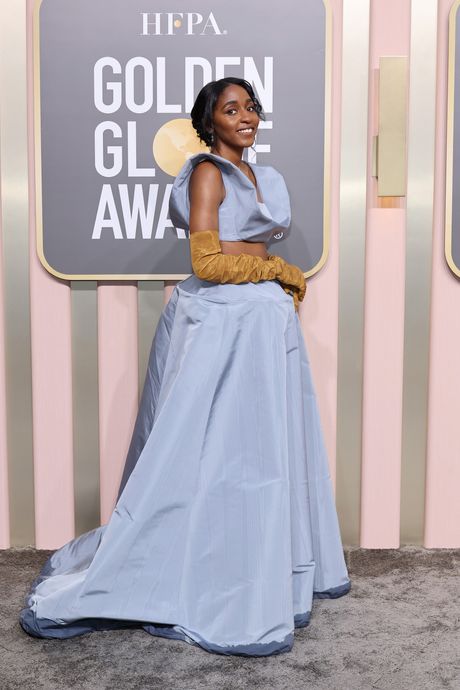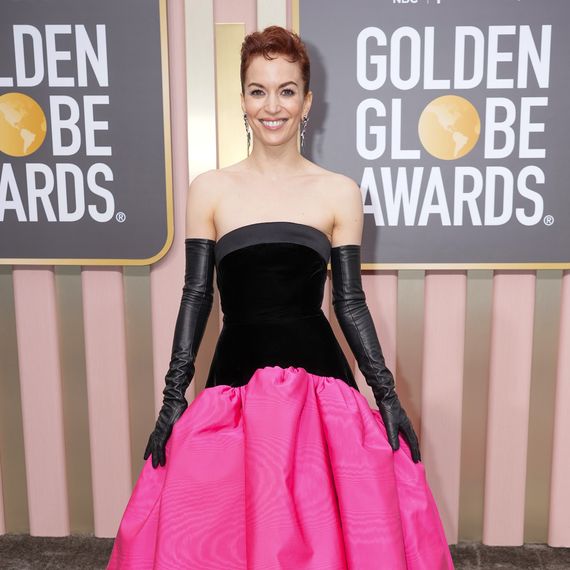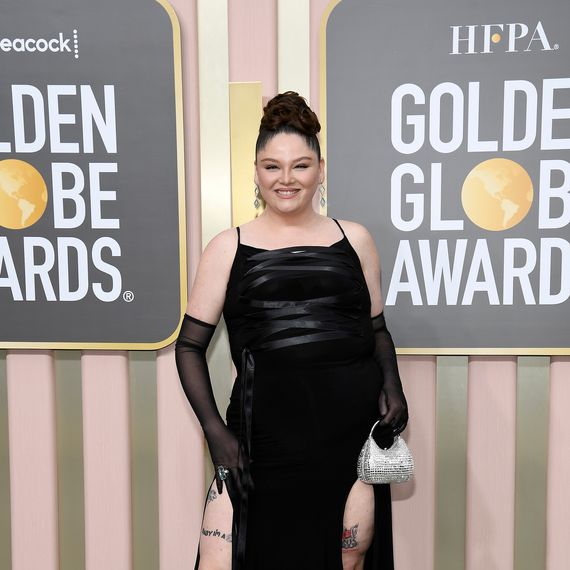 Most Successfully Goth: Emma D'Arcy
We saw a plethora of goth-adjacent, Wednesday Addams–inspired looks, but none of them came close to D'Arcy's. "The vibe is like a child piano prodigy and maybe the recital is not going well," D'Arcy said on the red carpet. "Nothing says nonbinary like wearing both a skirt and trousers." Everything about this was punk, from the blue tear streaming down their face to the oversize silhouette and blue gloves. We raise a Negroni Sbagliato with Prosecco tonight in their honor.
Most Midwest Prom: Quinta Brunson, Eddie Redmayne, and Jenny Slate
This category was tied between Quinta Brunson, Eddie Redmayne, and Jenny Slate. No shade to Quinta, but I just know that someone in my home state of Kansas has worn that exact same frock to high-school prom (except theirs certainly wasn't Christian Siriano). Meanwhile, Eddie Redmayne, in Valentino, and Jenny Slate, in Rodarte, showed up in full-on, neck-level, corsage-y rosettes. I'm getting nostalgic for high school. Help!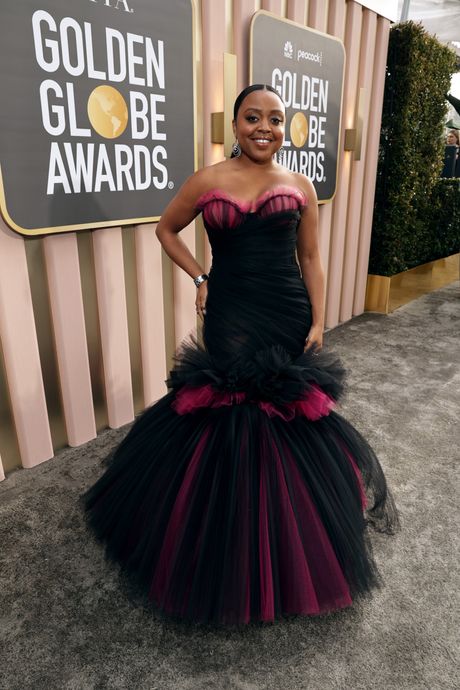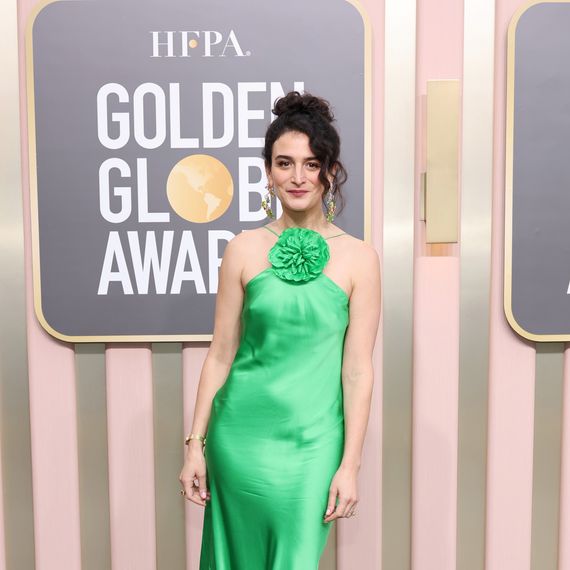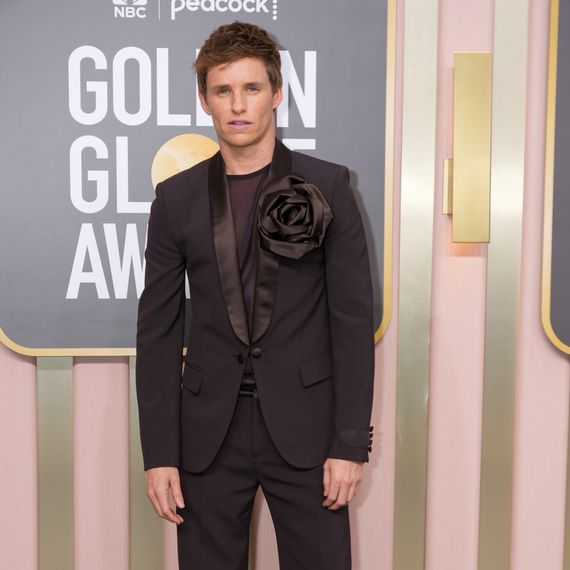 Most 'Frat Boy Who Thinks Peak Fashion Is Vineyard Vines': Seth Rogen
I love ceramics king Seth's salmon-colored suit, but you cannot deny that you, at one point in your life, have witnessed a man that pledged Sigma Chi in college wear the exact same color to a formal event.
Most Naked and Likely Afraid: Thing Prop
The Thing Prop — yes, the severed hand from Wednesday — walked (crawled?) the red carpet with nothing on. Bold.
Most I, Tonya–Inspired: Heidi Klum
I'll be honest, I don't know what Klum was going for with this look, but I'm telling myself — maybe lying to myself — this a very loose reference to the iconic swan dress Björk wore to the 2001 Academy Awards.
Most Dramatic High Priestess: Jamie Lee Curtis
The rest of Curtis's look is fine, but the real crowd-pleaser is this cape. A dramatic look is nothing without a sweeping cape to make spectacular turns and exits in.
Most Uncomfortable-Looking Wedgie: Liza Koshy
I love a butt-cleavage moment as much as the next girl, but I've never seen a thicker thong out for display than I did tonight on Koshy. While we were waiting for Rihanna, this is not the Savage x Fenty reference we expected.
Most Vintage Hollywood Glamour: Jennifer Coolidge
Coolidge's Dolce & Gabbana swanky sequins and tousled, teased hair delivered the exact amount of Hollywood glamour I needed.
The Goodest Boy (Probably): Ocho the Official Ticket Dog
This dog probably left crumbs on the carpet via some dog treats, but left no crumbs metaphorically. What a contradictory look. The shaggy, slightly ungroomed fur says, "I don't conform to the standards of beauty that society imposes on me!" while the badge says, "I'm here on official business and I will follow the rules when needed!" What a story.