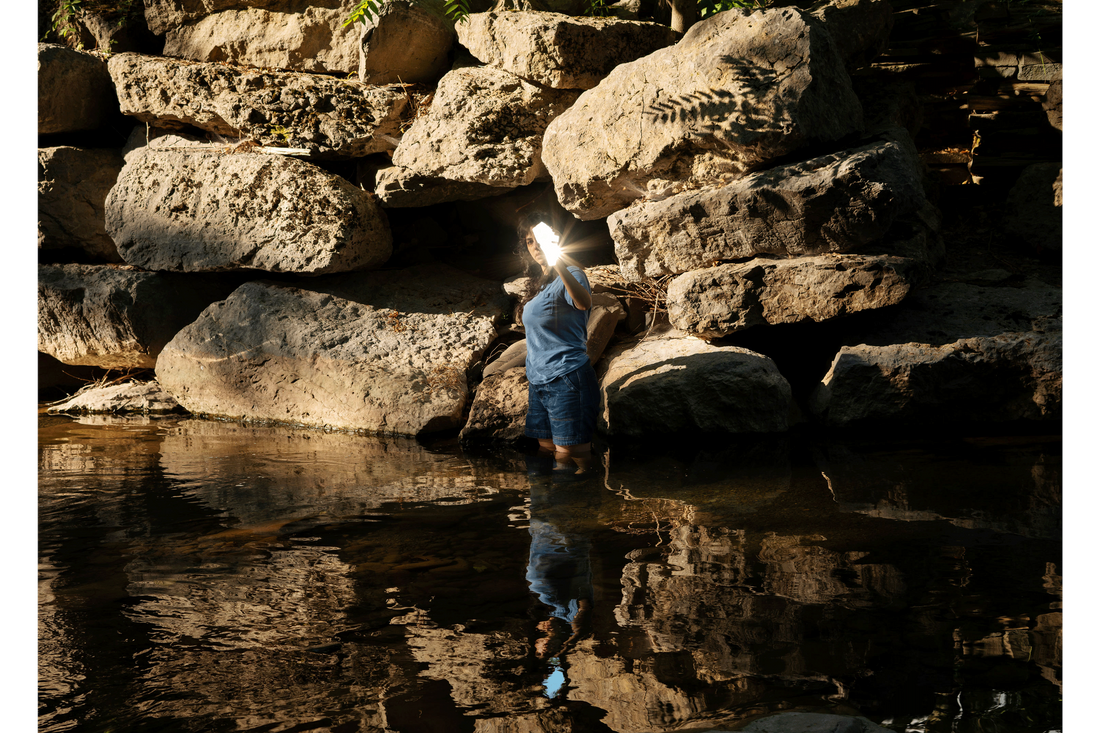 Signal (II), 2022.
Photo: Genesis Báez
In her 2019 book Silt: Prose Poems, Puerto Rican Jewish poet Aurora Levins Morales considers nature and its pathways and who owns them. She draws inspiration from the story of a congressman who, in the late 1890s, argued that Cuba was made from silt washed out from the mouth of the Mississippi River, making it American soil. That granular imperialism prompted Morales to do "poet research," tracing the residue exchanged between the river and the Caribbean Sea. "What are we but the silt of each other?" she asks in the book's preface. "Every molecule of oxygen we breathe has been breathed a billion times before by every other set of human lungs, has crossed the panting tongues of dogs and leopards and small jeweled snakes, fueled the tiny hearts of hummingbirds and the large hearts of gorillas, passed in and out of clouds and rain and waterfalls, risen up from the oceans into the planetary sky. To whom does it belong?"
Her words inspired photographers Genesis Báez and Jennifer Calivas's two-person exhibition at Justine Kurland Studio, "Silt of Each Other," on view through January 22. The work furthers Morales's exploration of fluidity and belonging through the static lens of a camera. Bodies are sucked into the sediment in Calivas's black-and-white portraiture and photograms; in Báez's digital color shots, they're scattered across the Puerto Rican diaspora, held together and apart by oceans and threads. The two artists have been friends for over a decade — they met at the Vermont Studio Center, and later pursued their M.F.A.s together at Yale. This exhibition comes from years of conversations about the play, practice, and pleasure of picture-making, of prioritizing not only what is seen but what is felt: the squelch of mud and sand; joy and intuition.
Like silt exchanged between bodies of water, the two learned from one another, giving and taking. "We were quickly kind of drawn to each other as people, just energetically got along really well," says Calivas, sitting beside a denim-clad Báez in the intimate Dumbo gallery. "Genesis was working in a way I wasn't used to seeing. She was doing all this weird stuff. She had a glass jar of water she pushed around her studio." (The water would eventually become a photograph of Báez and her mother lifting the jar together, a mother-daughter rite that would inspire later works.) "I hadn't really thought that much about the process of making things." Báez learned from Calivas in turn: "I remember just being like, Oh my God, this person is really listening to their gut," she says, recalling a hike where Calivas shared her idea to make a video of someone rolling down a flower-patterned hill. "I remember Jenny saying, 'I don't know what it means yet, but I just have this feeling that that's what I need to do,'" says Báez. "That resonated with me."
Báez's "Silt" pictures are staged scenes of ritual and communion that both bridge and highlight the distance created by diasporic separation, and often feature glimpses of her body and those of women in her family. Broken mirror shards reflect oceans — for Báez, symbols of both division and connection — and refract mothers. In Parting, Báez and her mother braid each other's hair; their black silhouettes cast a shadow that freezes the gesture in time. In Crossing Time, her mother sits on a teal couch and holds up a gold thread, as the photographer's shadow holds up the other end. The photos began as part of Báez's personal search for belonging. Born in Massachusetts to parents who immigrated from Puerto Rico in the '80s, she spent her life in the liminal space between the two places while reckoning with the island's colonial-territory status. What does it mean to be from a place that "exists in liminality," she wonders? In recent years, after hurricanes sparked mass exodus from the island, Báez began reexamining her feelings of placelessness, understanding that her photographs were perhaps more about dislocation than belonging. Maybe the latter's impossible. "I make the place, I am the place. I can belong in other ways," says Báez.
If Báez is searching for a place, Calivas is looking for a body. The first time the photographer buried herself for a self-portrait, on the shoreline in Maine that she used to wander as a child, she did it out of intuition, out of love for the natural world and her desire to be as close to it as possible. "I love looking at the ground," says Calivas, who made her somatic earthworks by setting up large-format cameras in a well-lit location before digging a body-shaped hole and enlisting  others to cover her until she couldn't move at all, save for the hand that squeezed the camera shutter closed. The final images playfully evoke Ana Mendieta's Silueta Series. It can be claustrophobic underneath the sediment, and Calivas sometimes meditates through it. Afterwards, she swims the sand off. "It's my favorite thing to do in the world," she says. "Being in this landscape and then that, it's really a ritual. It's this intense process, then washing off with water and very carefully packing things away."
Finding pleasure in the landscapes is also an act of reclamation: When Calivas was 16, she fell asleep reading a book on the shoreline and awoke to a man staring at her and masturbating. Trauma is only one of many components of the work, but she examines the power dynamics of the incident through the camera; each time she captures a scene, she births a new and unpredictable bodily form, one free of unwanted desire, with the space to be strange, funny, awkward, or even not a body at all — rather, just a fixture on or extension of the earth the artist loves. "Doing it over and over again was almost like, Yeah, I can be here," she says. Báez nods. "Like a repair of sorts."
A selection from works in "Silt of Each Other."