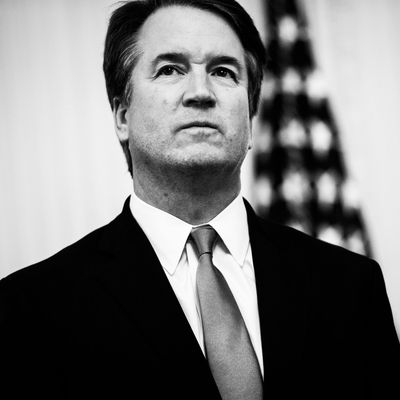 Photo: Jabin Botsford/The Washington Post via Getty Images
Sundance attendees were surprised to find a last-minute addition to the lineup on the festival's first night. That entry was Justice, a documentary about sexual-assault allegations against Supreme Court Justice Brett M. Kavanaugh, produced by Amy Herdy and directed by Doug Liman. It premiered on Friday night to an audience of about 300, according to the Washington Post.
In 2018, after President Trump announced his nomination of Kavanaugh to the Supreme Court, Christine Blasey Ford, a psychology professor in California, wrote a letter to Senator Diane Feinstein alleging that Kavanaugh physically and sexually assaulted her at a party in 1982 when the two were high-school students in Bethesda, Maryland. In her testimony to the Senate Judiciary Committee, Ford said that Kavanaugh pinned her down, groped her, tried to remove her clothing, and put his hand over her mouth to muffle her screams.
A 2018 FBI investigation into the allegations lasted only a week and did not include interviews with potential witnesses to the assault. Shortly after hearing Blasey Ford's testimony, the Senate voted to confirm Kavanaugh to the Supreme Court. In 2021 the bureau revealed that it had received more than 4,500 tips about Kavanaugh, reigniting anger that the Trump administration and the FBI did not take the investigation seriously enough.
In a news release, Liman said that the film is meant to pick up "where the FBI investigation into Brett M. Kavanaugh fell woefully short." In a post-screening Q&A, Liman and Herdy — an investigative journalist who led the film's research team and has worked on other films about sexual assault, including The Hunting Ground, On the Record, and Allen v. Farrow, said that within minutes of announcing the documentary, the filmmakers had been receiving new tips about Kavanaugh. The tips are reportedly significant enough that the team plans to do more investigating and filming.
It's not yet known when the documentary will be released to the public. Here's what we know so far.
The film focuses on Deborah Ramirez.
In 2018, after news of Ford's alleged assault broke, two more women accused Kavanaugh of sexual assault, but neither of those women testified before the Senate Judiciary Committee. One of them — Deborah Ramirez — is the focus of Justice.
Her experience was reported by the New Yorker in 2018, when she told the publication that in 1983, when she and Kavanaugh were students at Yale, he thrust his penis in her face at a party. The FBI interviewed Ramirez in 2018, but her attorney said at the time of the hearings that officials never followed up with potential witnesses who might have been able to corroborate her story.
In the documentary, per the Washington Post, Ramirez describes getting inebriated at a party when she was a college student at Yale, looking up and seeing a penis in her face, which — "having never touched a penis before" — she accidentally brushed with her hand. She says her friends laughed at her, a sound she has never forgotten. "The prominent memory is the laughter," she reportedly says in the documentary. "I have never forgotten it in 35 years."
Kavanaugh repeatedly denied all accusations of sexual assault in 2019.
The documentary includes a previously unheard recording of a prior accusation against Kavanaugh.
Per the Post, Justice includes a previously unheard recording of a message that Max Stier, who attended Yale with Kavanaugh and Ramirez, left on the FBI's tip line in 2018. In it he reportedly said that classmates told him that after Kavanaugh allegedly stuck his penis in Ramirez's face, he went to the bathroom and made himself erect before "allegedly returning to assault her again, hoping to amuse an audience of mutual friends," per the Post. The New York Times reported on the existence of the message in 2019, but the documentary marks the first time it has been publicly heard. In the film, Ramirez says she'd suppressed the memory so deeply she couldn't recall this second incident.
The Post reports that in his message, Stier also claimed he saw "firsthand" Kavanaugh pull his pants down at a different party while a group of soccer players forced a drunk female freshman to hold his penis. In 2019, the woman's friends told the Times that she didn't remember the incident and, after seeing the way Ford was treated, did not want to come forward. Stier does not appear in the film.
Festival attendees appear to agree that Justice "is devoid of bombshells," as Sam Adams of Slate put it. The documentary likely won't lead to the FBI to reopening its investigation, Adams wrote, though he noted that an expanded version of the documentary might "help ensure that Kavanaugh never escapes what Ramirez and Ford say he did, that his every ruling and public statement is seen through the lens of the person they say he is."
Ford was not interviewed for the documentary.
Slate and the Washington Post report that Ford barely appears in the documentary, appearing mainly in archival footage of her testimony during the confirmation hearings. During the Sundance Q&A, Liman said that he did not think Ford needed to be interviewed again, especially after being interrogated in front of the world during the confirmation hearings. "I felt that Dr. Ford has given so much to this country," he said. "She's done enough for ten lifetimes."
The filmmakers say they are going to keep working on the documentary.
Herdy and Liman said on Friday that they have a website, JusticeFilm.com, where people can send tips. They said they have already begun receiving tips, which they plan to investigate, and will continue working on the film, which they previously thought was complete.
"I do hope that this triggers action," said Herdy. "I do hope this triggers additional investigation with real subpoena powers."