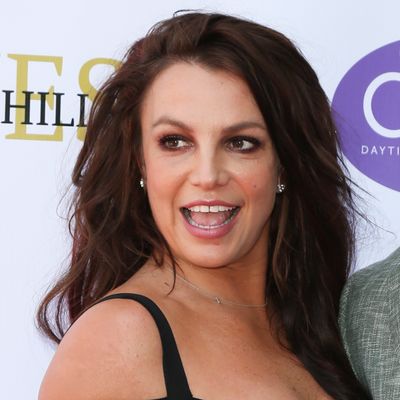 Photo: Paul Archuleta/FilmMagic
Britney Spears spent the last few years in a very public and very contentious battle for her freedom from her conservatorship, her father, and from the paparazzi that have been hounding her for decades. Now she only wants one thing: privacy.
In the wake of her court battle, Spears has kept a low profile. Save for her her star-studded wedding to Sam Asghari, she hasn't been telling all, or posing for tabloid photoshoots. The only publicity she has gotten has been from her own Instagram and social media posts, which vary from dance videos to intimate notes app posts about her time allegedly spent in complete isolation while under conservatorship. Via social media, Spears has been able to reclaim her narrative as much as a worldwide pop star can, but her Instagram activity also had some unintended consequences this week, when police reportedly showed up to her house to perform a wellness check.
Concerned after Spears deleted her Instagram account, fans called into the Ventura Sheriff's Office, requesting a wellness check. Some even coordinated through TikTok, using the #WhereIsBritney hashtag to recruit others to call the authorities. A report from TMZ said that law enforcement had gone to Spears' home to follow-up, though any official involvement has yet to be confirmed. However,  a spokesperson for the Ventura County Sheriff's Office assured fans that there was nothing to worry about. "I can confirm that we don't believe that Britney Spears is in any kind of harm or any kind of danger," the spokesperson told "Page Six" on Wednesday. "I can't confirm or deny that deputies went to her house," the spokesperson continued, explaining that wellness checks or other visits not relating to a crime are a private matter.
A day later, Spears confirmed the incident in a message posted ot her Twitter account. In her statement, she said police were called to her home because of "prank phone calls" and that, while she loves her fans, "this time things went a little too far and my privacy was invaded." Spears clarified that the police did not come into her house, but did arrive at her front gate and "quickly realized there was no issue and left immediately." Spears continued, "This felt like I was being gaslit and bullied once the incident made it to the news and being portrayed once again in a poor and unfair light by the media." She ended her statement asking that fans respect her space. "During this time in my life, I truly hope the public and my fans who I care so much about can respect my privacy moving forward," she wrote.
Debate among Spears fans on whether or not to believe the statement has already begun, but #FreeBritney activist Kevin Wu told BuzzFeed that he hoped fans got the hint and let her live in peace. "She should be free to express herself however she wants to on her social media, and she hasn't indicated in any way that she needs total strangers checking up on her," Wu said.