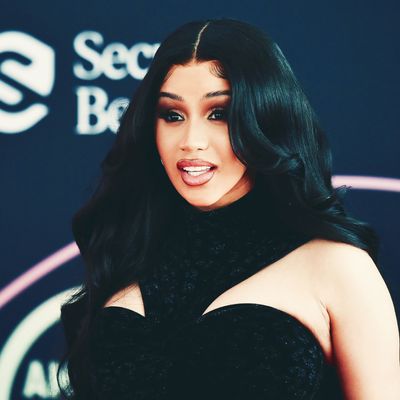 Photo: Richard Shotwell/Invision/AP/Shutterstock
Cardi B, like the rest of us, has noticed prices rising with inflation and wants to know: "What the fuck is going on?"
In a video posted on Wednesday, the rapper said that after noticing the price of groceries was "tripling up" on a weekly summary of her expenses, she went to the grocery store to see for herself what was going on. She wasn't impressed with what she found.
"Lettuce was like $2 a couple of months ago and now it's, like, fucking seven," she said. "The fuck?"
Responding to critics who say that since she has a lot of money she doesn't need to speak up, Cardi said, "Of course imma say something, 'cause if I think that shit is crazy, I can only imagine what middle-class people or people in the hood motherfucking thinking." The rapper asked anyone with the power to reduce prices to "put that shit the fuck down."
She also had some advice that might be helpful: You've got to budget, because if you don't, you're "going to go broke soon."
This isn't the first time Cardi has sounded off about the economy or politics. In 2019, she spoke about then-President Trump demanding that federal workers return to work without pay during a shutdown; in September, she talked about the lack of housing inventory and high cost of living. Cardi for president.