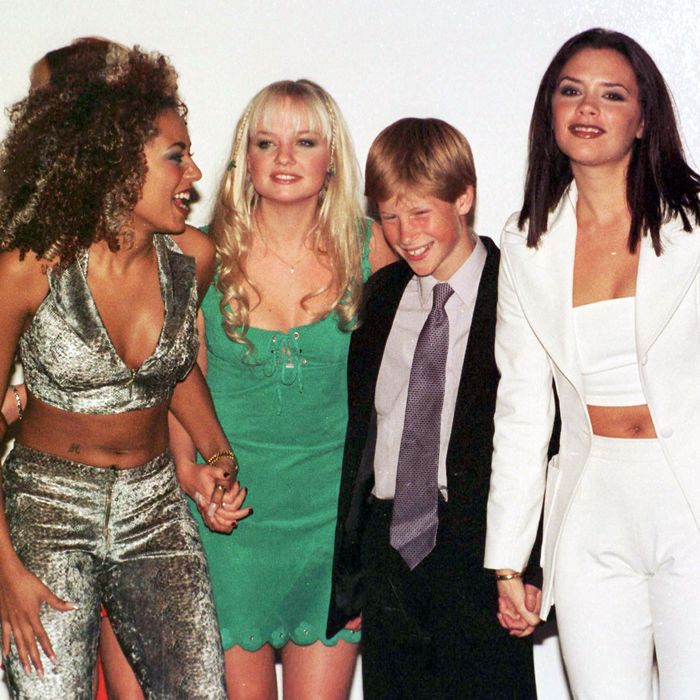 Girl power!
Photo: John Stillwell - PA Images/Getty Images
If you were King Charles, supposedly trying to entice your estranged son to attend the biggest public event of your life, what would you do? Would you, understanding that said son's absence from your upcoming coronation might threaten to overshadow the whole weekend, and also genuinely wanting him to be there out of fatherly love — we're speculating here — deploy the biggest guns at your disposal as the reigning monarch? Of course you would. You would get all your best guys on this. You would make said son an offer that he absolutely could not refuse. You would send in the Spice Girls, your nation's single greatest export.
According to The Sun, "royal organisers are super keen to secure Britain's biggest girl band" for the momentous occasion — not necessarily as bait to lure in Prince Harry but simply because the Spice Girls are the natural choice for such a "historical event." But this is also a matter of personal history: Harry and Charles attended a Spice Girls concert in 1997, shortly after the death of Princess Diana. In his memoir, Spare, Harry paints the occasion as a dressed-up photo op, but there was bonding, too. "I saw it with my own eyes, Pa gamely nodding to the beat and tapping his foot," Harry said of the experience of watching his dad vibe to "Wannabe." Exiting the show to a wall of paparazzi, Harry had another feeling for his dad, "bright as the flashes: Loving him." The Spice Girls have that effect on people.
Would they do it, though? TBD, but they reunited for the London Olympics in 2012, and as The Sun points out, "the Coronation is as special as The Olympics — a one off celebration and unique performance." The tabloid reports that Mels C and B are leading the charge, trying to get the band back together, and Mel B at least seems hopeful. "I can't tell you exactly, but there's going to be something that is going to be announced pretty soon," she apparently said in a recent U.S. interview. "I am probably going to get told off. It is a project that we're very excited about. It will be all five of us." It had better be, and definitely Ginger Spice ("the only Spice with whom I felt any connection," Harry writes) needs to be there.
Granted, one of Spare's biggest takeaways is that readers should not trust tabloids to tell the truth, so let's not get our hopes up. But if we are nominating potential arbiters of Windsor peace, I prefer the Spice Girls to Charles's alleged pick, Archbishop of Canterbury Justin Welby. According to the Daily Mail, Charles wants Welby to "broker a deal" that would entice Harry to attend while mollifying Prince William, who apparently fears his brother will go rogue and do something attention-seeking like, "for example, going on a walkabout in a deprived London borough." I'm sure Welby has many skills, but no one is going on a walkabout when the Spice Girls are on, so I think the time has come to apply some girl power to the situation.