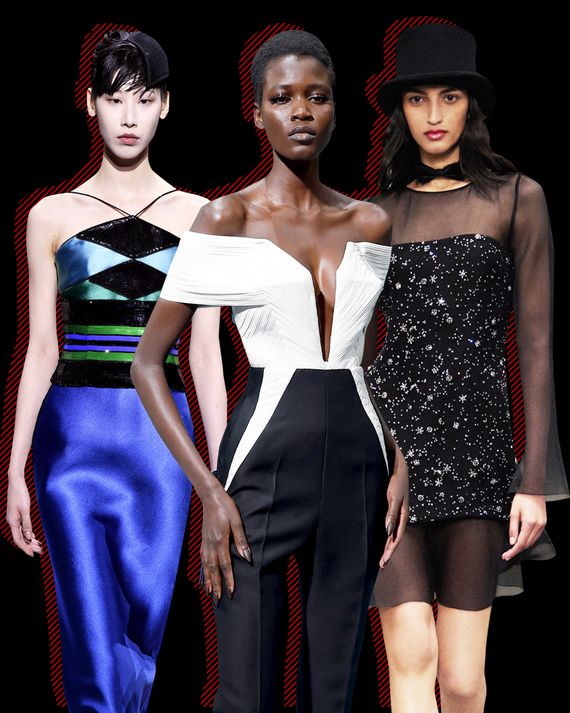 From left: Armani, Jean Paul Gaultier, and Chanel.
Photo-Illustration: by The Cut; Photos: Getty Images, Shutterstock, Chanel
At the start of the Chanel show the other morning, the tennis star Roger Federer, who was next to me, murmured, "Trojan horse," as a workman in overalls pushed out an industrial cart holding a giant wooden, well, horse with distinctly abstract features. Federer, through no fault of his own, had jumped the gun. Within minutes, a herd of wooden animaux — lion, dog, elephant, camel, etc. — entered the Chanel ring. Hidden doors popped open, and out stepped the first models.
This seems to be Animal Week in Paris couture, what with those infuriating stuffed heads at Schiaparelli. Chanel's creative director, Virginie Viard, couldn't possibly ruffle a feather. Made of cardboard as well wood, the monumental sculptures were the work of artist Xavier Veilhan and were meant to evoke the evolving relationship between humans and animals. Viard embraced the concept herself with a cameo of a corgi embroidered almost indistinctly in stones at the neck of a multicolored tweed jacket. Since this is haute couture, and anything is possible, maybe clients can request the same for their dogs. It wouldn't be any stranger than wearing a lion's head on your shoulder.
Viard is at her best when the attitude is youthful and relaxed, and this was one of her better couture collections. The opening look — a model with red lips and a black top hat, dressed in a white military-style jacket and a white feathered and beaded miniskirt with black-patent, sling-back loafers — set the jaunty tone. Viard had about ten variations of the Chanel tweed jacket, most buttoned over a school-girl miniskirt or a dirndl and worn with the loafers (shoe of the week!) Or gold-tipped boots or white lace-up majorette boots with the telling black Chanel toe. Some models also sported black bow-tie chokers, a reference perhaps to Coco Chanel's early use of maid's collars and masculine elements.
Her evening clothes were mostly straight-line shapes — again, easy — with some lovely white lace slips, a tank dress embroidered all over in white beads with a black embroidered center panel and a many-pleated full skirt, and a dark suit with a wide hem of baby-bonnet frills. The evening clothes really ran a gamut, though, from covered up and conservative to minimalist though embellished. The bride went short.
Obviously the intention was playful — a visit to a circus, perhaps. But call me perverse: the majorette boots, the bow ties, the red lips, the top hats, the flippy schoolgirl skirts? And never mind the image of girls popping out of animals. Sweetness itself is a kind of perversity. Innocence is a sexual game. Anyway, I don't know what Viard intended, if anything, but during the show I kept thinking that a great artist (John Currin came to mind) would have a field day with the symbolism.
The harlequin was a standard figure in European plays and paintings for centuries, typically dressed in a checkered suit, sometimes in blackface or mask, often a devil or a seducer. Only the seduction and the diamond pattern interested Giorgio Armani, and in an elegant and obsessive collection, he seemed to consider the motifs from every angle. He said in his show notes that he wanted the colors to shimmer "as if refracted through a prism," and that's exactly what they did. The peony pink, turquoise, emerald green, and royals kept changing in luminosity and richness depending on the fabrics and embroideries and whether he veiled them in black chiffon. Nearly every look popped — as it might on the Oscars red carpet — and he did what he always does well: tell a concise story in depth.
Before his collection for Jean Paul Gaultier, I asked Haider Ackermann if he could recall his first memory of Gaultier, and he replied, "Standing in line for hours to get into his shows." He remembered the "rabbi" show in the Passage Vivienne with models dressed as rabbis. Ackermann has a following of his own. His friend and client Tilda Swinton was in the front row along with Daphne Guinness (wearing a headdress of either antlers or branches), Catherine Deneuve, Timothée Chalamet, and Gaultier. The house has been asking guest designers to produce a one-off couture collection, and Ackermann's was far and away the best.
For one thing, he focused on the purer aspects of Gaultier's couture — that is, his impeccable suiting, his Parisian savoir faire, and his graphic sense of glamour using sculptural shapes. Previous guest designers have mostly gone for his jokier side and the early gender provocations (men in skirts and so on). Ackermann also dug into the glamourama spirit of a Gaultier show, heightening the makeup (and lengthening the lashes) and having the girls stroll at a snail's pace down the carpeted catwalk, then throw a pose for the photographers before they move on.
It was delicious, and the audience was entranced. The clothes were thoroughly adult and sophisticated, as dreamy and alive as couture can be but rarely is today. Among the standout looks were a white silk bustier finely pleated in the manner of Madame Grès, sort of peeling off the shoulders, and worn with knife-sharp black pants; a pleated evening gown in pale rose and royal-blue jersey; and a spectacular purple wool dress cut on the round over the shoulders and torso and gradually tapering toward the ankles. It, too, evoked the powerful forms of classical couture, a dialogue that Gaultier savored — and which Ackermann brought forward.