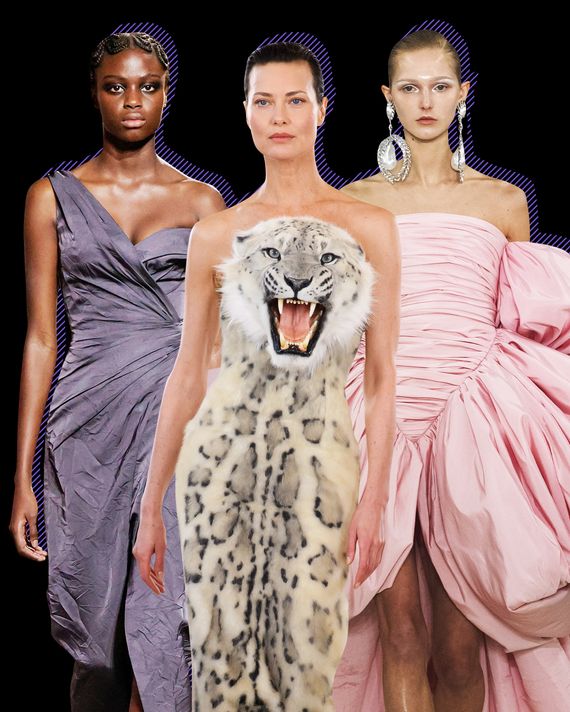 Photo-Illustration: by The Cut; Photos: Courtesy of Dior, Schiaparelli, Giambattista Valli
In gray Paris, the spring haute couture collections opened with Dior's understated ode to Josephine Baker, Schiaparelli's extreme hourglass shapes, and Giambattista Valli's smothering layers of tulle and chiffon. In one way or another, they dealt with fashion's main area of interest — the body — with Valli virtually negating it.
Daniel Roseberry, the American designer at Schiaparelli, drew fire across the internet for mounting realistic-looking imitations of wild animals (a lion, a leopard, a wolf) on the front or shoulder of dresses. Shalom Harlow got the leopard dress with the animal's open-mouthed head — the work of artisans using embroidery and paint — positioned just below her own head. To some people, it suggested a big-game trophy. Or maybe that Harlow herself was the prize.
Of course, another way to look at things is that Roseberry was taking aim at pieties, at the taboos and conventions encroaching on artistic expression, not that he favors blood sports. Fashion designers often get a bad rap for being insensitive beasts or just downright beasts, shock agents, as if they should be sitting up in their ateliers and knitting a sweater. The animal world has long been represented in fashion, and I don't mean since Björk wore a stuffed swan to the Oscars, and the meanings have varied without implying callousness or death — though that should also be a valid consideration if we're talking about artistic freedom.
For the collection, Roseberry referenced "Inferno," the first part of Dante's 14th-century epic poem "Divine Comedy," and he plans to get to "Purgatory" and "Paradise" in subsequent collections. For Dante, the leopard symbolized lust. The emotion hasn't dated.
"I like the idea that, when people come into a show, they don't know what they're going to be seeing," Roseberry said. In previous seasons, he has played with Elsa Schiaparelli's well-known use of Surrealism, which she took from artists of her day. What I find so compelling about Roseberry's new approach is that he largely cleaned up his surfaces and focused on structure and silhouette. The line of his tailoring — a corseted coat, a white bolero embroidered with quivering white beads and worn with a tight bustier and a pair of wide-leg black trousers — is based on the torsolike bottle for Schiaparelli's perfume Shocking. Imagine using sex to sell a classy scent.
Roseberry handled all of this deftly and with intention, though some of his outfits — in which he built out the bodice with a kind of shield made of thin molded wood or mother-of-pearl — made the girls look a little top heavy. It was nice to see him include softer styles, notably a black-chiffon column dress scattered with tiny black beads and two lightly frilled modesty panels. His show music was fabulous: a commissioned work that layered Diana Ross over Philip Glass.
Talking about Baker, the American entertainer who became a sensation in 1920s Paris and later joined the French Resistance, Dior's Maria Grazia Chiuri said, "She changed completely perceptions of her sex and of Black women. And she's fashion. She visited the haute couture ateliers. She was a client."
The Dior archive has photos of Baker attending at least one show in the house and, from 1951, wearing a gown to perform in New York. Chiuri also asked the artist Mickalene Thomas to create a set of portraits of well-known Black women including Lena Horne, Nina Simone, and Hazel Scott.
Considering Baker's cultural significance and the cabaret images of the daring entertainer in the '20s, Chiuri's expression — on Monday at the Rodin Museum — might come across as Josie Lite. But the designer wasn't drawing on a one-dimensional view of Baker as a performer in spit curls and flapper dresses. Rather, she was distilling aspects of her life and times: an austere charcoal cape that referenced wartime service, silver and gold cloque gowns or suits that caught the shimmer of the '20s and early '30s.
And Chiuri didn't mess around. The best looks were suits with well-cut skirts hitting about mid-calf, three-quarter-length coats worn over a long dress or skirt, a wonderful black coat dress with satin lapels and a slight empire line, and a pair of sleeveless evening dresses in subdued gold or silver that draped loosely around the body and were tied at one side.
The clothes skimmed the body and looked confident because of that. In her couture collection last July, Chiuri highlighted handcrafts like a kind of smocking and pleating. This time, fabrics were the stars. The silk velvets, the slightly crinkled metal silks the moved like chiffon, the wools — everything was ultralight. As Chiuri said, "I like this kind of elegance and also comfort."
Nothing about Valli's many gowns looked comfortable or happy as models dealt with voluminous skirts and trains or got their heels trapped in hems. The candy-colored froth devoured most of the bodies. Big dresses have been Valli's thing, but he's shown he can beautifully do the other too.