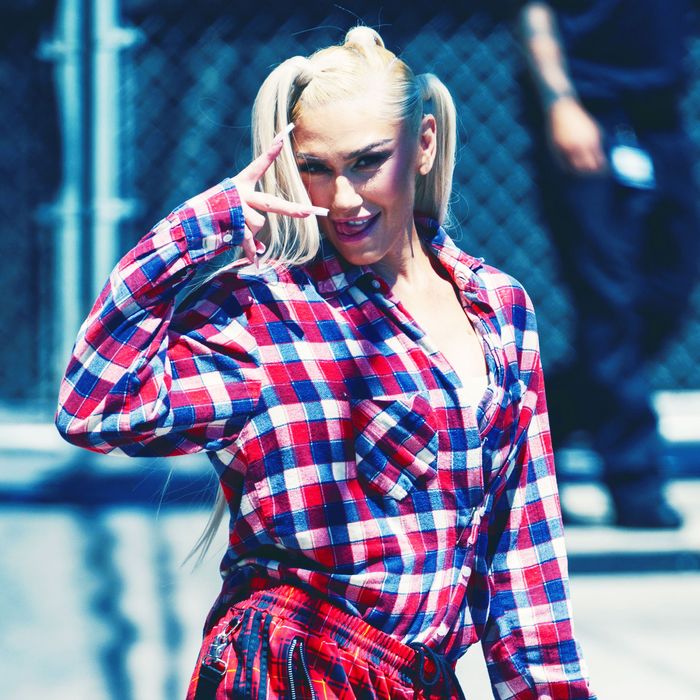 Photo: The Cut; Photo: RB/Bauer-Griffin
Gwen Stefani, an Italian-Irish American raised in California, recently said, "I'm Japanese." Huh? In an interview with Jesa Marie Calaor, an Asian American writer from Allure, Stefani was asked about her polarizing early-2000s fragrance line, Harajuku Lovers. For preteens with underdeveloped prefrontal cortexes and little to no critical thinking skills at the time, like me, each Harajuku figurine was the crème de la crème of covetable collectibles. But in recent years, the line, among other projects Stefani has fronted, has been reexamined and criticized for cultural appropriation. For example, in the '90s, Stefani wore a bindi, a culturally significant marker for South Asian women; in 2005, she wore Chola-style looks in the music video for "Luxurious"; and even last year, she wore dreadlocks in Sean Paul's "Light My Fire" music video. (Yes, you could say she's been around that track a few times. Margaret Cho called this out as early as 2005.)
When Allure asked what she'd learned from her experience with Harajuku Lovers, the pop star responded with an anecdote that's circulated in her interviews before: Her father (an Italian American man) worked for Yamaha, which required him to travel back and forth to Japan for 18 years, each time returning with "stories of street performers cosplaying as Elvis and stylish women with colorful hair." When Stefani was able to travel to Japan herself as an adult, she told Calaor, "I said, 'My God, I'm Japanese and I didn't know it.' I am, you know." She went on to describe herself as a "super fan" of Japanese culture: "If [people are] going to criticize me for being a fan of something beautiful and sharing that, then I just think that doesn't feel right," she said. "[It] should be okay to be inspired by other cultures because if we're not allowed then that's dividing people, right?" Suddenly, something about her marriage to Blake Shelton kind of makes sense.
Calaor, who, like Stefani, is not Japanese, but is an Asian American woman, writes that she's been "called racial slurs" and was essentially left confused after the nearly half-hour interview. To which I say, same, and I wasn't even on the receiving end of it. A representative for Stefani reached out to Calaor insisting that she'd simply misunderstood what Stefani was trying to say. Unsure how someone could misconstrue someone explicitly saying they're Japanese, but okay! In turn, Allure asked the singer's team for an on-the-record clarification of her remarks, an offer which was reportedly declined. Calaor wrote that she didn't believe Stefani "was trying to be malicious or hurtful in making these statements. But words don't have to be hostile in their intent in order to potentially cause harm," adding that both she and her colleague who was present left the encounter feeling "unsettled."
Consider me doubly unsettled.