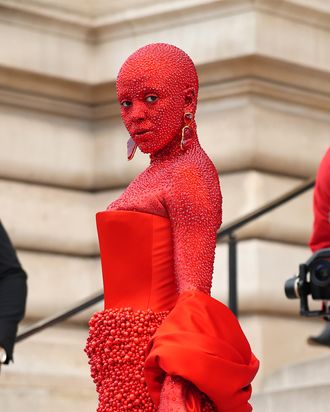 Photo: Jacopo Raule/Getty Images
Doja Cat wins. We can always count on her to step out with a major fashion or beauty moment. From vaping on the red carpet to randomly shaving her head, the entertainer has shown us a lot of extremes. For her latest over-the-top act, at Schiaparelli's Haute Couture Fashion Week show in Paris, she stepped out covered in 30,000 Swarovski crystals. Yep, 30,000.
And if you thought it was just a bodysuit made of crystals, you were wrong — Doja is way too committed to pulling a look for that. Doja's skin was fully painted with a custom mix of red paints with red glitter glazed over them for a pearlescent layer of gloss and an illuminated effect. She was then topped off with meticulously hand-applied Swarovski crystals. Pat McGrath was behind the head-turning look, and Doja wore the artist's Legendary Wear Matte Lipstick in Elson 4 — a vivid blue-red that blended seamlessly into her painted skin. Of course, no visible body part was left unjeweled, so her lips were also adorned with crystals. To tie everything together, she wore a custom Schiaparelli hand-knitted skirt and silk bustier.
Two questions come to mind: How long could this look possibly have taken to prep? And how long will it take to remove all of those crystals and paint? Regardless, the drama was completely worth it, as she looked breathtaking sitting in the front row.
Today was the first day of the Haute Couture shows, so this might only be the beginning of a week full of epicness for Doja. One thing's for sure: She's not afraid to push the limits and serve a full camp look that truly embodies the meaning of haute couture.