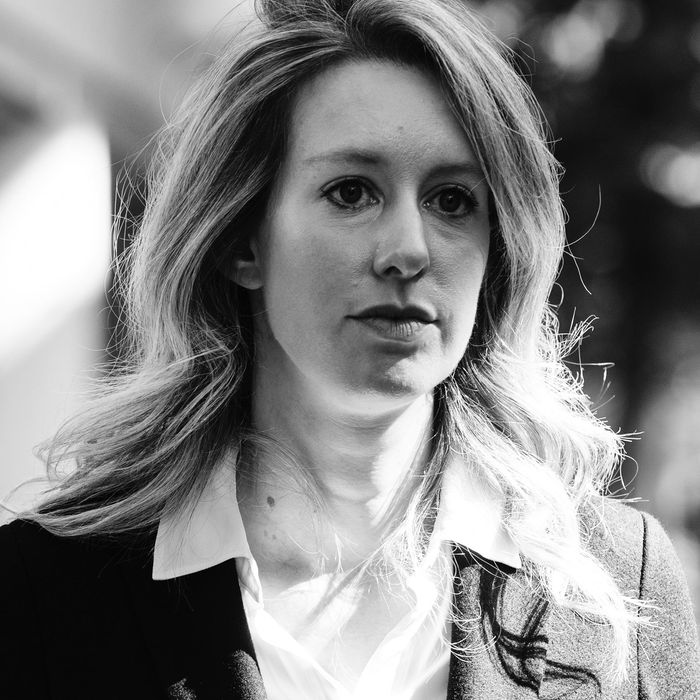 Elizabeth Holmes
Photo: Michael Short/Bloomberg via Getty Images
Elizabeth Holmes, self-styled "best businessperson of the year" and owner of one of the world's largest black-turtleneck collections, is now facing prison time for defrauding investors. In January 2022, a jury in San Jose, California, returned its verdict: guilty on four counts of fraud. On November 18, a judge sentenced her to 11.25 years in prison — rejecting the pregnant Theranos founder's plea for home confinement and a maximum of 18 months behind bars.
In December, Holmes appealed her conviction and argued that she should be allowed to be free because there is no risk she will flee and because she intends to raise "substantial issues" that could warrant a new trial. Prosecutors argue she has not proved she is not a flight risk, per the Washington Post.
In fact, prosecutors claim Holmes purchased a one-way ticket to Mexico before she was found guilty, which they described as "an attempt to flee." Holmes reportedly canceled the ticket after prosecutors found out about it three days before departure. "It is difficult to know with certainty what Defendant would have done had the government not intervened," prosecutors wrote.
In response, Holmes's attorney asked a judge to strike the claim from the record, saying that it was "baseless" and that Holmes booked the ticket to attend a wedding in Mexico in late January 2022, when she thought she was going to be acquitted. "The court has Ms. Holmes's passport, which has been expired for years," her lawyer said in the filing. "She is in frequent contact with multiple pretrial services officers. She has a flawless pretrial services record."
Once a rising star in Silicon Valley, Holmes founded a company that claimed to have revolutionized blood analysis. Valued at $9 billion in 2015, Theranos said its machine could complete a suite of tests with just one drop of blood when really they didn't do much of anything at all — as documented by multiple podcasts, documentaries, books, a feature film, and a Hulu series. That its device fell short of Holmes's ambitious pitch led the company to lean on third-party machinery to keep up the ruse. That's according to prosecutors, who argued Holmes knew she was peddling a false promise to investors and customers and, in 2018, charged her with 11 counts of criminal wire fraud. Holmes's defense team, meanwhile, painted her as a young and naïve tech dreamer — she dropped out of Stanford to launch Theranos in 2003 — who bit off more than she could chew. Her trial started in September after repeated coronavirus-related delays.
Throughout months of court proceedings, jurors heard from the prosecution's almost 30 witnesses as well as from Holmes herself. The disgraced founder testified for more than a week, insisting she did not intentionally mislead anyone. She accused Ramesh Balwani, her ex and former business partner, of emotional, physical, and sexual abuse, saying he exercised tight control over her personal life and professional decisions. Holmes was 18 when she first met Balwani, then 37, and eventually he became her company's president. His influence, she said, totally undercut her confidence on the job. When she found out the technology didn't work in 2016, she said, she moved out of their shared apartment.
While the abuse narrative put the mostly male prosecution team in what NPR called an "awkward position," it marked a departure from her defense up to that point: Her own account had made her sound like an especially involved, omniscient CEO rather than an inexperienced newcomer. Balwani, for his part, denied Holmes's allegations through an attorney and was convicted on 12 counts of fraud in July.
Each of Holmes's four fraud charges — three counts of wire fraud and one count of conspiracy to commit wire fraud — carried a maximum sentence of 20 years in prison. As for the other seven charges, the jury found her not guilty of four counts of fraud relating to patients who had used Theranos's devices; it was unable to reach a verdict on the remaining three counts of deceiving investors.
Ahead of Holmes's sentencing, more than 140 people wrote the judge to urge leniency. Some of the signees are reasonably expected ("Failures are a part of the game in Silicon Valley," investor Alex Moore wrote. "We can't punish our innovators in society or there will be no innovation") and others less so. In the spirit of prison reform and restorative justice, for example, Senator Cory Booker advocated for "a fair and just sentence" for Holmes, explaining that they once shared a meal of almonds at an event hosted by the late Senator John McCain. "I believe that Ms. Holmes has within her a sincere desire to help others, to be of meaningful service, and possesses the capacity to redeem herself," he wrote. Actor Ricki Noel Lander, whom you may have seen in Iron Man, called Holmes "a trustworthy friend and a genuinely lovely person." Others painted her as a changed woman and stressed that she was now pregnant with a second child.
But prosecutors countered that Holmes should be held accountable for the damage she'd done to other people's lives. "Holmes, with strong family support, exceptional educational opportunities and financial stability, chose to commit fraud, repeatedly," they wrote. "She repeatedly chose lies, hype and the prospect of billions of dollars over patient safety and fair dealing with investors."
Ahead of sentencing, Holmes read a weepy statement, apologizing to Theranos investors and patients. "I am devastated by my failings. Every day for the past years, I have felt deep pain for what people went through because I failed them," she said, per the Journal, adding that, in hindsight, she would've done things differently. According to New York Times reporter Erin Griffith, Holmes "quoted the poet Rumi and promised to devote her life to changing the world 'person by person.'"
Prosecutors have said Holmes should report to prison in April as scheduled instead of living on a $13,000-a-month estate while appealing her conviction. Her attorneys said she left the estate in October. A hearing is scheduled for March 17.
This article has been updated.