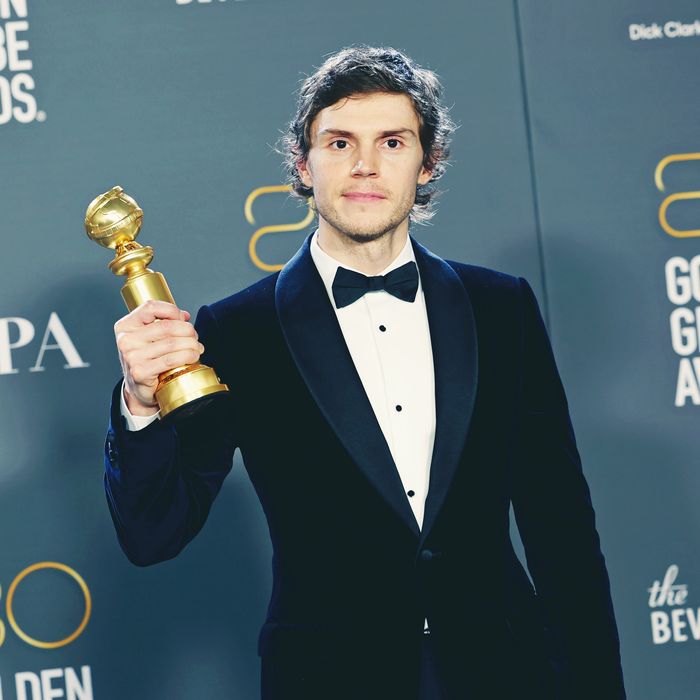 Photo: Amy Sussman/Getty Images
On Tuesday, Evan Peters took home a Golden Globe for playing serial killer Jeffrey Dahmer in Ryan Murphy's Monster — The Jeffrey Dahmer Story. During his acceptance speech, Peters, looking shy and uncomfortable onstage, said that the show was "a difficult one to make, difficult one to watch, but I sincerely hope some good came out of it." He didn't mention the victims or their families.
TMZ reports that Shirley Hughes, the mother of Tony Hughes, a deaf and nonvocal aspiring model whom Dahmer drugged, killed, and dismembered in 1991, told the outlet that Evans should have used his acceptance speech to acknowledge the families of his victims or to say that Hollywood should stop telling stories about killers and glorifying them. Tony was one of more than a dozen men murdered by Dahmer. Hughes reportedly also told TMZ that she is questioning why Evans took the role in the first place and that out of respect for the families, he should not have participated.
"There's a lot of sick people around the world, and people winning acting roles from playing killers keeps the obsession going and this makes sick people thrive on the fame," Hughes told TMZ.
When the show premiered in September, Eric Perry, a cousin of Errol Lindsey, another of Dahmer's victims, was among people who criticized Netflix for not consulting with the families of the victims before releasing the show. Perry tweeted that his family found out about the series when it was released by Netflix, which didn't have to ask for permission from the families because Dahmer's case is in the public record. Still, he said, the families were re-traumatized.
At the time, many people shared that they wouldn't watch the show out of respect for the victims and their families or because they didn't want to send a message to Netflix that they want to watch more serial killer content. That didn't keep the show from setting viewership records. Or keep people from dressing as Dahmer for Halloween.
"It's a shame that people can take our tragedy and make money," Hughes told TMZ.