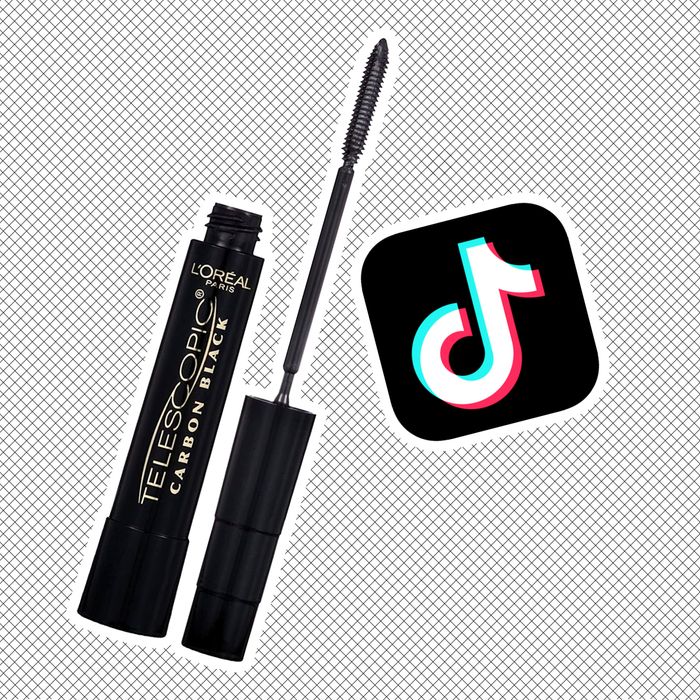 Photo-Illustration: by The Cut; Photos: Getty Images, Amazon
Just when we thought we'd made it through the week without some new TikTok beauty drama, one of TikTok's top beauty influencers, Mikayla Nogueira, is accused of "lashlighting." As in gaslighting but about wearing false lashes. And other beauty influencers are calling her out for it. Let's get into the drama.
Two days ago, Nogueira posted a TikTok raving about L'Oréal's $14.99 telescopic lengthening mascara. She added a coat of the mascara on camera, showing additional length and volume to her lashes. "Okay, I'm going to add a second," she said, referring to a second coat of mascara. She then cuts to a different angle showing much longer and fuller lashes. She claimed that the final look "looked like false lashes," because many are saying … they are. TikTok was swift to react with 24.8 million views and countless stitch videos, calling Nogueira out for allegedly lying about the results of the mascara.
"How did you suddenly get so many extra lashes at the end?" one commenter asked. (They claim she applied the mascara in the first part of the video, then added lashes for the finale of the video, without being transparent about the addition.) To our trained eye though, we can't be sure, it looks like the final look was … enhanced. (The mascara did give a nice lift though on its own.) Ashley Gonzalez, a lash artist who sells lash supplies, agreed and made a TikTok video stating that she believes she was wearing extensions, zooming in to show the alleged separation between the natural and fake lashes.
Even makeup artist Jeffree Star came back from a social-media hiatus, after being accused of sexual assault, to get in on the drama: "It looks bizarre," he said. "The mascara is on and it's cute and then all of the sudden there is some extra shit on the end." He said there was nothing wrong with taking sponsorships, but that Nogueira is the respected voice on TikTok and therefore has the responsibility to be honest to her followers when she does accept money to say a product is good.
Viewers even pulled up an old video of Nogueira's where she admits that brands use extensions in their mascara ads: "That's what brands do, they lie to you about how things work. Would you have known these were false lashes? Maybe not."
Nevertheless, the video has sparked a debate about influencer culture and their "honest reviews," many of which are actually paid for or sponsored. (While Nogueira did tag the video #lorealpartner, she didn't actually disclose it was an ad.) This is nothing new; influencers have shelled out for everything from tummy tea to celery juice and more, promising to cure everything from bloating to cancer. But it comes at a time when a movement called deinfluencing is also making the rounds on TikTok, calling for the end of overconsumption.
Anyways, Nogueira is no stranger to controversy. Last September, a video from 2021 resurfaced of her complaining about the difficulty of being an influencer. "Try being an influencer for a day, try it. The people who say it's easy are so far out of their minds." She immediately received backlash for being tone deaf. A few weeks ago, some on TikTok accused her of editing her body in videos. Her response? Filming a before-and-after video trying on shapewear.
Could this be the end of the influencer era? Probably not. But it does stir up conversation about how many influencers omit the truth about the efficacy of such products. For example, does an influencer who had Botox say that when reviewing a moisturizer? Usually not. Should they? Probably. The internet might be a healthier place if people (we are looking at you, influencers) just kept it real.
In the meantime, if you want lengthier lashes without the added falsies and you don't want to listen to influencers like Nogueira, here are some mascaras we love at the Cut.