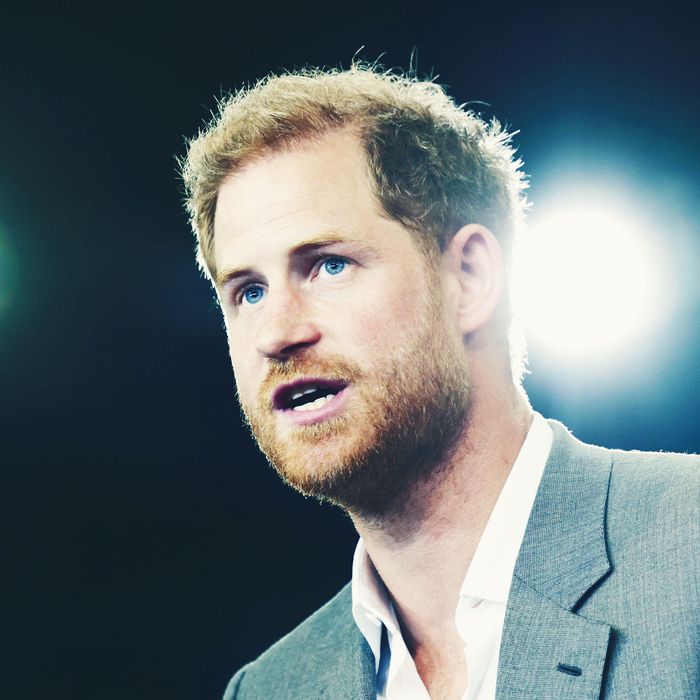 Photo: Chris Jackson/Getty Images for Invictus Games
If you thought that a two-hour Oprah interview, a 12-episode podcast, and a six-hour Netflix docuseries were enough to contain all of Prince Harry's story and then some, think again. Harry's new memoir, Spare, isn't even out yet, and already excerpts obtained by the press have revealed more surprising details about the royal than were disclosed in all those projects combined. I certainly don't remember Harry talking to Oprah about the time he Googled Meghan Markle's sex scenes in Suits, do you?
Weeks after the couple's Netflix series dropped and days before Spare is set to publish, the internet spun itself into a frenzy as excerpts of the book were leaked. The book was reportedly accidentally released early in Spain, and as a result translated portions of the book have found their way online (so don't judge Harry or ghostwriter J.R. Moehringer if the prose sounds a bit off). If these leaks are accurate, then it's fair to say that the book goes far beyond anything Harry has previously revealed about his experience as a royal. Not only does Spare detail the drama that led Harry and Meghan to step back from their roles as senior royals and move to California, it offers brand new insights into Harry's relationship with Prince William, his experience with drugs, his losing his virginity, and even his penis — or, as he likes to call it, his "todger."
Clearly, Spare will leave no stone unturned — whether we (or the royal family) like it or not — and I can't help but be a little impressed by what he's willing to put out there. Here are some of the juiciest and most shockingly honest moments that have leaked from the book so far.
Harry claims William once physically attacked him during a fight about Meghan.
The Guardian claims that in the book, Harry describes a 2019 altercation between him and his brother, Prince William. According to the article, William and Harry got into a heated fight about Meghan, with Harry claiming that William called her "difficult," "rude," and "abrasive." "He grabbed me by the collar, ripping my necklace, and he knocked me to the floor," Harry reportedly wrote. "I landed on the dog's bowl, which cracked under my back, the pieces cutting into me." Harry claims that William later apologized but asked him not to tell Meghan about the fight.
Harry claims Will and Kate encouraged him to wear his infamous Nazi costume.
In 2005, Prince Harry made headlines after photos of him wearing a Nazi uniform to a party were published. He later apologized, and in last month's docuseries, he called the incident "one of the biggest mistakes" of his life.
Apparently, he is not done rehashing this very unfortunate costume choice. In leaked excerpts of his memoir, he claims that his brother and sister-in-law, Kate Middleton, encouraged him to wear the costume to attend the "Native and Colonial"–themed party. "I phoned Willy and Kate, asked what they thought," he writes, adding that he needed help choosing between a Nazi costume and a pilot costume. "'Nazi uniform,' they said." He adds that when he tried it on for them to see,"They both howled. Worse than Willy's leotard outfit! Way more ridiculous! Which, again, was the point."
In its reporting, "Page Six" noted that William's approval of Harry's Nazi costume had previously been exposed by Robert Lacey, a royal historian who detailed the event in his 2020 book, Battle of Brothers. Lacey reportedly described the event as a turning point in the brothers' relationship, as Harry became more aware of how he might be used to shield his brother from negative press.
Harry says he killed 25 Taliban members while fighting in Afghanistan.
According to The Daily Mail, while reflecting on his time in the military and two tours served in Afghanistan, Harry revealed that he personally killed 25 Taliban fighters. "You can't kill people if you see them as people," he reportedly writes, adding that he thought of them as "chess pieces taken off the board."
Harry recalled losing his virginity at 17 in a field behind a pub.
The Daily Mail also reported that Harry writes about losing his virginity in 2001 to an older woman. He called it a "humiliating episode," writing that the woman he lost his virginity to "liked macho horses" and "treated me like a young stallion." He described the interaction like this: "I mounted her quickly, after which she spanked my ass and sent me away."
Harry claims he once did mushrooms at Courteney Cox's house.
According to Us Weekly, Harry's book describes a time he and a friend spent the night at Courteney Cox's house in Los Angeles. Harry, a self-described "Friends fanatic," had a crush on her at the time. "I wondered if I'd ever work up the courage to tell her. Was there enough tequila in California to get me that brave?" Apparently, Harry wandered around the party, drinking tequila and rubbing elbows with celebs, like Will Arnett — identified only as Batman from the The LEGO Movie (which would suggest that this incident took place sometime around 2014) — and getting high off of "black diamond mushroom chocolates." Harry didn't specify whether these were provided by Cox or another partygoer, but he did admit to having quite the happy trip.
Elsewhere in the memoir, Harry reportedly admitted to trying cocaine as a teenager, but said he didn't enjoy it. "It wasn't much fun, and it didn't make me particularly happy," he wrote. "But it did make me feel different, and that was the main goal."
Harry says he and William asked Charles not to marry Camilla.
Harry's memoir reportedly describes his relationship with his stepmother, Camilla, now queen consort. Camilla and Charles famously had an affair during Charles's marriage to Princess Diana, who died in 1997, and reports from the Mail Online and The Sun (via CNN) say that Harry admits he and William were both skeptical of her, even begging their father not to marry her. "I remember wondering … if she would be cruel to me; if she would be like all the evil stepmothers in the stories," he writes. In the end, Harry and William both accepted their father's second marriage. "We recognized that he was finally going to be with the woman he loved," he writes, per "Page Six." "Whatever bitterness or sorrow we felt over the closing of another loop in Mummy's story, we understood that it was besides the point."
Harry regrets watching Meghan's Suits sex scenes, and claims that Will and Kate were huge fans of the show.
Before they met Meghan, Harry claims that Prince William and Kate Middleton were huge fans of her show Suits, and couldn't believe Harry when he told them he was dating a member of the cast. "Willy and Kate explained that they were regular — nay, religious — viewers of Suits,'" he wrote, per Page Six. "All this time I'd thought Willy and Kate might not welcome Meg into the family, but now I had to worry about them hounding her for an autograph."
When Harry finally got around to watching some of his wife's work for himself, however, he was less amused. Writing that he made "the mistake of Googling and watching some of her love scenes online," Harry admitted that he "didn't need to see such things live."
Despite what you might have read, Prince Harry is circumcised.
Touching on a personal subject that was apparently the subject of heated debate in the British press (??), Harry reportedly writes that he was "snipped as a baby." Per "Page Six," Harry volunteered this nugget of information while describing how his penis was frostbitten at William and Kate's wedding. Harry, who attended his brother's wedding just after a 2011 charity walk in the North Pole, was still recovering from the cold, which had also caused his ears and cheeks to get a bit of damage, and described his discomfort. "While the ears and cheeks were already healing, the todger wasn't. It was more of an issue by the day." Per the report, he used Elizabeth Arden cream to help ease the pain before heading to a doctor. Why not?
Harry claims Kate and Meghan fought after Meghan made a comment about Kate's "baby brain" in the lead up to her wedding.
Tensions between Meghan and Kate have been extensively dissected in the press, and Harry's memoir reportedly confirms that there were a few dust ups between them prior to his wedding, including one instance when Meghan commented on Kate's "baby brain" after a mix-up about the timing of the wedding rehearsal and the flower girl dresses. (Kate had just given birth to Prince Louis at the time.) Us Weekly reported that this "baby brain" comment came up during a fight between the two couples — William and Kate, and Meghan and Harry — soon after the wedding.
Per Harry, Kate made clear that she did not appreciate the comment, which Meghan apologized for. "I'm sorry I talked about your hormones. That's just how I talk with my girlfriends," she told Kate, according to the memoir. "Willy pointed at Meg, 'It's rude, Meghan. It's not what's done here in Britain.'"
Harry describes William's baldness as "alarming" while detailing a secret meeting with his brother and father after Prince Philip's funeral.
As reported by The Daily Mail, Harry writes about a secret meeting he arranged with William and Charles after Prince Philip's funeral in April of 2021. He claims that he tried to explain why he and Meghan moved to America, but that William and Charles both refused to listen. "I looked at Willy, really looked at him, perhaps for the first time since we were little," Harry writes, per "Page Six," adding that, at that moment, he no longer saw his brother's resemblance to their mother. He reportedly then goes on to call William's balding "alarming" and "more than mine." (Harsh, but fair.)
Harry once theorized that Princess Diana had faked her own death.
Per "Page Six," Harry writes that, while grieving the loss of his mother, he became convinced that perhaps she had faked her own death to get away from the press and paparazzi. "Her life's been miserable, she's been hounded, harassed, lied about, lied to. So she's staged an accident as a diversion and run away," he writes.
Ten years after her death, per an excerpt published by People, Harry was in Paris, France, and asked his driver to go through the Pont de l'Alma tunnel, where Diana had died. He asked the driver to go the same speed as his mother's car — 65 miles per hour — to experience his mother's ride. "I'd always imagined the tunnel as some treacherous passageway, inherently dangerous, but it was just a short, simple, no-frills tunnel," he writes.
The drive through the Pont de l'Alma also solidified his belief that it wasn't just a possibly drunk driver that killed his mother, but the paparazzi, though none were held responsible. "Even if the man had been drinking, even if he had been drunk as a skunk, he would have had no problem driving through that short tunnel. Unless he was followed by paparazzi," he writes, per the Daily Mail. Despite the doubts the ride instilled in him about the nature of his mother's death, it also solidified it for him. "Deep down, I'd hoped to feel in that tunnel what I'd felt when JLP gave me the police files — disbelief. Doubt. Instead, that was the night all down fell away," he writes, per People. "She's dead, I thought. My God, she's really gone for good."
Meghan thought Prince Andrew was the queen's assistant.
You didn't think he'd forget about Andrew, did you? In a new leaked excerpt published by "Page Six," Harry reportedly revealed that Meghan was so unfamiliar with the royal family when she met them she didn't know who Prince Andrew was and assumed he was the queen's assistant. "That man holding the purse. That man who walked her to the door. That wasn't her assistant? Who was it?" Meghan reportedly asked, to which he answered, "That was her second son. Andrew." Honestly, it's what he deserves.
Harry mentions his uncle again in the book, per another excerpt published by "Page Six." According to the paper's translation of the leaked Spanish manuscript, Harry compared the family's treatment of him and his wife to that of Prince Andrew, who famously had to step back from royal duties after being accused of sexual abuse pertaining to his close relationship with Jeffrey Epstein. Despite what Harry categorizes as an "embarrassing" scandal, Prince Andrew has maintained his security detail, which is why Harry was so shocked when the royal family refused to pay for his protection. "People may have a lot of grievances towards us, but sexual offenses weren't one of them," he notes. (This is a particular point of contention for Harry, who has maintained that without guaranteed security, it is unsafe for him and his family to travel to the U.K.)
This post has been updated.